---
9 January 2013
Information Warfare Tutorial
---
http://www.au.af.mil/au/awc/awcgate/iw-army/intro.htm
Return to Information Operations Center
This tutorial originally developed by Army War College,
It was last updated Feb 1998, but still has value as a primer.
Last Updated: 02/17/98, Downloaded: 09/07/98
Welcome to the
Information Warfare Tutorial
---
This tutorial is a condensation of material presented through an advanced course dedicated to the subject of Information Warfare and offered by the US Army War College. NSA Visiting Professor, Mr. Robert F. Minehart, Jr. has developed and is currently teaching the course which is offered as an elective. The material in this tutorial represents an unclassified version of the advanced course and parallels the content being encoded into a stand-alone, multi-media tutorial. The beta version of the stand-alone tutorial is ready for distribution effective 15 January 1997. Public, corporate and government input will be sought during the beta period with final call for input 15 May 1997. The final version including beta solicited input will be available by mid to late summer 1997.
Although this version will not be replete with sounds, film clips, and images like the stand-alone version, it is based on the same material as the multi-media version. It should serve well as a concise, summarized reference for those who want the bare content.
---
The following is a table of contents for the tutorial modules:
DSB, Access the associated findings of the Defense Science Board. [link updated 22 Jan 00 by AWC]
---
---

The Internet was born from a Department of Defense (DoD) requirement for a survivable communications system, as a result cyberspace is now a reality. Individuals are discovering a political and social freedom never before imagined, but new threats are on the horizon. Just as the threat of nuclear war once forced leadership to develop national security policy focused on defending America, so will Information Warfare emerge as a threat requiring our leadership to consider an Information Civil Defense.

A comparison between the Cold War period and today yields an interesting perspective. During the Cold War the United States government leveraged over 90% of all telecommunications research. Today, the United States government contributes to less than 10% of telecommunications research; as a result, our government has much less influence on establishing industrial standards.

Information Warfare is a threat because it levels the international playing field (political, economic, and military), i.e. most nations cannot challenge American policy using traditional force-on-force warfare. Information Warfare is very cost effective and offers a non-attribution capability. Most importantly, the United States is the most vulnerable of all nations to IW. DoD is critically dependent upon the public switched infrastructure though it has no control over and little ability to influence security standards.

International espionage is being redirected from the individual with access to secret information toward network administrators. Nations are determined to acquire America's customer base. Industrial espionage will escalate into industrial sabotage. The Defense Information Security Agency (DISA) has proved that government networks are vulnerable. There are strong indications that an entirely new management philosophy is needed to counter 21st century spies.

Tomorrow's military will continue to stand ready to defend America against the two major regional conflict (MRC) scenario; however, it can be forced to do so with fewer resources. Economizing can be pursued through advanced Command and Control Warfare. Further, America's military will be more able to extend their global reach utilizing an offensive information warfare strategy. Tomorrow's military will prepare the theater of conflict by seizing control of all critical infrastructures utilized by the enemy. Tomorrow's enemy will only be able to communicate, finance, or logistically relocate that which our leadership allows. Our adversary will be blinded by a complete cyberfog.

Currently the Joint Chiefs of Staff have offensive and defensive groups addressing both issues. Mechanisms are currently in place and being honed to ensure that each new strategic weapon is controlled within the required release authority. However, from a defensive perspective, DoD is currently inhibited by limited authority which prohibits involvement in securing the public and corporate sector of America's critical infrastructure.

Government's authority for securing America must be expanded to protect our nation from groups that wish to influence U.S. policy through infrastructure attacks. Our nation's leadership, both political and industrial, must define a process by which government can prosecute such groups which seek to attack from outside the United States. Likewise, our leadership must equip local and federal law enforcement with effective policy focused to counter such attacks from within.

The threat posed to America's infrastructure via IW attacks is by its nature non-partisan. The threat is real and is focused against all of America. As a result, our political leaders will come to closure on this issue quickly once they are provided with adequate assessments of the threat and needs of the individual and industry. Our policy makers can be drawn back to our fore-father's belief that individual's rights are granted by God and secured by government. As a result, they will be challenged to determine the delicate balance between individual and society's rights - this will represent the heart of the debate.

The focus for change must come from Congress, however all branches must contribute. The President must direct the Executive Branch departments and agencies to provide critical information (data) for use by Congress, Industry, and the public in forming the national debate. Likewise, the Supreme Court will, as it has in the past, ensure that legislated policy does not encroach on the rights of Americans. Corporate America can be called upon to provide a realistic view of industry's security needs. This view is currently not possible as most of corporate America is either fearful of disclosing the extent of the threat, or is unaware of the intentions of its adversaries. Finally, Congress must receive a balanced view from its constituents. The people must educate themselves to the issues and voice their opinion.

There is value in looking at our nation's transition during times of great change, e.g., the industrial revolution, the Great Depression, and the nuclear threat (Cold War). During each period free enterprise provided the technical means to a solution. Likewise, during each transition, there was a new assessment of the balance of rights.

Specific Lessons from History

Legislative actions have historically supported economic and industrial growth.
U.S. Courts have leaned toward the rights of the individual. The right to privacy has and will continue to be at the center of debate.
The technical solutions to all of America's needs have come from the industrial sector.
Divestitures such as AT&T's could benefit other critical infrastructures such as electric power.
Information Warfare Weapons fall into the following categories: Strategic National, Strategic Theater, Operational, and Tactical. Each category has its own unique capabilities and thus requires different safety mechanisms to prevent inadvertent release. The Commander In Chief (CINC) implements the directions of the President. During the planning process the CINC can be the single person responsible for the overall campaign and will select the weapons to be used, but just as in the case of nuclear weapons, IW weaponry will require a higher level of coordination and authorization for release.
Many nations in competition with the United States, either in the political or economic realm, are actively developing IW capabilities. Such nations hope to use these capabilities to gain an industrial edge by stealing U.S. industrial secrets, and when possible, disrupt our nation's industrial base.
America has typically enjoyed a protected sanctuary provided by the two great oceans it borders. Not until Pearl Harbor and the subsequent nuclear threat did America become aware of its loss of sanctuary. With the fall of the Iron Curtain and the end of the Cold War, Americans have returned to believing a protected sanctuary still exists. Cyberspace has no geographic boundaries. Further, nations are contracting the efforts of cyber-terrorists to maintain non-attribution. America's sanctuary has been lost. Our nation is under a quiet, systematically organized attack by many forces whose goal is to topple America's position as world leader.
Just as America's military transitioned into the industrial age and adopted the concept of mechanized war, so will it adapt to the concept warfare in the information age. That said, the transition will not be easy. The Army has and will always command the ground aspect of warfare. The information revolution will provide a battlefield (situational) awareness unimaginable today, and precision guided weapons will allow a greater stand-off distance from our adversary. The Navy (and Marine Corps) will continue to control the seas and provide the heavy strategic reach capability America now enjoys. Global sensory networks will ensure the U.S. Navy has the capability to track any form of naval enemy on a global basis. The Air Force and its command of the skies will continue. The ability to precision strike a hostile nation's command and control, air defense, or critical infrastructures can be just a push button away. Precision strike will place munitions on a target in ways now considered impossible.
---
Module 1
The Lesson
---
The module learning objectives:

To explore the concept of the Information Revolution by looking to the period of the 1950's to present.
Present the user with enough information to answer the question, How did we get here? in the context of Information Warfare.
To answer the questions: What is Information Warfare? And, why is it an issue?
---
The Beginning
We can recall images of the ancient courier with a message written on his scalp.
Most of us have seen movies where the medieval king applies the royal seal that verifies the message to be his own.
Looking to the American Civil War, we can recall the use of signal towers on which communicators relayed the commander's message via flags.
As time marches on, leaders need faster and more efficient means to communicate.
Both speed and distance were overcome by the use of electronic communications. Advances were made in the speed by which information could flow, travel far distances, and be encoded.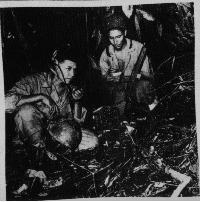 The pace of communications development during the early 20th century was nearly linear. Advances in one trade motivated advances in another. During WW II all aspects of communication were utilized by both the military and civilian sectors. President Roosevelt, the Great Communicator, used the air waves to rally the American people and government.
---
Introduction of the Atomic Age, 1945
The spark that started the information flame that is now burning was struck by the atom bomb. This flame is known as the Information Revolution.
The concept of immediate and complete destruction induced leaders to reconsider every aspect of government operations. America responded by preparing both the government and civilian infrastructure for the what-if Scenario. The strike from the blue nuclear threat forced our government into an unprecedented level of inter-agency cooperation. Communications technology played a major role in not only providing indicators and warning of an impending threat, but also made effective command and control possible. As a result, communications research and development became a pivotal technology in securing our nation. Now one could argue that the emerging threat posed by the information revolution calls for our nation's leaders to pull together and consider an Information Civil Defense policy, i.e., Information Assurance.
It is important to realize just how frightened America became during those years. You may recall the term duck and cover?
---
Images of total destruction generated a national fear that supported the massive build-up of the defense infrastructure.
THE TRUTH: Barring the instantaneous collapse of the Russian government, a contingency I do not foresee under present circumstances, war is inevitable. When the leaders in the Kremlin are convinced that their superiority in nuclear weapons and the means to deliver them are superior to ours by a proportion sufficient to enable Russians to destroy Americans with acceptable damage in retaliation, they will not hesitate to use them. Although the carnage will be horrible, civilization will not be wiped out -- Russian civilization, that is.
2. There can be no defense against atomic weapons; we are doomed to destruction and can only despair....
Kenneth D. Barrett, The Deception of Civil Defense, 1964, Independence Press, Inc.
---
The Network
After 1945, the communications user base grew by several orders of magnitude. Our nation's leadership needed the capability to know within minutes of an impending Soviet attack.
Each of these national efforts had a voracious appetite for communications bandwidth.
Further, the traditional point-to-point communications concept became obsolete. The network concept was born.
---
The birth of ARPANET from the original DARPA requirement soon evolved into the INTERNET most of us use today. What started as a government initiative soon became essential to computer-equipped commercial organizations; similar to the current adoption/transition of the Global Positioning System (GPS) by the civilian sector is another example.
In 1960 DoD leveraged more than 90% of the telecommunications research. Today, DoD contributes less 10%. This is an important point to consider as DARPA would not have been able to encourage the American industrial base to adopt the computer-to-computer communication protocol (TCP\IP) without such influence.
For the past ten years, enhanced communications capabilities have been shrinking the world. The futurist, Alvin Toffler refers to a Third Wave, information revolution which started in the mid 1980's and is guiding us toward an information-based society. He claims that Information has power and that an information-based evolution will significantly change our political, economic, industrial, and domestic systems.
---
The Public Trust (Then and Now)
Our nation has experienced another change since the early days of the Cold War - the erosion of public trust. The American people expected their government to protect them from the Cold War threat. It was understood that security meant secrecy. The WW II jingle loose lips sink ships was still in the minds of most Americans. The Rosenberg trials and convictions publicly confirmed that the Soviet Bear was out and about.
However, events such as Watergate and the Pentagon Papers forced many Americans to question the activities of their leadership. This growing concern motivated Congress to act in the mid 1970's. Reacting to a public call for greater control and openness, Congress dramatically changed the way it processed legislation. Americans could now examine their government's specific actions as role calls and voting activities were open to public record.
It is important to recognize the magnitude of change in public trust over the past six decades. In the early days of the cold war people would not have questioned our government's actions to provide security. The classification of key technologies and export control was accepted. Cryptographical advances were considered national treasures worth protecting.
Today Americans demand tight controls to prevent any abuse of power by government officials. Further, the balance of individual privacy vs. national security has shifted toward the individual. Once a national technology, cryptography is now considered an intellectual novelty for public use and discussion.
As our nation's policy makers develop information age legislation, the degree of public trust will greatly influence their decisions. Policy makers will find it increasingly more difficult to tell the public that legislation is motivated on a classified portrayal of threat. The people will demand an explanation. This will challenge many departments and agencies to develop new methods of operation. Political inertia from behind government's closed doors will resist the transition to new policy, but change is unavoidable. Departments and agencies will learn to adopt a widely accepted academic term, publish or perish.
---
What is Information Warfare?
The term information warfare is misleading and is often shunned by high level policy makers. The concern is that information warfare implies some sinister plot by government to control the information realm often called cyberspace. This is not the case. Unfortunately, changing the term now may derail a movement within government and industry focused on defending America in the new information age.
Our nation is becoming a network of networks (system of systems). For the past twenty years operations once performed by humans are now handled by computers; consider the modernization of the auto assembly line. Our nation's power grids, natural gas pipe lines, and transportation systems are all managed by computer networks. Both Federal Express and United Parcel Service critically depend upon their computer networks to get the package there on-time, as do our nation's railways and shipping industries. Consider what havoc a hacker could create in those data bases. Looking deeper into our nation's dependence on computer networks we find that our nation's industry designs and manufactures its products on Computer Aided Design/Computer Aided Manufacturing (CAD/CAM) systems. For example, the Boeing Commercial Airplane Company completely designed and manufactured the new 777 airliner in virtual space, i.e. a paperless design. Further, the 777 is the first commercial airliner to use Fly-By-Wire technology - when the pilot moves the control yoke he has no direct connection to the flight surfaces. He is simply sending signals to a computer that in turn sends commands to powered actuators. Sensors on the various flight control surfaces send periodic data to the computer as to their configuration. What would a computer virus do to one of these systems?
Until recently the aforementioned networks were protected by isolation, i.e. they were not connected to outside data networks. However, as we enter the information revolution these networks will become part of the networks-of-networks. The connection of these networks make their operation better as the systems are able to communicate. However, the same interconnection introduces the possibility that an unauthorized intruder may enter and corrupt the system.
Note: during the early days of the Cold War, DoD maintained dedicated, redundant, and survivable communications. Today, 95% of DoD communications ride on the public switch network. America has witnessed hackers who easily penetrated and manipulated the public switch network. Can our nation's communications net withstand a coordinated attack from a hostile nation state? Should DoD be concerned for the security of the public switched network?
America's economic, political, and industrial infrastructure are now open to attack via the net; this is the essence of Information Warfare (IW). IW offers hostile entities the capability to exploit, disrupt, and/or destroy our nation's ability to operate.
Why are hostile forces looking to information warfare?

No other nation, political group, or crime cartel has the ability to challenge the U.S. in a traditional force-on-force engagement. Consider the early days of our Revolutionary War and the way British troops were trained to fight. They lined up in columns and marched head-on into battle. Our patriots challenged this conventional method of warfare and took cover. America's adversaries, like our revolutionary ancestors, are now posturing for a new form of warfare fought within the information sphere. This new type of warfare can make it possible for them to exert their will on America.
War fighters have always considered an adversary's political, economic, and industrial infrastructure as strategic targets. The information revolution now offers them the ability to strike America by non-lethal means, many times, without attribution. The ability to exploit, disrupt, and or destroy our nation's infrastructure by attacking its computer based operation, makes information warfare a very cost effective weapon to our adversaries.
---
Summary
The challenges facing America's future are not unlike those of the early 1950's. The difference is that the nuclear threat is replaced by a new threat. IW effects may weigh heavily on the future of our nation. Over the next decade our nation will have to adopt some type of Information Policy, that establishes a means of coordinating the defense of America's infrastructure. Likewise, DoD and the Intelligence Community need to develop methods of providing critical technology and information to the public and commercial sectors.
Here are the important points of this module:

Then: DoD leveraged the majority of research. Now: Commercial demands drive development.
ARPANET's utility has evolved into a basic requirement.
The public trust of government has been severely degraded.
Information Warfare = a new way for hostile forces to exert their influence on America's economic, political, and industrial infrastructure.
Why IW? America has virtually eliminated other nation state's ability to project classic force-on-force, i.e., our nation's military capabilities so dominate those of other nations, few can challenge America militarily; therefore, most nations of the world have effectively lost their element of military power when dealing with America policy.
During the Cold War DoD maintained separate, dedicated, hardened communications. Today, 95% of DoD communications ride on the public switched network.
---
Module 2
The Lesson

---

The module learning objectives:

Identify the IW threats to DoD's information infrastructure and, in a broader sense, America's data networks.
Address some of the sociological implications of an IW attack.
---
You must consider the various perspectives of IW threats:

| Perspective | Concern |
| --- | --- |
| Corporate | Security, reliability |
| FBI | Criminal activity |
| Treasury\banking | Security,non-reputability |
| DoD | Defense |
| Intelligence | Espionage - Input unavailable for beta version |
---
What is DoD's concern?
After all, internal Continental United States (CONUS) policy is not it's concern...
Or is it?
There is a shared responsibility between managing DoD and commercial networks.
---
Why is DoD concerned?
DoD uses closed systems, router and firewall protection, and encryption in order to secure critical networks and message traffic; however, these secured transmissions ride on the public switched network, which has been proven to be vulnerable to IW attacks.
The enemy is turf blind. It does not worry about what is DoD or Public.
---
Information Warfare does not equal Computer Warfare.
Computer Warfare (CyberWar) is a subset of Information Warfare.
Many aspects of IW can be waged without the use of the computer. Take, for example, Somalia.
---
Threat Model
The following is a model that you can trace through for responding to IW threats.
Summary
Hopefully the case studies have illustrated that there are a variety of IW threats possible.
Here are the important points to this module:
IW is not restricted to the technical world. Remember Somalia?
In the past, links were the primary targets to exploit, while links and nodes were targets for denial and destruction. This is classic C2W.
In the this new world, nodes and information are the primary targets for hackers and foreign intel.
Now you have two new concerns: radical groups and commercial off the shelf software (COTS).
---
Module 3
The Lesson
---
The module learning objective:

To consider the question of who does what, who should be doing what, and what policy is in place that provides specific authority for both defensive and offensive IW.
---
Why is DoD involved in Information Warfare?
Consider the two perspectives:

The offensive perspective. DoD must maintain the leading edge in warfighting capability.
The defensive perspective. DoD must defend America (a shared role).
---
The DoD is critically dependent on information technology.
In the past:
DoD maintained a dedicated hardened communications capability.
Today:
Current technology offers better commercial communications services than past DoD systems. This coupled with declining budgets, has driven DoD to the commercial sector for communications needs.
Result:
Currently, 95% of DoD communications ride on the public switched networks.
Concern:
DoD has no authority to provide guidance on securing the public net.
---
So, What is DoD's role?

Develop new weaponry that will operate in the new information infrastructure.
Coordinate DoD policy with national policy needs. This can be done through executive committees, congressional support, and commercial interface.
Ensure efficient use and system interoperability (ASDC3I).
DoD procurement - solving future challenges in acquisition and technology (e.g, commercial, off-the-shelf purchases (COTS)).
---
Here are some DoD agencies who have an important role in IW:

Defense Advanced Research Projects Agency (DARPA) - previously known as ARPA, has traditionally coordinated leading edge technology development, and is now focusing on information security technology.

Defense Information Systems Agency (DISA) - DISA takes the lead in securing DoD unclassified, but sensitive networks.

National Security Agency (NSA) - has the responsibility for securing the nation's classified data networks as well as managing the nation's cryptographic (code-breaking) activities.
---
The Joint Chief of Staff
Within DoD, the IW division of effort resides with the Joint Chief of Staff.
J3 is responsible for offensive IW. It coordinates development and approval for release of all IW weaponry. Whereas, J6K is responsible for defensive IW. Further, the J6K acts as the Information Assurance policy coordinator and, focuses DoD's IW education in conjunction with the J7 and ASDC3I.
The split nature of the JCS will likely precipitate a change toward unification of both offensive and defensive IW. Since historically, the military's primary role is warfighting, it would be reasonable to assume that the J3 and J6 will merge their IW mission under the J3 umbrella. Look for similar merging of offensive and defensive missions throughout DoD organizations and agencies.
---
How does DoD ensure that public systems on which the military depends are secure?
The question of who will coordinate the processes of securing America's information infrastructure is still unanswered, but it is unlikely that DoD will assume this role.
Information Warfare may be likened to waging Infrastructure Warfare. Whoever is responsible for managing the infrastructure will probably assume some key responsibilities in securing America.
---
So, what is the DoD role at the national strategic level?
To lead from behind.
and

Provide sound advice on the exact nature of the threat.
Provide information (knowledge) gained by past experiences (i.e., what works and what does not).
Provide technical expertise when requested.
Form partnerships with state and local governments as well as with the commercial sector.
---
DoD's most important role
As a result of Watergate, Vietnam, and other associated events, public trust in the government has steadily eroded over the past six decades. This erosion has also affected the DoD's image. Many Americans believe that DoD is not in line with main stream culture, e.g., policies on gay's in the military and sexual harassment (Tail Hook). It is a common belief that the Pentagon is looking for a new global threat now that the Cold War is over; that the Information War is the new global threat used to acquire additional DoD funding. Reinforcing these views is the recurring question what is big brother up to? Given that situation, it is clear that the public will demand strong evidence before accepting an expansion of DoD's role into cyberspace.
This cannot be understated: DoD must take steps to re-establish the public trust and provide clear evidence that the IW threat is real. The first steps are:

Public trust is critical. Americans should not have ask What is my government up to?
---
Summary
This module contained two simple, yet important messages. DoD must accomplish these two tasks to accomplish its IW mission:

DoD is dependent on the civil infrastructure. DoD must share responsibility with the civil sector for defense of the national information infrastructure.
Government department and agencies will have to develop a strategy for leading from behind.
---
Module 4
The Lesson
---
The module learning objective:

To define the concept of National Information Assurance and identify related national policy issues.
---
Before we continue with this module, let's review the previous 3 modules:
Module 1 Review
Then: Money was available through DoD sponsored research. Now: Commercial demands drive development.
The birth of ARPANET evolved into a basic requirement.
Then: Public trust of government was high. Now: Public trust of government is low.
---
Module 2 Review
IW is more than technical, i.e. Somalia.
In the past, network links were the primary targets for exploitation, and links and nodes were targets for denial and destruction. Classic C2W.
In this new world, nodes and information are the primary targets for hackers and foreign intelligence.
There are now two new concerns: radical groups and commercial, off-the-shelf software (COTS).
---
Module 3 Review
DoD is now dependent on the civilian infrastructure.
DoD must share the responsibility with the civilian sector for defense of the national information infrastructure.
The President, Congress, Supreme Court and the commercial sector will divide the baby.
Government departments and agencies will have to develop a strategy for leading from behind.
---
In this module we will address these major points on Information Assurance:

Who, what, when and why (roles perspective).
DoD's role (past attempts).
Risk management (nodes, links, and information).
Defense strategies: red team approach vs active defense.
Management challenges.
---
From the National Security Strategy, February 1995:
The threat of intrusions to our military and commercial information systems poses a significant risk to national security and must be addressed.
That, by now, should be obvious. The real concern is:
Are we under attack right now? And if so, from whom?
Redefining and maintaining security is a national concern. DoD and the Intel community must design a method that will provide critical threat and technical knowledge. They must also cooperate with the private sector.
---
Who Are The Real Players?
Some of the real players who will influence the political process and build the solutions:

Sun Micro Systems
Microsoft
Motorola
Intel
IBM
Apple
And many others...
With DoD leading from behind!
---
Accreditation Shortfalls
Past DoD attempts in securing the information infrastructure mainly involved an accreditation process. This, unfortunately, did not work well because of these shortfalls:

Inconsistent accreditation decisions were made independently for interdependent systems. This resulted in non-uniform protections across common DoD infrastructure. Also, the weaknesses in one community undermined the security of others.
Security assessments are costly, time-consuming processes.
Security was not adequately addressed during the development and maintenance of the systems, which resulted in ineffective or inefficient security.
Inefficient integration across DoD efforts resulted in duplication and approaches that did not meet common DoD needs.
---
Accreditation Consequences
The shortfalls of a DoD accreditation system led to the following consequences:

Erratic protection for DoD information systems.
Cost of protection too high.
No means to cope with new technology.
Once accredited, a false sense of security exists, that is until the next detected attack.
---
Defensive IW Implementation
Any proposed defensive IW implementation must encompass all of these areas:

Doctrine
Policy
Organizational Infrastructure
Assessments
Technology
Education & Training
---
Active Defense
If accreditation does not work, what about an active defense? This implementation also has shortfalls. Most importantly, an active defense would violate U.S. criminal code on computer crime, e.g., 18 USC 1030 (a)(5)(A).
Consider also the following scenario: What if the hacker is using his/her parent's business computer or is using an assigned computer at the Washington Post, Sony, or the Pentagon?
Using an active defense would damage not only the hacker's files, but also the files of the legitimate computer owner/user. What if a computer being used by a hacker, doctor's son, belonged to your doctor and the files destroyed by an active defense were your patient history files?
Other considerations:

Both good guys and hackers use the Internet.
Hackers use sniffers.
Hackers loop & weave.
Hot pursuit and active defense may not be options.
---
If Active Defense is not an Option...
There are recommended strategies to deal with hackers who enter your network. Once intrusion is detected, you have several options: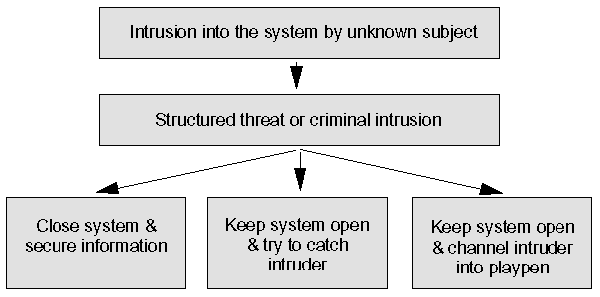 Sometimes the best offense is a good defense...
---
IW Defensive Strategy
What works?

Manage your security - set policy for what is allowed, and what behavior is prohibited.
Banners that announce monitoring to be read by everyone logging onto your system.
Red Teaming - Controlled "hacking" by security professionals who your organization has contracted for the identification of security risk.
Risk management - plan for the attack.
---
Module 5
The Lesson
---
The module learning objectives:

To discuss opposing viewpoints (individual rights Vs law enforcement).
To present specific recommendations.
---
Information Policy - The Political Quagmire
Do we need a national information policy?
If so, what forces will influence the process?
Can we look to history for clues?
---
A Historical Review
Was national policy challenged by the Industrial Revolution? If so, what did we learn? Did the Cold War challenge national policy? What unique challenges does the Information Revolution pose?
It is reasonable to suggest that our society is becoming more dependent on information systems. In an effort to better understand policy challenges of the emerging Information Age, it may be useful to consider our nation's reaction as it transitioned into the industrial age. Such an analysis may yield similar policy concerns, i.e. state Vs individual rights.
---
Policy Challenges of the Industrial Revolution: The Lochner Period
Looking to the U.S. Supreme Court and the period of 1905-1937 (Lochner Period), we see that our nation was challenged by the industrial revolution in much the same way as the Information Revolution does today. In 1905 the Supreme Court considered the case of Lochner Vs New York, where the court struck down a New York law that prohibited the number of hours a week bakers could be contracted to work. This profound legal finding shifted the balance of rights toward free enterprise; thus, the term the Lochner Period. The essence and impact of this period cannot be understated.
---
Policy Challenges of the Industrial Revolution: Before the Lochner Period
Before the Lochner Period (circa 1897) our nation subscribed to a policy of laissez-faire economics. In 1897, laissez-faire became the operative policy as a result of the Allgeyer Vs Louisiana decision. Laissez-faire was basically the principle of protecting business from unreasonable regulation, i.e. to advance the Industrial Revolution. The important point is, America has and will continue to promote free enterprise. Free enterprise developed our nation's industrial strength and positioned our country for its role as a world leader. Therefore, it should come as no surprise that industry will continue to leverage considerable influence in any national debate.
---
The Period 1934-1996
Looking to the period between 1934-1996 and telecommunications legislation, we see that economics drove the political agenda. The national communication system (AT&T) was built upon the power infrastructure provided by the Rural Electrification Act. However, as technology and competition developed our nation witnessed the break-up of AT&T. AT&T's break-up was driven by industry as the market nature of our economy prevailed. The most recent and potentially dramatic change came with the Telecommunications Act of 1996, where competition is virtually open to all, and for the first time the operative word is information, and not television, telephone, or anything else.
---
Cold War Policy Challenges
The threat of complete and total destruction challenged all sectors of our civil and government infrastructure. For the first time in history a nation could completely, without notice, destroy another nation. In time, solutions were developed to protect against this danger. Most of these solutions relied upon inter-working relationships between not only nations, but between governments and their civilian sectors. The Information Revolution poses a new threat against our political, economic, and industrial infrastructure. Once we worried about national secrets; now we must be concerned with industrial secrets. Hostile forces will use the information infrastructure to extract trade secrets critical to an industry's competitive edge.
---
The Issue of Privacy
Privacy is one of the most interesting of individual rights. The term itself does not appear within the Constitution or the Bill of Rights and is often referred to as an implied right The balance of an individual's right to privacy has shifted with time as our courts have interpreted our founding father's intention. Today many argue that the right to privacy need not be specifically addressed by the Constitution as it is one of the most basic of rights granted by the creator of which this government was formed to protect. Nonetheless, our policy makers will be driven to accelerate the privacy debate as Americans come to realize the overwhelming capabilities of modern computer systems to gather and analyze personal data and reveal personal information many of whom do not want disclosed. What ever your personal or business perspective, this aspect of the public debate will be key to future policies. It is imperative that all viewpoints be considered and an equitable policy emerge; otherwise, our nation will experience a protracted period of legislation vs. court review which will only serve to the benefit of our nation's adversaries. Consider issues of privacy in Cyberspace using the following rule of thumb:
Currently two tests exist to determine if privacy has been violated:
1. Does the individual or company expect the information to be private, (subjective expectation of privacy)?
2. Is society willingl to grant that expectation?
---
The Threat of Perception Management
Third world nations are developing a tactic referred to as the Aideed Model. This model is named after the Somalian War Lord whose unique strategy of turning a nation's information infrastructure against itself through active perception management led to the defeat of the world's best equipped military. The Aideed Model is particularly attractive as the budget for executing such an operation is typically smaller than that of an intercity street gang. This, among other recent examples, prove that factions hostile to the interests of the United States do not need to engage in traditional military force-on-force in order to exert their will upon a superpower.
---
Historical Conclusion
From a policy perspective, our nation is undergoing a change not unlike the Industrial Revolution, with many of the same issues reemerging for debate. This does offer a good perspective for policy makers as a benchmark. However, unlike our transition into the industrial age, the current transition challenges our policy makers much like the Cold War period in that solutions rely on cooperative efforts between government and the civilian sector. Further complicating information policy is the possibility that our form of democracy may be challenged as never before. That said, history suggests there are two great dilemmas. As in the past, two themes help to identify critical policy issues: equality for all and the power of government Vs the individual. Now, as in the past, the solution lies in a delicate balance between the people, government, and industry.
---
What Did We Learn From the Industrial Revolution?
The major points from our brief historical review are:

Historically, national policy has supported industrial growth through free enterprise.
Privacy has and continues to be a major issue.
Just as in the past, national policy makers are faced with two great dilemmas:


Ensuring equal rights.
Separation of individual vs. national government rights.
---
What Did We Learn During the Cold War?

Information Warfare threatens many of our national infrastructures (political, economic, and industrial), in much the same way nuclear weapons did during the Cold War. Nuclear weapons threatened loss of service through mass destruction whereas IW threatens through the net attack.
In both cases, the solution depends on a government, industry, and civilian joint effort. Our nation's (information/infrastructure) civil defense relies on cooperation.
---
What is Unique About the Information Revolution?

The impact of a connected America (an immediate human viewpoint sensor) on the national policy process.
The ability of an adversary to manage the American perspective.
Unlike nuclear or conventional weapons, it is often impossible to detect an Information Warfare attack until it is too late. Further, the adversary can hide within Cyberspace.
Government has much less influence as compared to its influence during the Industrial Revolution and Cold War period. As a result, government must lead from behind by providing sound, accurate advice to the public and industry.
---
The Various Perspectives of Information Warfare
These are the various perspectives of IW:

Intelligence - this data unavailable in the beta version.
Summary. The focus for change must come from Congress. The issues associated with defending America in the age of information can only be equitably debated through this branch of government. This is not to suggest that the President and the Judicial branch will not play a major role; they will. Congress will have to take the lead in forging new policy as our nation enters the 21st century.
Role of the President: direct the Executive branch departments and agencies to provide critical information (data) for use by Congress, Industry , and the public in forming the national debate. The Executive branch must provide a clear representation of the Threat that IW poses to our nation's infrastructure. Further, the President must ensure that any technical skills and associated knowledge resident in the U.S. Government is available to industry and Congress for their use in formulating national information policy.
Role of the Supreme Court: The Supreme Court will, as it has in the past, ensure that legislated policy does not encroach on the rights of Americans. Just as the Supreme Court played a major role in interpreting legislation as America entered the Industrial Revolution, it will do so for the Information Revolution. However, history has shown that such interpretations are molded over time as society's needs and perspectives change. For example, the balance between economic rights and the needs of business.
Role of industry: Corporate America will be called upon to provide a realistic view of industry's security needs. This view is currently not possible as most of corporate America is either fearful of disclosing the extent of the threat, or is unaware of the intentions of its adversaries. To remedy this, the President must commit America's intelligence community to directly providing relevant indications and warnings to industry. Congress must engineer a policy where industry is required to report the number and nature of IW attacks against its infrastructures. Such disclosures by industry must be protected to guard against the erosion of public confidence.
Role of the individual: The Internet is growing exponentially. Within it there are many references to the sanctuary of cyberspace. There have been declarations of cyber independence and calls for a hands-off by governments. People of the world are experiencing for the first time what Americans have taken for granted: Freedom of Speech. The ability to publicly voice one's opinion is bringing a passion to the Internet that is indescribable. Non-Americans are naturally hesitant to embrace any government association with the Internet. However it must be remembered that it was America, specifically the U.S. Department of Defense, that made the Internet possible. According to the Declaration of Independence, America's government is formed by its people to protect the rights granted by the Creator. This brings us to one of the most fundamental arguments of society (State):when do the rights of the many outweigh the rights of the few? This issue has been argued since the dawn of logical thought. Our policy makers (President and Congress) must receive a balanced view from their constituents. Often our nation has applied the oil only to the squeaky wheel. The Congress must initiate public community debates to help bring the message to Washington. When called individuals must educate themselves to the issues and voice their opinion.
Lessons from the Past
Look to our nation's transition during times of great change, e.g., the industrial revolution, the Great Depression, and the nuclear threat (Cold War). During each period the concept of free enterprise provided the technical means to a solution. Likewise, each transition required a new assessment of the balance of rights. Looking more recently to the second half of the 20th century, it can again be illustrated that free enterprise enabled America to become the global leader in technology.
Specific Lessons from History

Legislative actions have historically supported economic and industrial growth.
The mean trend of U.S. Courts has been to lean toward the rights of the individual. The right to privacy has and will continue to be at the center of such debates.
The technical solutions to all of America's needs have come from the industrial sector. History has shown that with the encouraging government policy the pace of development can be greatly accelerated, e.g., America's race for the moon in the 1960's.
Look to the benefits of AT&T's divestiture. What other aspects of America's critical infrastructure could benefit from similar considerations, i.e., electric power distribution?
Consider the recent cases involving free speech; for example the Philadelphia Court striking down legislation on indecency. What can be learned from this? Was Congress reactive or proactive? Were legislators responding to impulse demands of a minority? Congress must carefully consider the implications of oiling the squeaky wheel, as this may lead to action without thoughtful representation.
---
Module 6
The Lesson
---
Notice: Due to the sensitive nature of this section, the weapons presented are ones proposed by open source (non-government) authors. The examples offered should only be considered as concepts to stimulate your thoughts on "what-if' possibilities.
THIS PRESENTATION NEITHER CONFIRMS NOR DENIES THE EXISTENCE OF SUCH WEAPONS!
The module learning objectives:

Explain and define the types of weapons that can be used to conduct Information Warfare.
To understand that each IW weapons could be used as a strategic national, theater strategic, operational, or tactical weapon.
---
IW weapons include the following:

Malicious software
Chipping
Back doors
Electromagnetic pulse weapons
Destructive microbes
Van Eck radiation
Cryptology
Spoofing/Authentication
Video morphing
Psychological operations
Attacks on the banking system
Disruption of air traffic control
Denial of service
Stand-off and close-in sensors
Decision support
---
Malicious Software
Viruses, worms, and Trojan horses, falling under the category of malicious software, are perhaps the most frequently talked about information warfare weapons in the popular media. Although these weapons have the potential to cause great damage, there is no clear method for effectively targeting and controlling these weapons. Once a virus is let loose, it is just as likely to infect friendly information systems as it is to infect enemy information systems.
---
Chipping
Chipping is the practice of making electronics chips vulnerable to destruction by designing in weaknesses. For example, certain chips may be manufactured to fail upon receiving a specific signal.Anyone using these chips could then be instantly devastated. Unfortunately,the problem here, once again, is how to get the right people to use the affected chips.
---
Back Doors
Back doors are designed to defeat security protections. For example,the designers of the Clipper encryption chip could possibly have built in a secret back door so that they can easily decode messages encrypted with the chip.
---
Electromagnetic Pulse
Electromagnetic pulse weapons could be used to knock out enemy electronics equipment. Suitcase sized devices have been developed to do just that.
---
Destructive Microbes
Researchers are also working on developing microbes which eat electronics components so that, in the event of conflict, these microbes could be introduced into an adversary's electronics equipment to cause failure.
---
Van Eck Radiation
Van Eck radiation is the radiation which all electronic devices emit. Specialized receivers can pick up this radiation and tap a wealth of information. Fortunately, there are various safeguards against this type of attack.
---
Cryptology
Cryptology is a weapon of information warfare designed to encrypt and crack secure communications respectively. Despite significant advances in cryptography, cryptanalysis will continue to be an important weapon aided by equally significant advances in computing power.
---
Spoofing
Spoofing is an attempt to send a falsified message to someone. For example, I could dial up a university phone registration system pretending to be someone I have a grudge against, and drop their classes. Since these systems are automated, all I need to know in most cases is a person's Social Security number and birth date.
---
Video Morphing
Video morphing is a weapon that could be used in a manner similar to that in the movie Forrest Gump to make an enemy leader appear to say things he or she didn't in fact say, undermining credibility.
---
Psychological Operations
Psychological operations (PSYOP) using all available information means to form a desired public perception. PSYOP benefits from the ability to conduct market research and analysis of regional data. As a result, customized messages and be generated for each targeted sector of society. PSYOP was very successfully in the U.S. re-instatement of Haiti's president.
---
Attacks on the banking system, Disruption of air traffic control, Denial of service
Various possible operations with obvious effects include knocking out telephone switches, crashing stock markets, attacking electronic routers for rail system, attacking bank accounts, disrupting air traffic control, and denying service with, for instance, a ping attack. Note: the "ping attack" gets its name from old age sonar techniques. Within a network, a computer can send systematic queries to all addresses and analyze the associated return time, very similar to sonar. Net groups with similar times of return and be associated into a hierarchical structure.
---
Stand-off and close-in sensors
For military applications, the use of stand-off and close-in sensors to gather data could be considered an information warfare weapon.
---
Decision support
As in any decision process the more information available the higher the probability of arriving at a useful solution. Likewise, computer decision support is also a key weapon in information warfare and especially in defensive information warfare. Decision support can be used to detect attacks, identify the type of attack, generate defensive options, evaluate options, and perform damage assessments. In a similar manner, an adversaries decision support system can be delayed, or disrupted with erroneous data.
---
Summary
Information Warfare Weapons fall into three categories: Strategic National, Strategic Theater, Operational, and Tactical. Each category has its own unique capabilities and thus requires different safety mechanisms to prevent inadvertent release. Consider nuclear weapons. They too can be employed to support a tactical, theater and/or strategic objective. However, nuclear weapons must ultimately be released for use by the President and usually by recommendation of the National Security Council. IW weaponry is very similar, but there are exceptions.
The Commander In Chief (CINC) will always implement the directions of the President. IW weaponry supporting non-military elements of power or that fall into the category of national strategic will all require NSC approval. However, operational control of IW weapons which support classic C2W has been delegated to the CINC for implementation. Likewise, traditional theater level Electronic Warfare (EW) or PSYOP that is enhanced by IW capabilities fall under CINC authority as well.
National Strategic IW weapons, will be released by the president upon recommendation of the NSC. For example, a computer virus that would cripple a nation's monetary system or may seize control of international satellites must be controlled by either the President (SECDEF if authority has been delegated). Justification: a response in-kind would have a direct impact on the American homeland, i.e. the loss of sanctuary.
So who pulls the trigger? In general the command to launch an IW attack will at least be reviewed by the National Security Council, possibly the President (weapon dependent), and ordered by the CINC. One must remember that some strategic weapons will only be released on authority of the President. Note: during the planning process the CINC will be the single person responsible for the overall campaign and will decide his or her preferred weapons of choice, but just as in the case of nuclear weapons, IW weaponry will require a higher lever of coordination and authorization for release.
---