---
13 March 2008
---
http://web.archive.org/web/20051204053911/http://web.archive.org/web/20051204053911/http://www.peterson.af.mil/21sw/library/photos/gsu_photos/cavalier.htm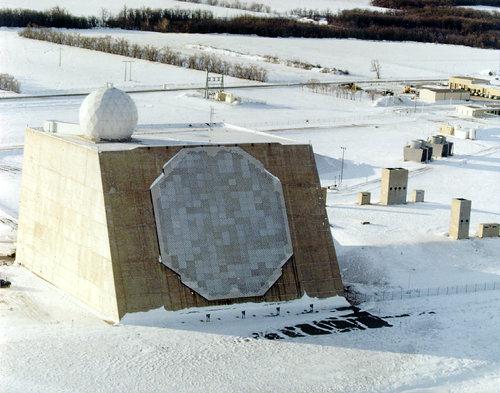 Perimeter Acquisition Radar Characterization System
Cavalier Air Force Station, North Dakota
---
http://www.peterson.af.mil/library/factsheets/factsheet.asp?id=4710
10TH SPACE WARNING SQUADRON
Commander: Lt. Col. Keith W. Balts
Location: The 10th Space Warning Squadron at Cavalier Air Force Station, N.D., is located 15 miles south of the Canadian and U.S. border. The squadron is a geographically separated unit of the 21st Space Wing, Peterson Air Force Base, Colo.
MISSION
- Provides tactical warning and attack characterization of sea-launched and intercontinental ballistic missiles against the continental United States and southern Canada to Missile Coordination Center.
- Provides space surveillance data, tracking, reporting, and space object identification to Joint Space Operations Center.
The squadron operates and maintains the world's most capable phased-array radar system. The Perimeter Acquisition Radar and Attack Characterization System continuously provides critical missile warning and space surveillance data to North American Aerospace Defense Command, United States Strategic Command, and regional combatant commanders. PARCS monitors and tracks over half of all earth-orbiting objects to enable space situation awareness and space control. Additionally, 10th SWS provides attack characterization data to the Secretary of Defense and the President for real time war plan execution decisions. Twenty nations have nuclear, biological and chemical weapons. Early warning helps the United States detect ballistic missile launches and take any necessary action.
EQUIPMENT AND FACILITIES
The PARCS radar is easily the most prominent building on Cavalier AFS. It is a concrete structure that stands 121 feet high. Additional facilities at 10th SWS include the industrial building which houses the unit motor pool and supply areas, and a fire station and gymnasium in separate buildings. There is also a 12-unit bachelor crew quarters and 14-unit bachelor enlisted quarters. The squadron also has an on-site family housing complex of 14 three- or four- bedroom carpeted units with fenced yards and landscaping. The Community Activity Center houses a Heritage Hall, hobby and activities area, shopette, lounge area, library, and bowling lanes.
Approximately 30 military and six civil service people are permanently assigned to 10th SWS. Twenty of the military members are assigned to the operations directorate, which is responsible for the Missile Warning Operations Center where missile warning and spacetrack missions are performed. The remainder of the assigned military and civilian workers provide support functions and the quality assurance evaluation functions for various contracted activities on Cavalier AFS. There are also approximately 120 contract workers at the unit who provide such services as fire protection, law enforcement, custodial care, operations, maintenance and supply. Twenty-seven Security Forces personnel from Grand Forks AFS provide both internal and external security for the radar.
HISTORY
The unit was originally the acquisition radar portion of the United States' only operational anti-ballistic missile system, known as SAFEGUARD. Due to the 1972 Anti-Ballistic Missile Treaty (SALT II), components of the SAFEGUARD complex, with the exception of the PARCS radar at Cavalier Air Force Station, were deactivated in February 1976.
The forerunner of the present day 10th SWS began passing tactical warning and attack assessment data to Cheyenne Mountain Air Force Base, Colo., in January 1977. In December 1979 the unit was transferred from Aerospace Defense Command to Strategic Air Command.
The unit, as it exists today, joined Air Force Space Command in 1983 as Detachment 5, 1st Space Wing. On Aug. 1, 1986, the unit was redesignated as the 10th Missile Warning Squadron, 1st Space Wing. It was renamed the 10th Space Warning Squadron on May 15, 1992, when the 1st Space Wing and 3rd Space Support Wing were inactivated and the 21st Space Wing was activated.