---
4 December 2005. Provide specific address, Maryland taxation recording, sales price, and exterior and interior photos of house and property.
3 December 2005
---
http://www.washingtonpost.com/wp-dyn/content/article/2005/09/04/AR2005090401391.html?sub=AR
Where the Rumsfelds Retreat, The Cheneys Soon Could Follow
By Dan Morse
Washington Post Staff Writer
Monday, September 5, 2005; Page B01
[Excerpts]
ST. MICHAELS, Md. -- They've grown used to having a secretary of defense in their midst -- the way his weekend estate is tucked behind a bend in the road, how he takes casual walks tailed by dark SUVs. Rumsfeld bought a weekend house in St. Michaels two years ago, reportedly for about $1.5 million. Now, residents of this Eastern Shore retreat are preparing for someone even bigger to buy a house down the road: the vice president.
"I'd heard it was going to close either Tuesday or Wednesday of this week," Carroll Hurley, a funeral home owner, said Saturday, seated with his breakfast gang at the Carpenter Street saloon and restaurant. ...
The house, listed at $2.9 million, backs up in spectacular fashion to an inlet of the Chesapeake Bay. "Right out by [Defense Secretary Donald H.] Rumsfeld's," said Charles Mangold Sr., whose Benson & Mangold agency brokers high-end estates in the area. "It's under contract, but he hasn't settled yet." ...
And the owner of the house in question declined to comment, saying politely from the end of its long driveway that he didn't want to talk about anything.
The estate goes back to 1930 and was said to be built by one of Thomas Edison's daughters, according to Robert Snyder, the Coldwell Banker agent who is listing the property.
The nine-acre lot includes extensive gardens, ornamental pools and spectacular views of the water behind it. Deer and osprey can be seen.
Snyder, who is vice president of the St. Michaels town commission, declined to say when any deal might close and whether the Cheneys were going to move in. "It truly is a magnificent piece of property," he added.
---
December 1, 2005
Boyer conveys pilots' dislike for permanent 'TFR' over St. Michaels, Maryland, to FAA
A permanent 'temporary' flight restriction (TFR) for one of Vice President Dick Cheney's private residences? AOPA says it is bad public policy, it further crowds and complicates already complex airspace, and it is inconsistent with the FAA's regulation on TFRs. The association has requested that the FAA replace it with a notam similar to those issued for nuclear power plants, dams, and bridges.
"The recent unilateral action to implement this TFR, which abuts the Washington, D.C., Air Defense Identification Zone (ADIZ), adds to the aviation community's growing exasperation with the area's complex airspace and adversely affects a prominent VFR route," AOPA President Phil Boyer told the FAA in a letter. "A notam asking pilots to avoid the area should provide adequate security for the vice president and protect pilots from the severe penalties associated with violating a TFR."
---
http://www.aopa.org/whatsnew/notams.html#5/0860
5/0860 (#2) MD.. FLIGHT RESTRICTION ST. MICHAELS, MARYLAND, NOVEMBER 23, 2005 LOCAL. PURSUANT TO TITLE 14, SECTION 91.141 OF THE CODE OF FEDERAL REGULATIONS, AIRCRAFT FLIGHT OPERATIONS ARE PROHIBITED WITHIN A 1 NMR OF 384547N/0761418W OR THE OTT092024.0 UP TO BUT NOT INCLUDING 1500 FT AGL EFFECTIVE 0511231500 UTC (1000 LOCAL 11/23/05) UNTIL FURTHER NOTICE. WIE UNTIL UFN [See graphic.]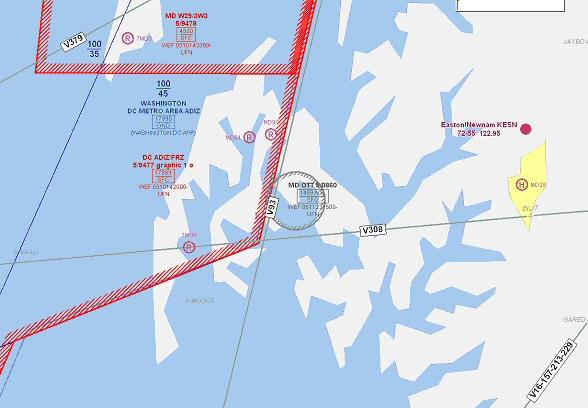 AOPA has compiled plain-language guidance and a list of airports affected by notam 5/0860 (#2):
Size and location:
Centered on 384547N 0761418W
1-nm-radius TFR up to 1,499 ft AGL
Effective time:
1000 local, November 23 until further notice
Requirements for flight in the TFR:
Aircraft operations are not allowed
Impacted airports:
None
---
See similar FAA notice: http://tfr.faa.gov/tfr_save_pages/detail_5_0860.html
---
http://sdatcert3.resiusa.org/rp_rewrite/index.asp (Search on the address)
Maryland Department of Assessments and Taxation
TALBOT COUNTY
Account Identifier: District - 02 Account Number - 088460
TOTAL TRANSFER
Sale Date: 09/07/2005 Sale Type: IMPROVED ARMS-LENGTH
Sale Number: 51541 IMPROVED
WATERFRONT
From: ROSE, RANDY L & DOROTHY O, T/C Consideration: $2,667,500
To: SUMNER, LLC
Location: 7879 FULLER ROAD Liber/Folio 1: / 1370/ 585
ST MICHAELS Liber/Folio 2:
Use: R
RESIDENTIAL
Subdivision: Town: 000
RURAL
Status: 0 BPRUC:
Class: 000
Map Grid Parcel Section Block Lot
32 13 132
Year Built: 1930
Stories: 1 1/2
3,343 SF
Land Area: 9.000 AC
---
http://www.google.com/search?q=cache:rDUzYn1XrmIJ:lovetheshoreproperty.com/MyListings%3Foperation%3DBrokerList%26++%227879+FULLER+RD+SW%22&hl=en
Coldwell Banker Listing
Residential For Sale
Ownership Type: Fee Simple
Type: Detached
Status: Sold
List Date: 01/03/05
Status Date: 09/07/05
Sales Price : $2,667,500
Original List Price: $3,100,000
Location: 7879 FULLER RD SW, SAINT MICHAELS, MD 21663
Bedrooms: 3
Full Bathrooms: 3
Approx Lot Size (Acres): 9.0
Approx Lot Size (Sq.Ft.): 392040
Year Built: 1930
MLS#: TA5123629
http://www.homevisit.com/vtour/custom_tour/cbpi/large/ht_midLeft.asp?id=12660&showFull=True
7879 FULLER RD SW
SAINT MICHAELS, MD
http://www.homevisit.com/vtour/ht_index.asp?id=12660
Very private. Tree lined drive off private road. Separate 3-bay garage with office w/gas fp and separate 3rd bedroom on second floor above with 3rd bathroom. Floor in kitchen is concrete tile with radiant heat, Floors in Living and Family room are slate with radiant heat. New 150 foot dock with electric, water depth 6.5 feet. Extensive gardens and ornamental pools. Fantastic waterfront property.
Pan and zoom property, waterfront, living room, dining room and kitchen:
http://216.239.51.104/search?q=cache:XfKAKG5ECIUJ:www.wfpsir.com/results.asp%3Fstart%3D112%26%2B1%3D1++%227879+FULLER+RD+SW%22&hl=en
---