---
9 June 2006. See correction on 2430 E Street, NW:
http://eyeball-series.org/ciaest/ciaest-birdseye.htm
19 March 2006. Thanks to A for the CIA document link.
Even though this is a 1999 CIA document, several of these buildings no longer existed at that time. Others may no longer in use by the CIA.
Except for CIA headquarters most buildings used by the agency are owned by the General Services Administration, and several of those below are shown on GSA lists of facilities (although some are dated for older buildings that no longer exist).
GSA District of Columbia properties: http://www.iolp.gsa.gov/iolp/BuildingsList.asp?sID=11
GSA Northern Virginia properties: http://www.iolp.gsa.gov/iolp/BuildingsList.asp?sID=51
Cryptome welcomes maps and photos of the original CIA buildings near the State Department and in West Potomac Park, or anywhere else around the globe. Send to:
. Quarters Eye (a naval term) would be particularly interesting for its use to plan many of the Agency's most notorious operations, including experiments with mind-altering drugs. Information is also welcomed on the unknown buildings adjacent to BUMED shown below.
The BUMED site was the original location of the Naval Observatory before it was moved northward where the Vice President lives. The US Navy long preceded satellites as the lead service for astronomical investigations, worldwide communications and electronic interception, and that its medical and surgical service has been a leader in medical research.
That many CIA offices are near the State Department is due to the parentage and cultivation of the Agency by the State Department as documented in Emergence of the Intelligence Establishment, Foreign Relations of the United States. Copies of original documents are searchable in the State Department's CIA Creation collection. The CIA has recently reclassified and withdrawn a number of documents in these collections from the National Archives and Records Administration (NARA) but they remain available from the State website.
As the State Office of the Historian notes at Emergence of the Intelligence Establishment:
"The State Department web site below is a permanent electronic archive of information released prior to January 20, 2001. Please see www.state.gov for material released since President George W. Bush took office on that date. This site is not updated so external links may no longer function."
---
Source: http://www.foia.cia.gov/docs/DOC_0000309534/0000309534_0001.gif

SECRET


CIA Declassification Guide DRAFT Version A, 21 Oct 99
_________________________________________________________________________________
APPENDIX 2
(U) ACKNOWLEDGED CIA BUILDING LOCATIONS
(U) Domestic, officially acknowledged overt CIA office buildings are listed below. Declassify their identity and location (all in the Washington metropolitan area):
D.C. Locations
[1] 1016 16th Street NW
[2] 1717 H Street NW (Matomic Building)
[3] 2210 E Street NW (Briggs School) [New building.]
[4] 2430 E Street NW complex (includes Buildings 7, 9, 11 and 12 and the North, East, Central and South Buildings) [New buildings. This is the location of the original CIA headquarters, across the street from the State Department. State has several offices listed in the complex.]
[5] Alcott, Barton, Curie Halls, Recreation and Services (R&S) Building, Quarters Eye, West Potomac Park [Buildings gone. Photos of Barton Hall in West Potomac Park are in the Library of Congress American Memory Collection]
[6] Riverside Stadium (aka The Coliseum), 26th Street NW, Foggy Bottom [Building gone, now the Kennedy Center.]
[7] Steuart Motors Building (top floors), New York Avenue at 5th Street NW [Building exists but not clear if in use. This was the original location of the National Reconnaissance Office.]
[8] Temporary Buildings Q and M, D Street NW, Foggy Bottom [Buildings gone.]
[9] Temporary Buildings 13 & 14, D Street NW, Foggy Bottom [Buildings gone.]
[10] Temporary Buildings I, J, K, L, West Potomac Park [Buildings gone.]
[Concerning the previous three listings, the Navy's Bureau of Medicine and Surgery (BUMED) complex is located at D Street NW and 23rd Street NW, west across the street from the State Department, and an online campus plan identifies the buildings in use. However, three structures to the west of BUMED are exluded from the campus plan and their use is unknown. See below.]
Virginia Locations
[11] Ames Building, 1820 Fort Myer Drive, Rosslyn
[12] Arlington Towers Garage, Fort Myer Drive [sic], Rosslyn [Allegedly where Bob Woodward met Deep Throat.]
[13] Broyhill Building, 1000 North Glebe Road, Ballston
[14] Chamber of Commerce Building, 4600 North Fairfax Drive, Ballston
[15] Key Building, (1200 Wilson Blvd.), and [16] Magazine Building, Rosslyn
[17] CIA Headquarters Building complex


SECRET
70
[Redaction]
---
Birdseyes from Local Live

[1] 1016 16th Street NW Looking East
[2] 1717 H Street NW (Matomic Building) Looking North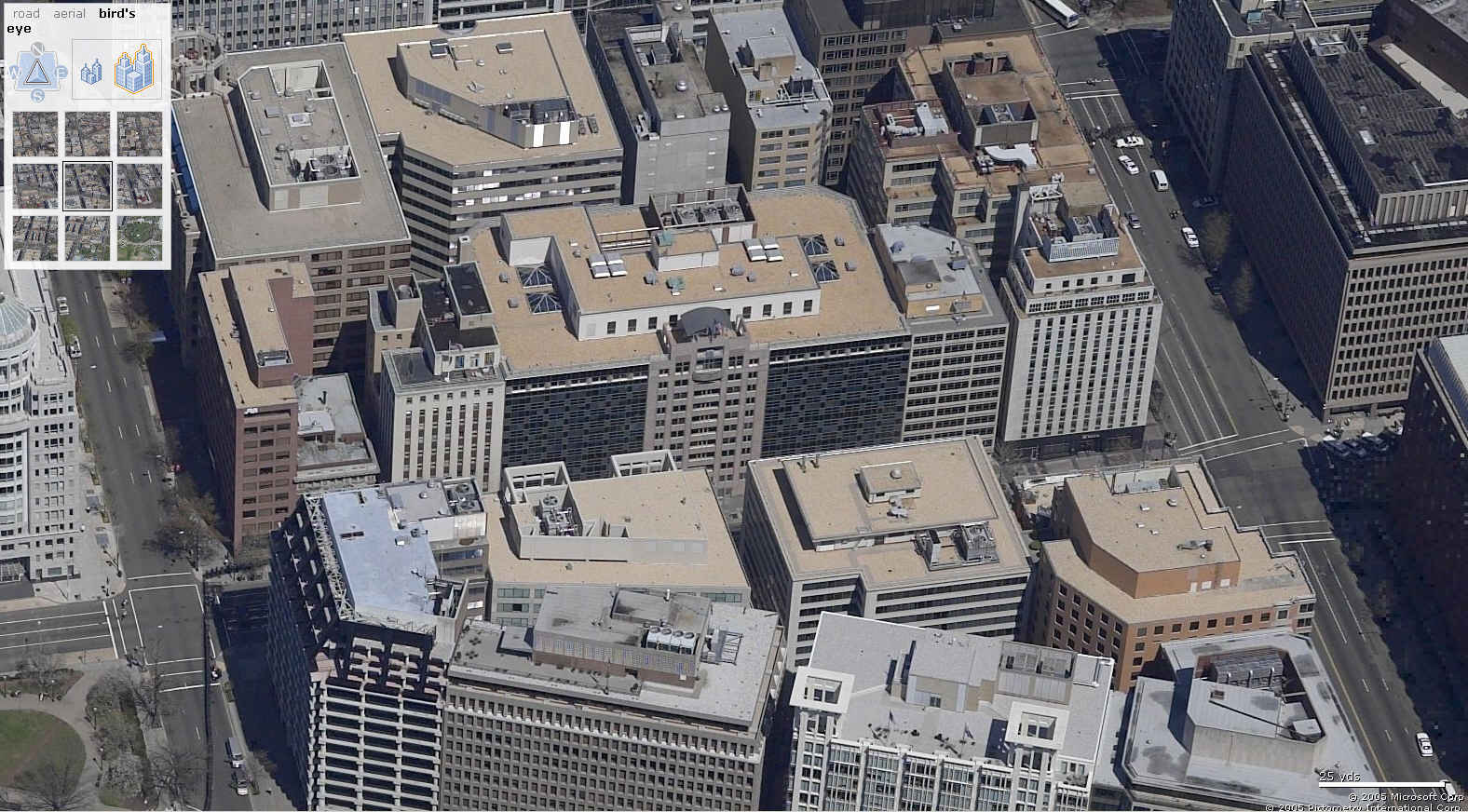 [3] 2210 E Street NW Looking North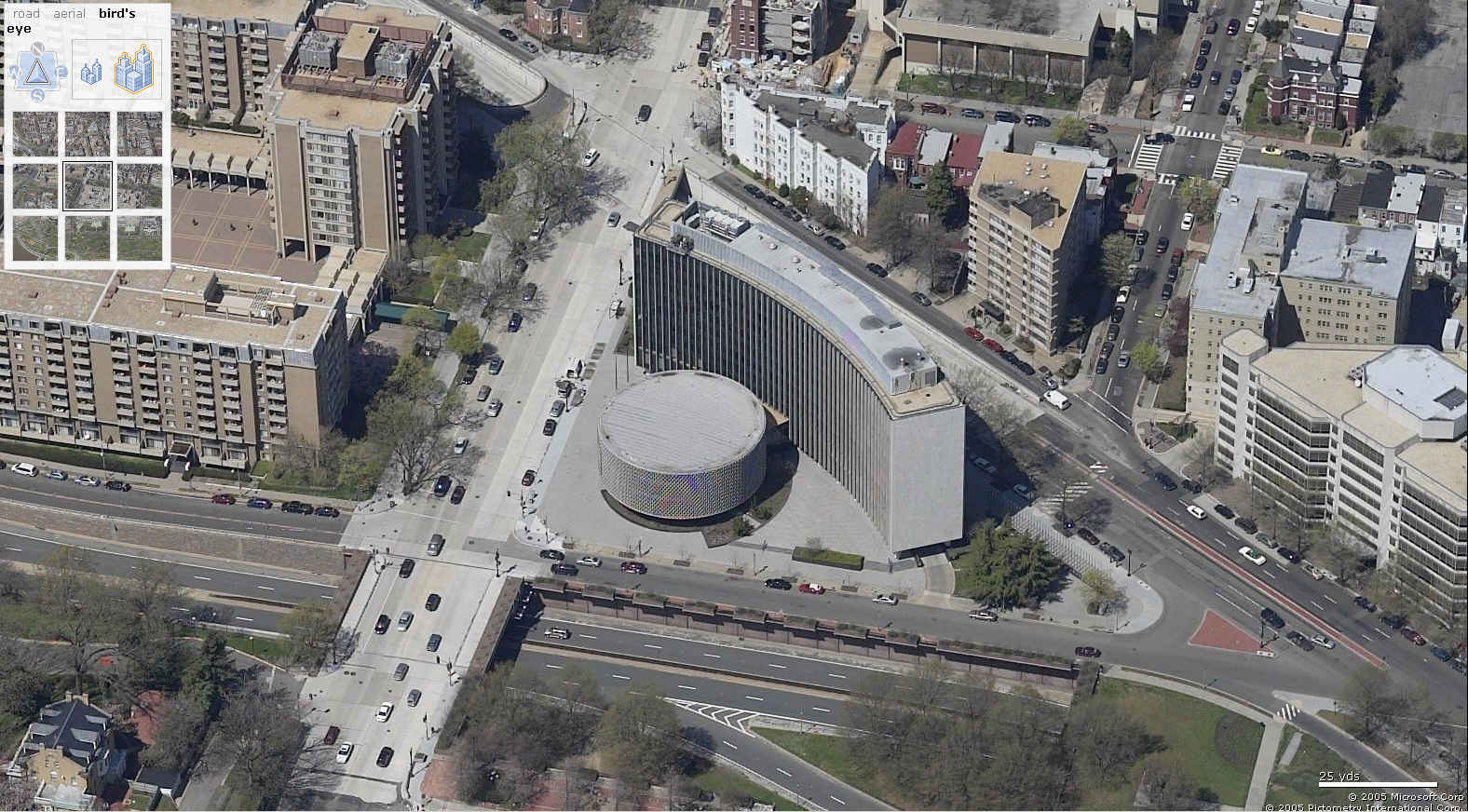 [4] 2430 E Street NW complex Looking North
[7] Steuart Motors Building (top floors), New York Avenue at 5th Street NW
[11] Ames Building, 1820 Fort Myer Drive, Rosslyn
[12] Arlington Towers Garage, Fort Myer Drive [sic], Rosslyn
[15] Key Building, (1200 Wilson Blvd.), and [16] Magazine Building, Rosslyn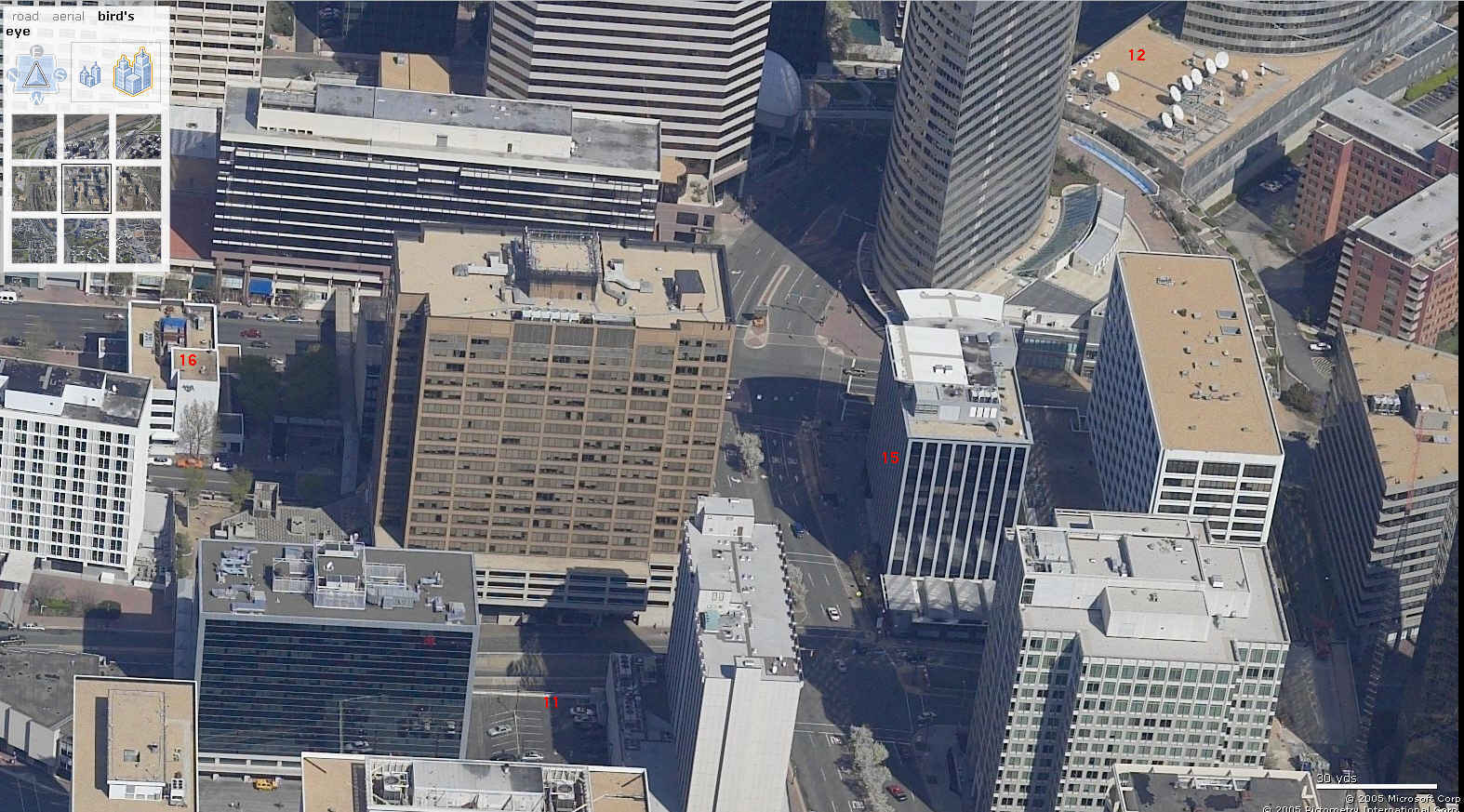 [13] Broyhill Building, 1000 North Glebe Road, Ballston
[14] Chamber of Commerce Building, 4600 North Fairfax Drive, Ballston
[17] CIA Headquarters Building complex