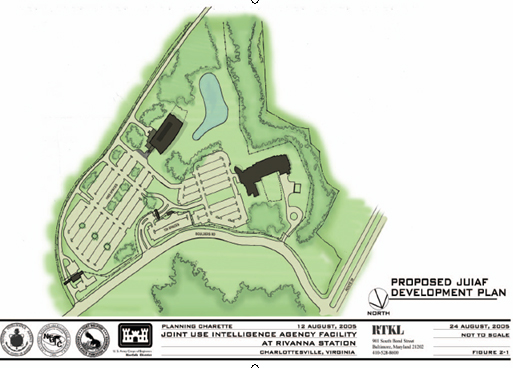 Joint Use Intelligence Analysis Facility (JUIAF)

FY08 PN 64115/FY09 PN 66204
Rivanna Station, Charlottesville, VA
Project Manager: Bryant Wilkins

This $62 million dollar project consists of constructing Phase 1 of an incrementally funded Base Realignment and Closure (BRAC) sensitive compartmented information facility (SCIF). The full authorization of $62M is requested in FY 2008 under PN 64115, along with Phase 1 funding of $41M. The balance of this incrementally funded project, $21M, will be requested in FY2009 under PN 66204. JUIAF is required to implement BRAC 05 recommendations to collocate intelligence operations (approximately 1000 personnel: 800 from DIA and 200 from NGIC) to provide a secure facility to enhance command and control; to promote acquisition, assimilation, and analysis of real-time intelligence; and to enhance organizational productivity, inter-agency connectivity and inter-operability. This two-increment project includes open and closed SCIF workspace, conference rooms, video teleconference center, technical library, General Officer/Senior Executive Service office suites, storage, administrative support areas; communications center; automated data processing center with Tier II+ reliability (single power and cooling path with redundant components); personnel and material access control and entrance lobby; cafeteria; men's and women's restrooms, showers and lockers; personnel and service elevators; and uninterruptible power supply (Operations and Maintenance, Army funded). Includes visitor control center, remote delivery facility, overhead protective canopies, standby generators, fuel storage and distribution, fire protection and alarm and building information systems. Install intrusion detection systems and closed circuit television (Other Procurement, Army funded). Supporting facilities include electric service, water, sewer and gas lines, chilled water storage and distribution, access road, parking, sidewalks, and curbs and gutters, storm drainage, site improvements, and information systems. Antiterrorism/force protection measures include access control points, setbacks, laminated glazing in reinforced frames, reinforced exterior doors, superstructure strengthening, hardening at loading dock and lobby, fencing, gates, barriers, and visual screening. Heating and air conditioning (1,500 tons) will be provided via self-contained systems and includes chemical/biohazard filtration. Connect Energy Management Control System. Access for the handicapped will be provided. Comprehensive interior design services are required. Equip and furnish (Other Appropriations). Department of Defense unit cost cap for SCIF has been exceeded due to requirement to provide redundant power and cooling components for TIER II+ reliability information processing center, requirement to support vibration sensitive imagery analysis equipment, requirement to support high structural loads, requirement for special lighting for imagery analysis equipment, requirement for controlled temperature and humidity film storage, emanation protection for computer equipment, and elevators. Supporting facility costs are high due to information system connectivity, rock excavation, paving, underground water storage, and long utility connection distances due to undeveloped site.
---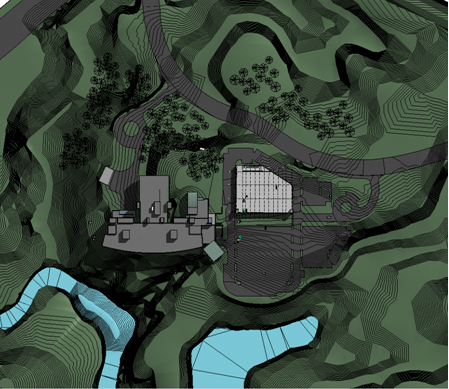 NGIC SCIF Addition PN 60276
Rivanna Station, Charlottesville, VA
Project Manager: Bryant Wilkins

This $28,000,000 projects consists of constructing 73,280 SF Sensitive Compartmented Information Facility (SCIF) addition, multi-level parking structure and temporary parking. Addition includes SCIF, information processing facility, specialized operations space, training rooms, conference space, raised floors, bathrooms, and related building service and support spaces. The four story addition will connect to existing levels 2-5. The addition will be served with new electrical services from the existing building main distribution system switchgear and will be tied into the existing building automation system. Stand by generators will provide redundancy for the electrical system. Information systems will be similar to those in the existing building, consisting of 3 LAN connections, secure, and un-secure phones. The addition includes fire detection and protection systems. Additional air conditioning is estimated at 350 tons. The addition includes dedicated HVAC systems and equipment, including a central plant for chilled water and boiler plant for heating. Due to mission criticality, the addition requires redundant power and HVAC systems. The parking structure will be multi-level with 224 parking spaces. Temporary parking consists of 360 space gravel parking area. Supporting facilities include electric, water and gas distribution, sewage collection and transport, paving, walks, curbs and gutters, storm drainage, site improvements, and landscaping. Connect Energy Management Control System. Install Intrusion detection system. Access for the handicapped will be provided. Antiterrorism/Force Protection measures include standoff distance, perimeter definition, laminated windows with appropriate framing system, access control to parking, progressive collapse avoidance, structural isolation from the existing building, electrical and mechanical design considerations, and mass notification, IDS, and access control systems. Comprehensive interior design services are required.
---
NGIC Land Acquisition PN 60242
Rivanna Station, Charlottesville, VA
Project Manager: Bryant Wilkins

This $7 million dollar project calls for the acquisition of approximately 47.47 acres of land to prevent encroachment, provide antiterrorism/force protection, and allow for expansion of the existing facilities. The National Ground Intelligence Center (NGIC) is the Army's intelligence production center. It analyses, produces, and disseminates information on foreign ground forces' systems, doctrine, tactics, and order of battle. The mission of NGIC is expanding as ever increasing volumes of sensitive information are processed and disseminated. The NGIC is currently located at the edge of a developing industrial area and is exposed to anti-terrorism/force protection risks to the facility and its personnel. Procurement of additional land provides an extended standoff against encroachment and provides protection from direct fire weapons or blast associated with an explosive device. It also provides additional area to construct receiving/screening facilities for all material shipped to the NGIC and to correct safety deficiencies caused by inadequate parking.