This file is available on a Cryptome DVD offered by Cryptome. Donate $25 for a DVD of the Cryptome 10-year archives of 35,000 files from June 1996 to June 2006 (~3.5 GB). Click Paypal or mail check/MO made out to John Young, 251 West 89th Street, New York, NY 10024. Archives include all files of cryptome.org, cryptome2.org, jya.com, cartome.org, eyeball-series.org and iraq-kill-maim.org. Cryptome offers with the Cryptome DVD an INSCOM DVD of about 18,000 pages of counter-intelligence dossiers declassified by the US Army Information and Security Command, dating from 1945 to 1985. No additional contribution required -- $25 for both. The DVDs will be sent anywhere worldwide without extra cost.
---
17 October 2006. Add New York Times photos and quotes.
15 October 2006
---
Cryptome:
The small plane crash into a 50-story (about 500 feet high) building in Manhattan in clear weather, flown with an experienced instructor pilot on board with a recently-licensed pilot, the plane's owner, is being investigated by the NTSB. The plane hit one of the nine 50-story buildings in the area (1-9 in the photos; the hit at the red circle on 1) as well as two chimneys about as tall (10 and 11). In the photo south is to the right. The plane had been flying north over the river and was reportedly was making a 180-degree turn to go back south when it struck building 1. Its looping path was either between buildings 1 and 2, or circling around building 2, between it and building 3.
New York Times, October 17, 2006: "The charred apartments on the 30th floor of the Belaire, 524 E. 72nd Street, on the Upper East Side were a striking sight on Saturday, three days after a small plane crashed into the tower's side, killing its passengers, the Yankee pitcher Cory Lidle and his flight instructor, Tyler Stanger."
Interior of Building 1 after crash.
"Shows the view from one corner of the room where the plane hit. From the room one can see the East River, over which the plane was attempting a turn when it crashed."

Building 2 at left.


New York Times/John E. Seley Source

"Shows Apartment 40ABG, a sweeping condominium formed by several joined apartments, where the plane blasted through the window and ignited the blaze."

Building 3 at right.


New York Times/John E. Seley Source
Looking Southeast
All except one of the neighborhood high-rise buildings' exterior and the chimneys are constructed of masonry and readily visible. One building (2), however, located at the river edge and closest to the building hit, is clad in dark reflective glass.
It might be wondered if the reflective glass played a role in disorienting the pilots: the sun was behind them and possibly reflecting off the glass, or worse, the glass may have mirrored the plane in such a manner that the pilots could have thought another plane was approaching and swerved to avoid it. Or they may have been temporarily blinded from sunlight bouncing off the reflective building or disoriented by the building's multiple, mirrored kaleidoscopic images of surrounding buildings.
Looking Southeast
For energy conservation reflective glass can be designed to allow more light to enter on sunless days and to be more reflective when the sun is shining. Variations in glass reflectivity are made on different sides of the building to adjust for differing sunlight exposure, and the south exposure is customarily the most reflective. On sunless days the No. 2 structure is less reflective and more visible as shown below from the south.
Looking North
Looking South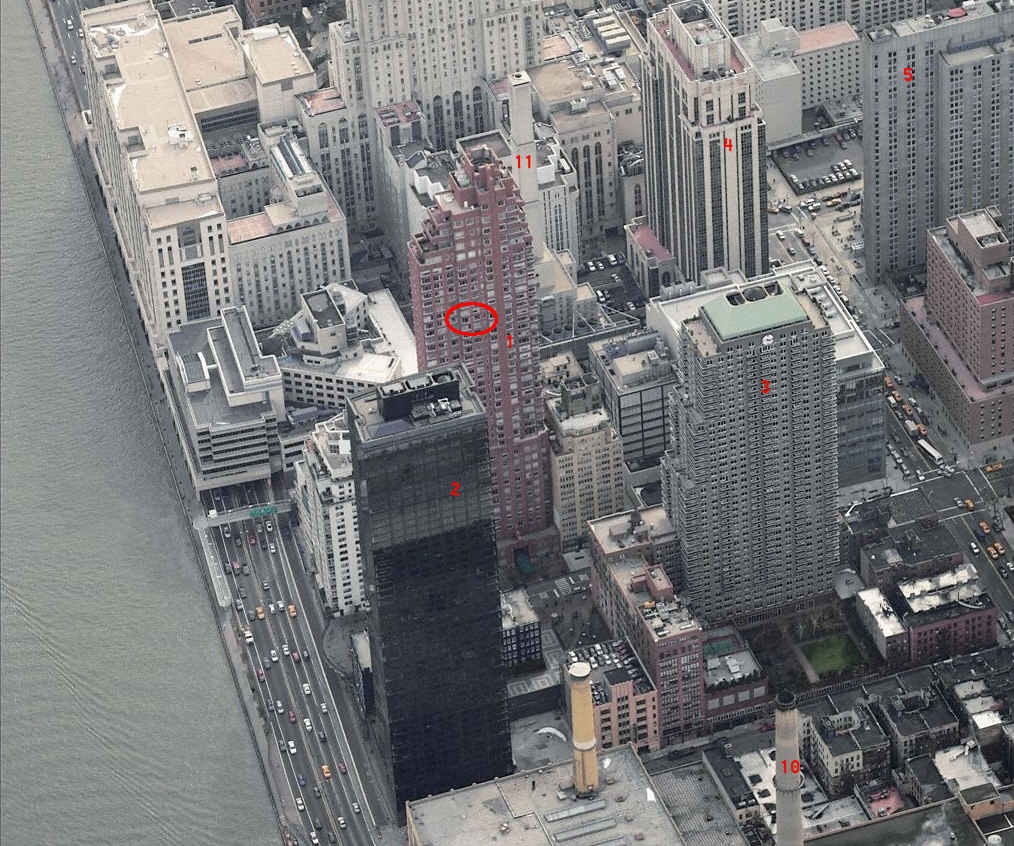 The plane crashed head-on into the building, with no sign of an evasive move, and could be due to mechanical failure, a shearing down-draft or other turbulence caused by air vortexes among the multiple high-rises -- why the plane was flying below the height of buildings is unknown.
The hit was into the center of the building, not a glancing blow, or to one side, like moves of a pilot attempting to turn away. Pilots are trained to avoid panic and to to take last minute actions to prevent a crash. Pilot tales abound of near crashes avoided by quick actions at an impending crash -- the last words on numerous aircraft black boxes are "shit," "fuck" or other expletives of pilots remaining hard at work to pull out of a jam and seeing they are not going to make it this time. No screams of panic or terror of death approaching, only words of frustration in the midst of trying to do what pilots are repeatedly trained and cautioned to do.
Glass Reflectivity
Reflectivity is a well-known hazard of high-rise buildings, especially those fully clad in mirror-like, or variable-reflectivity glass. Migrating birds are frequent casualties and measures have been taken to light at night or otherwise treat tall structures to help birds avoid crashing into them. The two World Trade Center towers were deadly to birds: maintenance crews and volunteer birdlovers had to daily remove dead birds at their bases. At one point catch nets were installed to prevent piles of avian carcasses greeting occupants each morning. Not long before 9/11 new measures had been installed on the towers to ward off bird crashes.
The newly constructed World Trade Center 7, the first of the plan to rebuild WTC, uses variable reflectivity exterior glazing, so eye-mesmerizing it almost disappears into the sky.
World Trade Center 7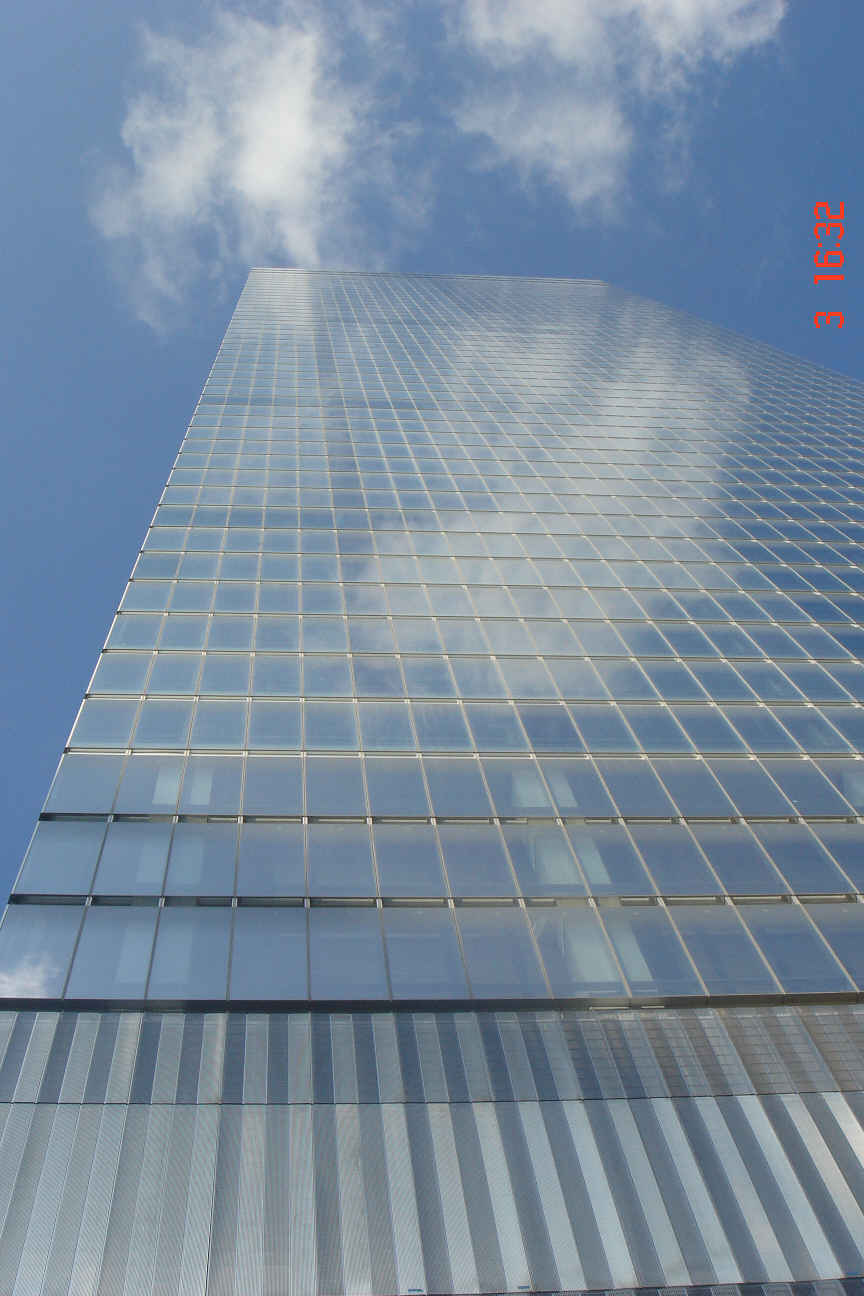 By Cryptome 3 September 2006
---