---
21 February 2009 Add all 85 Pakistan airports as possible UAV launch and/or control sites.
http://www.nytimes.com/2009/02/21/washington/21policy.html

Obama Widens Missile Strikes Inside Pakistan

By MARK MAZZETTI and DAVID E. SANGER

Published: February 20, 2009

WASHINGTON — With two missile strikes over the past week, the Obama administration has expanded the covert war run by the Central Intelligence Agency inside Pakistan, attacking a militant network seeking to topple the Pakistani government. The strikes are another sign that President Obama is continuing, and in some cases extending, Bush administration policy in using American spy agencies against terrorism suspects in Pakistan, as he had promised to do during his presidential campaign.

Under standard policy for covert operations, the C.I.A. strikes inside Pakistan have not been publicly acknowledged either by the Obama administration or the Bush administration. Using Predators and the more heavily armed Reaper drones, the C.I.A. has carried out more than 30 strikes since last September, according to American and Pakistani officials.

American Special Operations troops based in Afghanistan have also carried out a number of operations into Pakistan's tribal areas since early September, when a commando raid that killed a number of militants was publicly condemned by Pakistani officials. According to a senior American military official, the commando missions since September have been primarily to gather intelligence.

---
http://www.the-airport-guide.com/search.php?by=country&search=Pakistan

Part 1
Allama Iqbal International (Lahore), Asad Khel

Bahawalpur, Bandari (Shamsi - US Predator Base), Bannu, Belab, Bhagatanwala, Bostan

Chaklala (Islamabad), Chaman, Chandar, Chashma, Chitral

Dadu West, Dalbandin, Dera Ghazi Khan, Dera Ismail Khan, Dhingar

Part 2
Gilgit, Gurha Salim, Gwadar

Jacobabad (Shahbaz Air Base), Jam Nida Northwest, Jinnah International, Jiwani, Juzzak

Kahlid Army Airfield (Quetta), Kandhkot, Kashmor, Khairpur, Khanpur, Kharan, Khuzdar, Khewra, Khorewah, Kohat, Kot Addu

Part 3
Lachi

Mad Juma, Mandi Bahaduddin, Mangla, Masroor, Mianwali, Minhas, Mir Baz, Moenjodaro, Multan International, Muzaffarabad

Nawabshah, Nok Kundi, Nushki

Okara, Ormara, Ouzkani

Part 4
Panjgur, Pano Aqil Southeast, Parachinar, Pasni, Peshawar

Qasim, Quetta

Rahwali, Rajanpur, Rawalakot, Risalpur Cantonment, Robray

Saidu Sharif, Sambazza, Sharea Faisal, Sheikh Zayed, Skardu, Sui, Sukkur

Part 5
Talhar, Tarbela Dam, Thal, Thar, Torwam Shabi Khel, Turbat International

Velhari

Walton (Lahore), Wana

Zhob
18 February 2009. Add Jacobabad and Pasni bases named in (UK) The Times articles:
http://www.timesonline.co.uk/tol/news/world/asia/article5755490.ece
http://www.timesonline.co.uk/tol/news/world/asia/article5762371.ece
See also: The News (PK): http://thenews.jang.com.pk/daily_detail.asp?id=163174
Add Gwadar, Turbat and Robray airports.
See also: Predator base: http://cryptome.org/eyeball/predator-pk/predator-pk.htm
15 February 2009
---
http://www.nytimes.com/2009/02/15/world/asia/15pstan.html
U.S. Airstrike Kills 30 in Pakistan
By PIR ZUBAIR SHAH
Published: February 14, 2009
ISLAMABAD, Pakistan — Two missiles fired from American drone aircraft killed more than 30 people, including Qaeda and Taliban fighters, near the Pakistani border with Afghanistan on Saturday, according to a Pakistani intelligence official and residents of the area.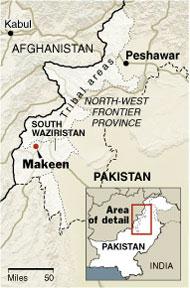 New York Times
The American attacks were near the town of Makeen.
The missiles struck three compounds, including one where the leader of the Pakistani Taliban, Baitullah Mehsud, and foreign and local fighters loyal to him sometimes gather, the official and residents said.
If Mr. Mehsud was the target of the attack in South Waziristan, it would be the first time that American missiles were aimed at him, the intelligence official said.
Missile attacks in Pakistan by remotely piloted aircraft operated by the Central Intelligence Agency have generally been aimed at foreign Qaeda fighters and Taliban guerrillas from Afghanistan, who take shelter in Pakistan between raids into their country to fight American and NATO soldiers.
It was unclear if any civilians where killed in Saturday's strikes, which residents say also hit a madrasa.
The drone attack also comes after a statement on Thursday by Senator Dianne Feinstein, Democrat of California and the chairwoman of the Senate Intelligence Committee, that the aircraft take off from a base in Pakistan.
"As I understand it, these are flown out of a Pakistani base," Ms. Feinstein said during a hearing.
The drone attacks, especially in the last six months, have increased anti-American sentiment in Pakistan to very high levels, and Ms. Feinstein's statement is likely to further inflame the protests over them. Her statement was prominently covered by the Pakistani press on Saturday.
Although many Pakistanis have accused their government of giving quiet approval for the United States to strike in the tribal areas, they also assumed that the strikes came from Afghanistan.
In 2008, the American drones carried out more than 30 missile attacks against Qaeda and Taliban targets in the tribal areas, according to a report by the Council of Foreign Relations in Washington. Two missile attacks just days after Mr. Obama was inaugurated indicated that his administration, at least for now, planned to continue the policy of the Bush administration.
__________

http://www.guardian.co.uk/uk/2006/jan/29/politics.usa

A British technology company and a secretive airforce base in Cambridgeshire are playing a key role in the CIA's use of robot Predator planes, deployed to assassinate suspected terrorists overseas,The Observer can reveal.

Source Photograph by John Chartier

Source
A missile fired from a Predator killed more than 20 innocent people in Pakistan earlier this month in a botched US bid to kill Ayman al Zawahiri, the deputy leader of al-Qaeda, and similar attacks have been made in Iraq, Yemen and on the Pakistan-Afghanistan border.
The attacks have been condemned by humanitarian organisations, which argue that extra-judicial killings break international law and have led to the deaths of innocent civilians.
The Observer has discovered that the computer 'brains' of the unmanned Predators are made in Towcester, Northamptonshire, by Radstone Technology. The firm manufactures the computer boards that control the drones and enable the CIA to target top al-Qaeda suspects. Predators are controlled remotely by satellite and a joystick. When a target is identified, the Predators fire a Hellfire missile.
These kinds of targeted attacks - with air-to-surface missiles taking the place of judicial process - appear to be in breach of international law,' said Amnesty International's UK campaigns director, Stephen Bowen. 'That up to 22 civilians were also killed in a recent attack makes it all the more worrying.
'The government must investigate what role UK-supplied technology has played in this attack, and whether it breaks arms export laws.'
Equally controversial is the disclosure that images taken by Predators as they fly across international airspace are beamed back to a top-secret US base at RAF Molesworth in Cambridgeshire. Staff at the American Joint Analysis Centre study the images and then decide what action to take.
According to Amnesty, under international standards, extra-judicial killings are always unlawful, and 'a state of war or threat of war, internal political instability or any public emergency may not be invoked as a justification for such executions'.
__________
http://www.cleveland.com/world/index.ssf/2008/10/air_force_recruiting_pilots_fo.html
In this image provided by the U.S. Air Force, Capt. Richard Koll, left, and Airman 1st Class Mike Eulo perform function checks after launching an MQ-1 Predator unmanned aerial drone Aug. 7, 2007, at Balad Air Base, Iraq. Captain Koll, the pilot, and Airman Eulo, the sensor operator, will handle the Predator in a radius of approximately 25 miles around the base before handing it off to personnel stationed in the United States to continue its mission. Scrambling to meet commanders' insatiable demands for unmanned aircraft, the Air Force is launched two new training programs Wednesday Oct. 22, 2008, including an experimental one that would churn out up to 1,100 desperately needed pilots to fly the drones over Iraq and Afghanistan. As many as 700 Air Force personnel have expressed some interest in the test program, which will create a new brand of pilot for the drones, which are flown by remote control from a base in Nevada.
__________
http://www.nytimes.com/2008/06/30/washington/30tribal.html
Amid U.S. Policy Disputes, Qaeda Grows in Pakistan
By MARK MAZZETTI and DAVID ROHDE
June 30, 2008
By late 2005, many inside the C.I.A. headquarters in Virginia had reached the conclusion that their hunt for Mr. bin Laden had made little progress since Tora Bora. Jose A. Rodriguez Jr., who at the time ran the C.I.A.'s clandestine operations branch, decided in late 2005 to make a series of swift changes to the agency's counterterrorism operations.
But Mr. Rodriguez believed that the Qaeda hunt had lost its focus on Mr. bin Laden and the militant threat in Pakistan. So he appointed a new head of the Counterterrorist Center, who has not been publicly identified, and sent dozens more C.I.A. operatives to Pakistan. The new push was called Operation Cannonball, and Mr. Rodriguez demanded urgency, but the response had a makeshift air.
There was nowhere to house an expanding headquarters staff, so giant Quonset huts were erected outside the cafeteria on the C.I.A.'s leafy Virginia campus to house a new team assigned to the bin Laden mission. In Pakistan, the new operation was staffed not only with C.I.A. operatives drawn from around the world, but also with recent graduates of "the Farm," the agency's training center at Camp Peary in Virginia.
__________
The CIA Quonset Huts:
http://cryptome.org/eyeball/cia-quonset/cia-quonset.htm
__________
Cryptome:
If Pelosi is right, not deceived by US spies or not disinforming about the location of the drone base, the base is likely in central Pakistan. However, as noted above, the drones may be launched by the US Air Force and then handed off to CIA operators located elsewhere, even within the United States.
This shows some of the central Pakistan bases, and drones may be launched from them or drone bases could be newly constructed away from Pakistan bases for concealment against outraged Pakistanis.
---