President Bush makes his first comments since Israeli troops attacked the headquarters of Palestinian leader Yasser Arafat in the West Bank, speaking to reporters in a video-conference room at his ranch near Crawford, Texas, Saturday, March 30, 2002. Bush empathized with the innocent victims of the violence, saying Arafat "can do a lot more" to prevent attacks against Israelis and that the United States supports Israel's right to defend itself. (AP Photo/J. Scott Applewhite)
New York Times April 1 2002
"Yasser Arafat should have done more three weeks ago, and should do more today," Mr Bush said, speaking in the glorified trailer where he conducts his daily national security briefings with principal aides in Washington through a secure videoconference facility set up on the Texas prairie.
Financial Times April 1 2002
When the US president at last emerged to call world leaders and make public comments the next day, his message offered no more support for the beleaguered Palestinian leader than if he had continued to clear brush on his sprawling estate. "We are at this point because there has not been enough done to fight off terror," he told reporters in a trailer that doubles as his secure video-conference room.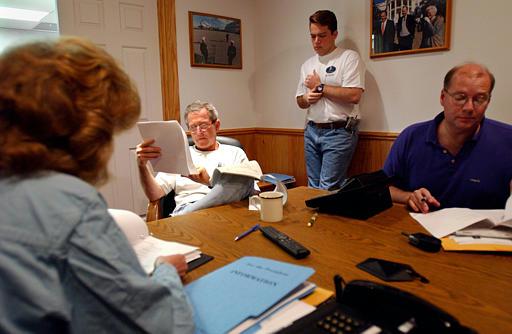 President Bush looks over papers inside a telecommunications trailer at the Bush Ranch in Crawford, Texas, Friday, Aug. 9, 2002, during a satellite-linked videoconference with Vice President Dick Cheney and others. From left are Staff Secretary Harriet Miers, personal assistant Blake Gottesman and Deputy Chief of Staff Joe Hagin. (AP Photo/The White House, Eric Draper). Also White House source.
New York Times April 8 2004
Mr. Bush met with his national security team via the secure teleconference center in a trailer near his ranch in Crawford. Among those participating, the White House said, were Vice President Dick Cheney; Mr. Rumsfeld; George J. Tenet, the director of central intelligence; Secretary of State Colin L. Powell; L. Paul Bremer III, the American administrator in Iraq; General Abizaid; Gen. Richard B. Myers, the chairman of the Joint Chiefs of Staff; Ms. Rice; and Andrew H. Card Jr., the chief of staff.
Telegraph 11/04/2004
Briefly, there was even talk of returning to Washington. But it was decided that the ranch trailer that doubles as a video-conference room would do. Early on Wednesday, President Bush had a 30-minute telephone conversation with Mr Blair. Then he decamped to the trailer - Gen John Abizaid, the commander of US Central Command in Iraq, and Paul Bremer, the leader of the Coalition Provisional Authority, were waiting to talk from Baghdad.
This frame taken from secure government video obtained by The Associated Press shows President Bush, center, in a narrow, windowless room at his vacation ranch in Texas, Aug. 28, 2005, taking part in a government video briefing the day before Hurricane Katrina struck on Aug. 29. (AP Photo). Creation Date 03/01/2006 00:00:00. IMAGE TAKEN FROM VIDEO OBTAINED BY THE ASSOCIATED PRESS.
White House photographer Paul Morse is shown in the video frame at right rear.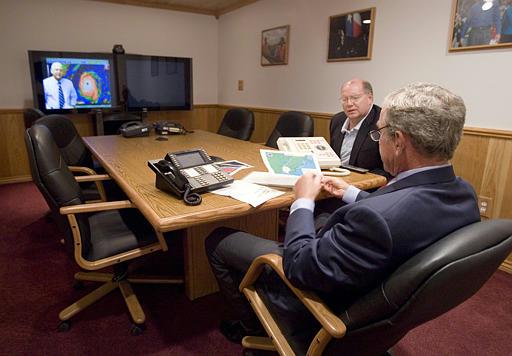 In this photo released by the White House, President Bush is handed a map by Deputy Chief of Staff Joe Hagin, center, during a video teleconference with federal and state emergency management organizations on Hurricane Katrina at his Crawford, Texas, ranch on Sunday, Aug. 28, 2005. (AP Photo/White House, Paul Morse). Also White House source