Financial Crisis Luxury Architecture

Greek Prime Minister George Papandreou, left, addresses Socialist members of parliament in Athens, Monday, Oct. 31, 2011. Papandreou says his country will hold a referendum on a new European debt deal reached last week. Papandreou gave no date on other details of a proposed referendum on the deal that aims to seek 50 percent losses for private holders of Greek bonds and provide the troubled eurozone member with euro 100 billion ($140 billion) in additional rescue loans. (Thanassis Stavros)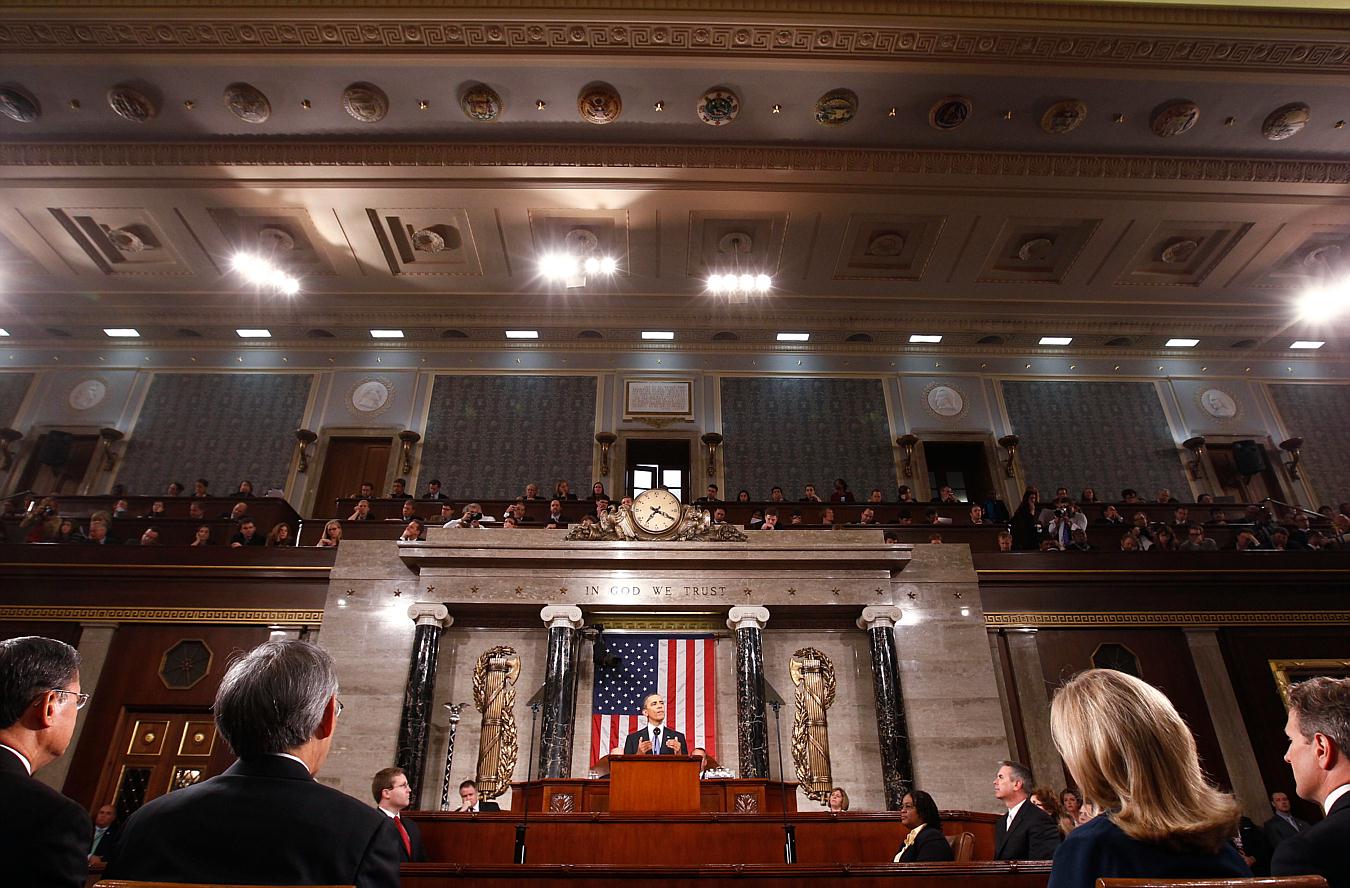 President Barack Obama delivers a jobs creation speech to a joint session of Congress at the Capitol in Washington, Thursday, Sept. 8, 2011. (Kevin Lamarque)
This handout photo provided by the International Monetary Fund (IMF) shows G20 Finance Ministers and Bank Governors meeting in Washington, Friday, April 15, 2011, at the IMF Headquarters in Washington. (Stephen Jaffe, IMF)
Sen. John McCain, R-Ariz. is interviewed on Capitol Hill in Washington, Tuesday, Aug. 2, 2011, after the Senate voted to pass debt legislation. (Jacquelyn Martin)
Madrid's Stock Exchange is seen on Wednesday Aug. 10, 2011. A risky European Central Bank decision to fight the continent's debt crisis by buying Spanish and Italian bonds on Monday started pushing down the soaring interest rates threatening those countries with financial disaster.(Daniel Ochoa de Olza)
In this Feb. 1, 2011 file photo, people queue outside an unemployment office in Madrid. Spain's Labor Ministry says the number of people filing claims for unemployment benefits fell by 42,059 in July as the summer tourism season provided new jobs. The ministry said Tuesday, Aug. 2, 2011 that July's fall was the fourth straight monthly decline. It left the number receiving benefits at 4.08 million, down from 4.12 million the previous month. (Arturo Rodriguez, File)
Lawmakers crowd the Parliament as Italian Premier Silvio Berlusconi addresses the lower chamber on the state of the economy in Rome, Wednesday, Aug. 3, 2011. Berlusconi said economic growth is his government's key policy aim. After a volatile day on markets, in which Italian borrowing rates touched a record high, Berlusconi told parliament that Italy "has not done little'' in response to the crisis, but that it needs to do more. He says Italy needs to promote competitiveness and growth.
A beggar, his body covered with white paint, walks along a street in Port-au-Prince, Haiti, Saturday, March 5, 2011. (Ramon Espinosa)
A nearly deserted atrium of the European Council is pictured in Brussels, Monday, Aug. 8, 2011. European have always valued their vacations, and their leaders are no exception. With modern communications, the leaders say they remain constantly in touch. So do their vacations matter? One financial analyst says yes: "It sends a terrible message to the markets ... in the middle of a crisis." (Yves Logghe)
Pensioners gather in a protest against the government's austerity measures, Thursday, Aug. 25 2011, outside the prime minister's official residence in Lisbon. Portugal's European partners and the International Monetary Fund lent it the money to prevent the country going bankrupt but in return demanded a long list of spending cuts and economic reforms. Poster hanging from the umbrella reads "The government lied to the pensioners". (Armando Franca)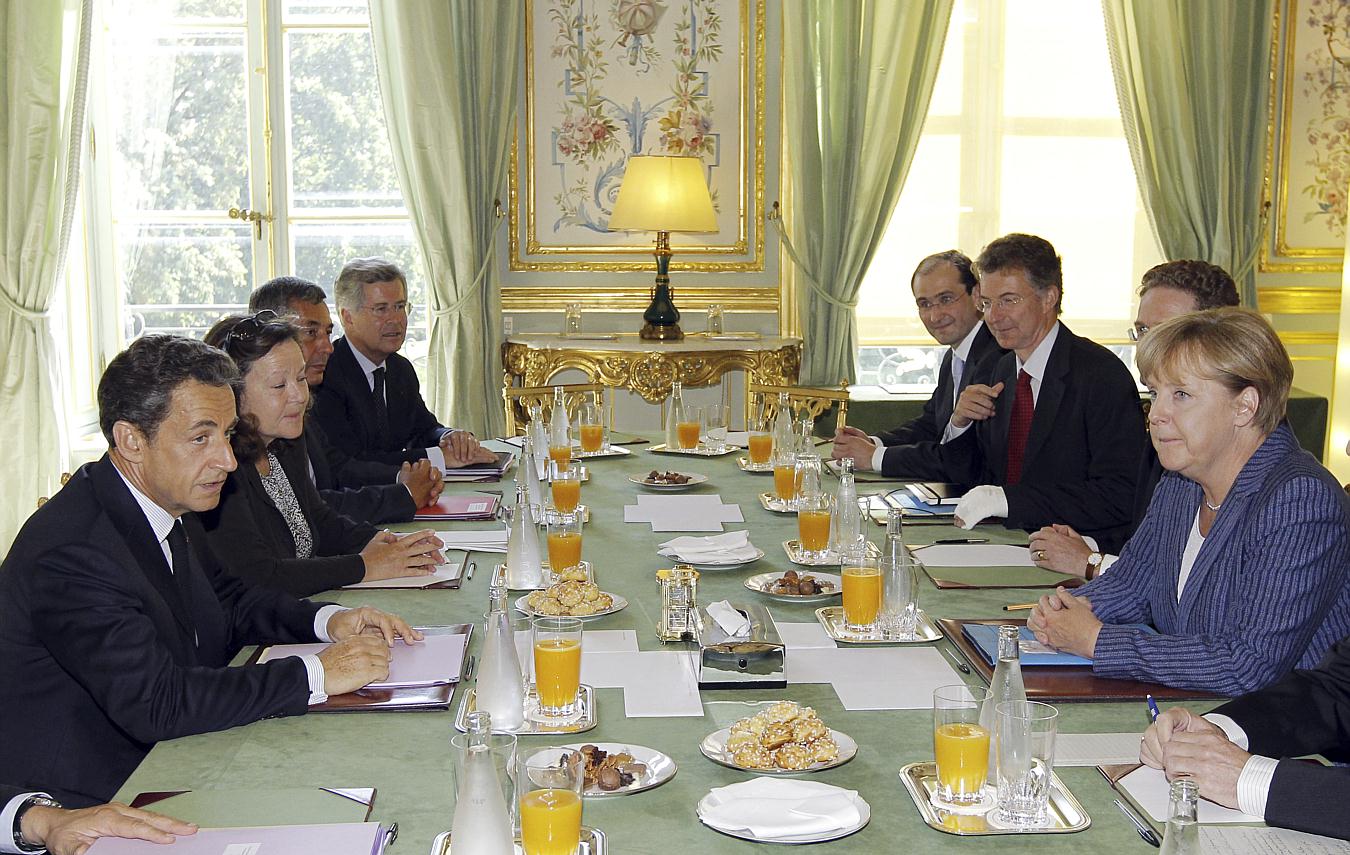 French President Nicolas Sarkozy, left, and German Chancellor Angela Merkel, right, attend a meeting at the Elysee Palace, Paris, Tuesday, Aug. 16, 2011. The leaders of Germany and France are meeting Tuesday to discuss Europe's debt crisis as new figures show their economies stalled even before the latest bout of turmoil struck financial markets. (Patrick Kovarik, Pool)
A traveller smokes next to a beggar outside a public office in central Athens on Thursday, Aug. 11, 2011. Greece's Statistical Authority says unemployment in the debt-ridden country jumped to 16.6 percent in May.The number of jobless stands at 822,719 in the country of about 11 million people. The graffiti reads "pigs, murderes" and "burn the parliament". (Dimitri Messinis)
French President Nicolas Sarkozy, left, speaks during a special meeting on the financial crisis with head of the French Central Bank Christian Noyer, right, Finance Minister Francois Baroin, second from right, and Prime Minister Francois Fillon, third from right, at the Elysee Palace in Paris, Wednesday Aug. 10, 2011. Sarkozy is interrupted his vacation to hold an emergency government meeting about the uncertainty on world financial markets. (Denis/Pool)
A view of Milan's stock exchange headquarters is seen, Monday, July 11, 2011. Finance ministers gathered in Brussels are debating how to secure a private-sector contribution to a new Greek package and how to prevent the debt crisis spreading to bigger countries, including Italy. (Antonio Calanni)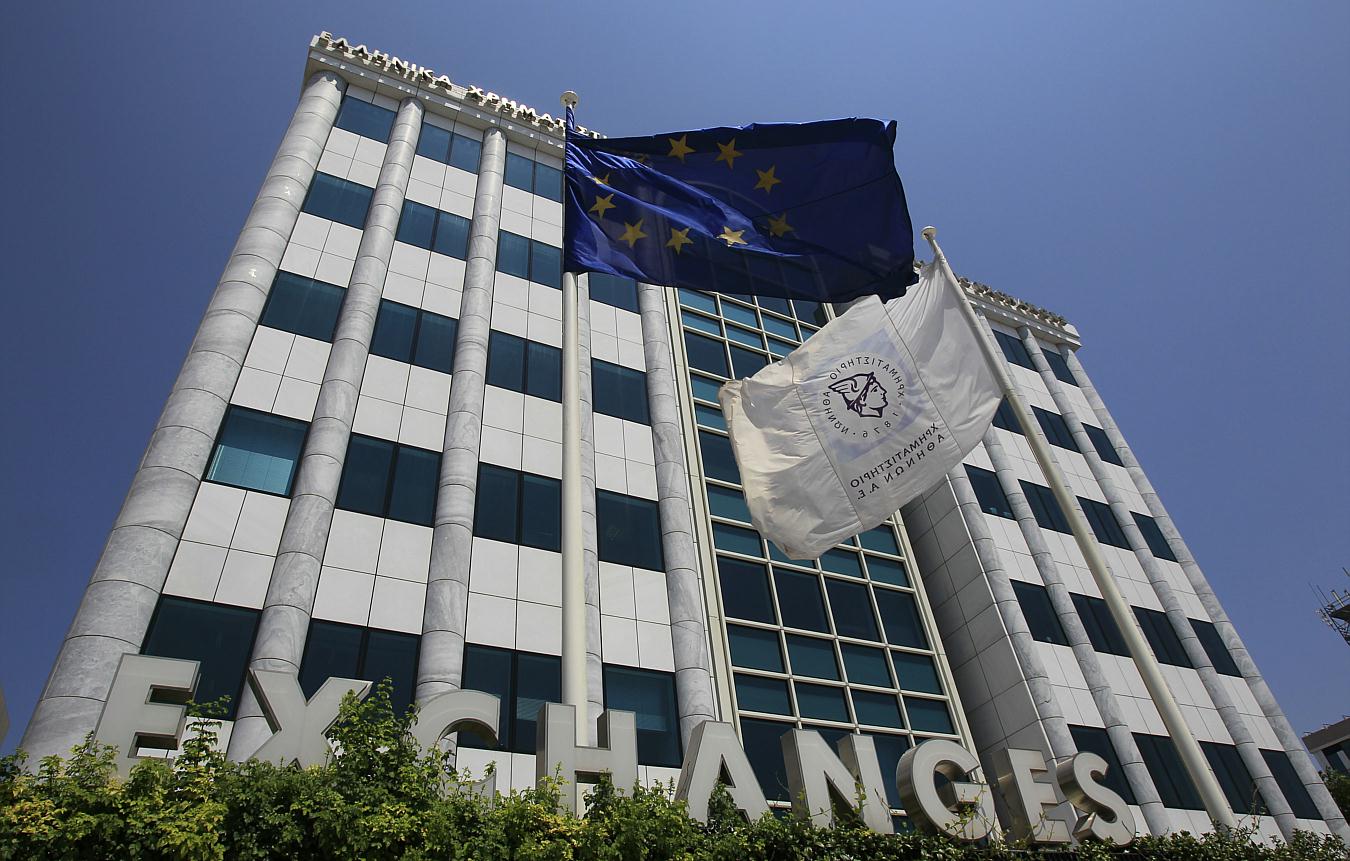 E.U. and Stock Exchange's flags fly outside the building of the Greek Stock Exchange in Athens, Friday, Aug. 5, 2011. The eurozone's debt crisis battered markets once again Friday, challenging vacationing European leaders to find a way to keep the turmoil from pushing Spain and Italy to a financial collapse that would hit an already-waning global recovery. (Thanassis Stavrakis)
A woman holding a handkerchief to her face to protect herself from lingering tear gas passes by an elderly beggar while, in the background, two workers replace broken hotel windows in central Athens on Thursday, June 30, 2011. Rioters caused extensive property damage during anti-government protests Wednesday while police riposted with heavy use of chemicals. (Dimitri Messinis)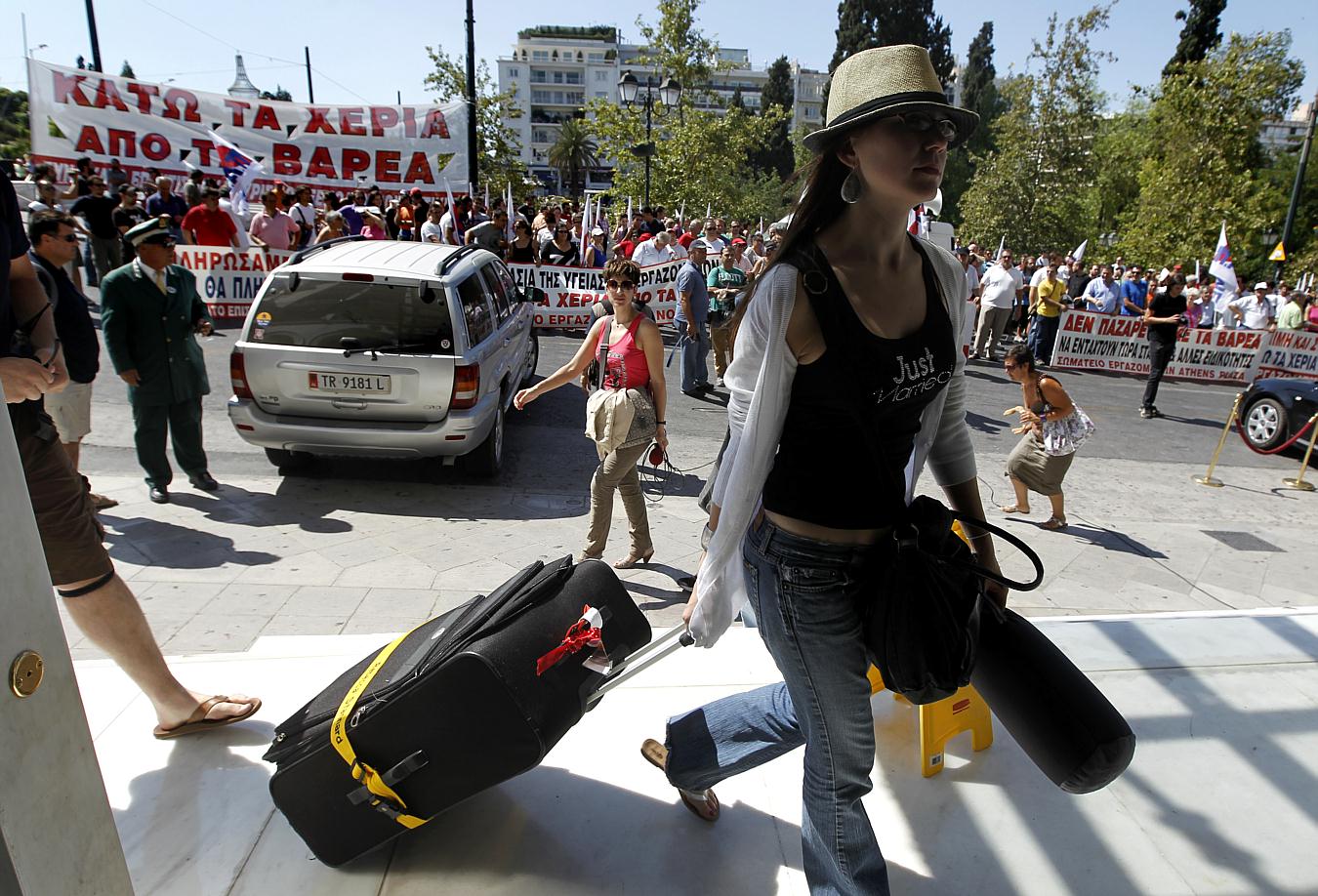 A tourist with her luggage enters a luxury hotel in central Athens as protesters demonstrate on Tuesday, Aug. 23, 2011. Dozens of protesters have been picketing the entrance to three luxury hotels on Athens' main Syntagma Square as part of a 24-hour strike by hotel employees objecting to plans to cut their entitlement to early retirement. The banner on the left reads in Greek "Hands off" the 'arduous and unhealthy' classification of professions. (Petros Giannakouris)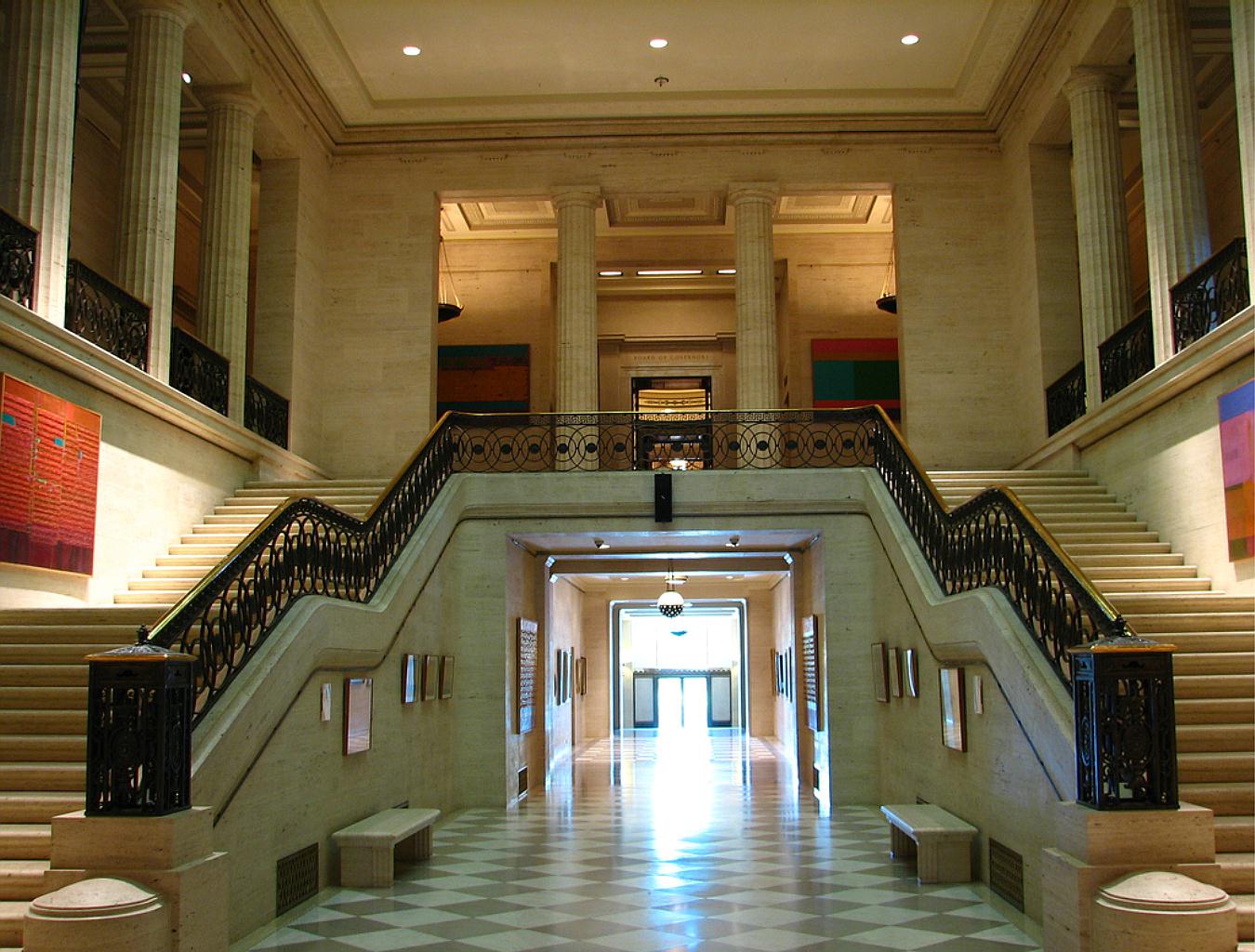 Federal Reserve Board, Washington, DC
The Federal Reserve Bank of New York, where high level meetings were held in a last attempt to save Lehman Brothers, is photographed August 25, 2009. A failed plan to rescue Lehman Brothers was followed Sunday by more seismic shocks from Wall Street, including an apparent government-brokered takeover of Merrill Lynch by the Bank of America. (Cryptome) Below, Board Room of the Federal Reserve Bank of New York.
Greek Prime Minister George Papandreou, left, talks with Greek President Karolos Papoulias during their meeting in Athens, on Friday, July 22, 2011. Eurozone countries and the International Monetary Fund pledged Thursday to give Greece a euro 109 billion ($155 billion) worth of rescue funds, on top of the euro 110 billion granted more than a year ago. (Petros Giannakouris)
People walk past a prostrate beggar at the entrance to the Syntagma Square metro station in central Athens, Thursday, Aug. 11, 2011. Greece's Statistical Authority says unemployment in the debt-ridden country jumped to 16.6 percent in May.The number of jobless stands at 822,719 in the country of about 11 million people. (Dimitri Messinis)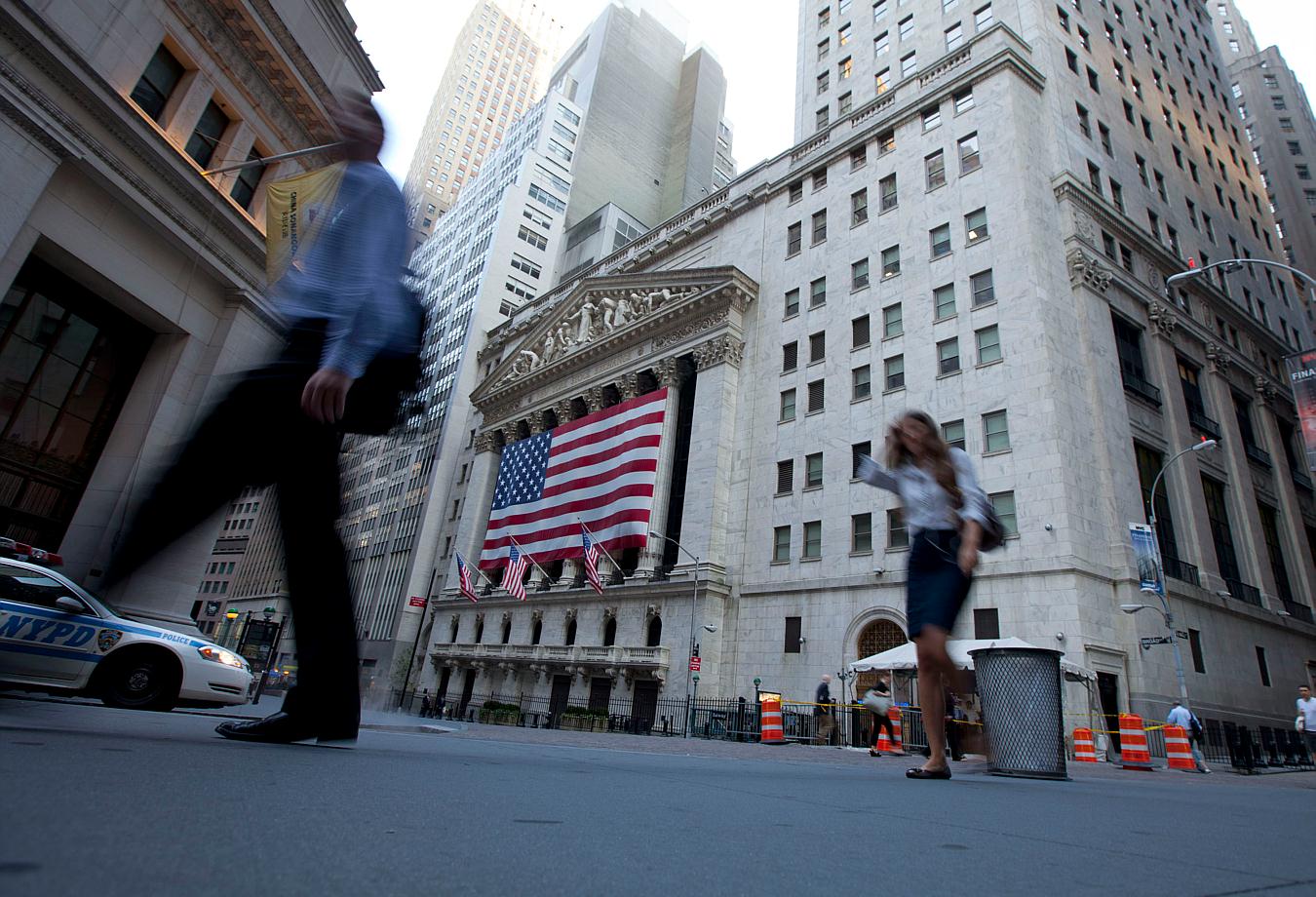 Pedestrians walk past the New York Stock Exchange on Friday, Aug. 5, 2011 in New York. Fears that the economy might dip back into recession helped send the Dow Jones industrial average down 513 points on Thursday. European leaders are struggling to contain that region's debt problems, prompting comparisons to the 2008 financial crisis. Markets tumbled from Tokyo to London Friday as overseas traders reacted to the selloff. (Jin Lee)
Political protest at the New York Stock Exchange, August 20, 2007. (Cryptome)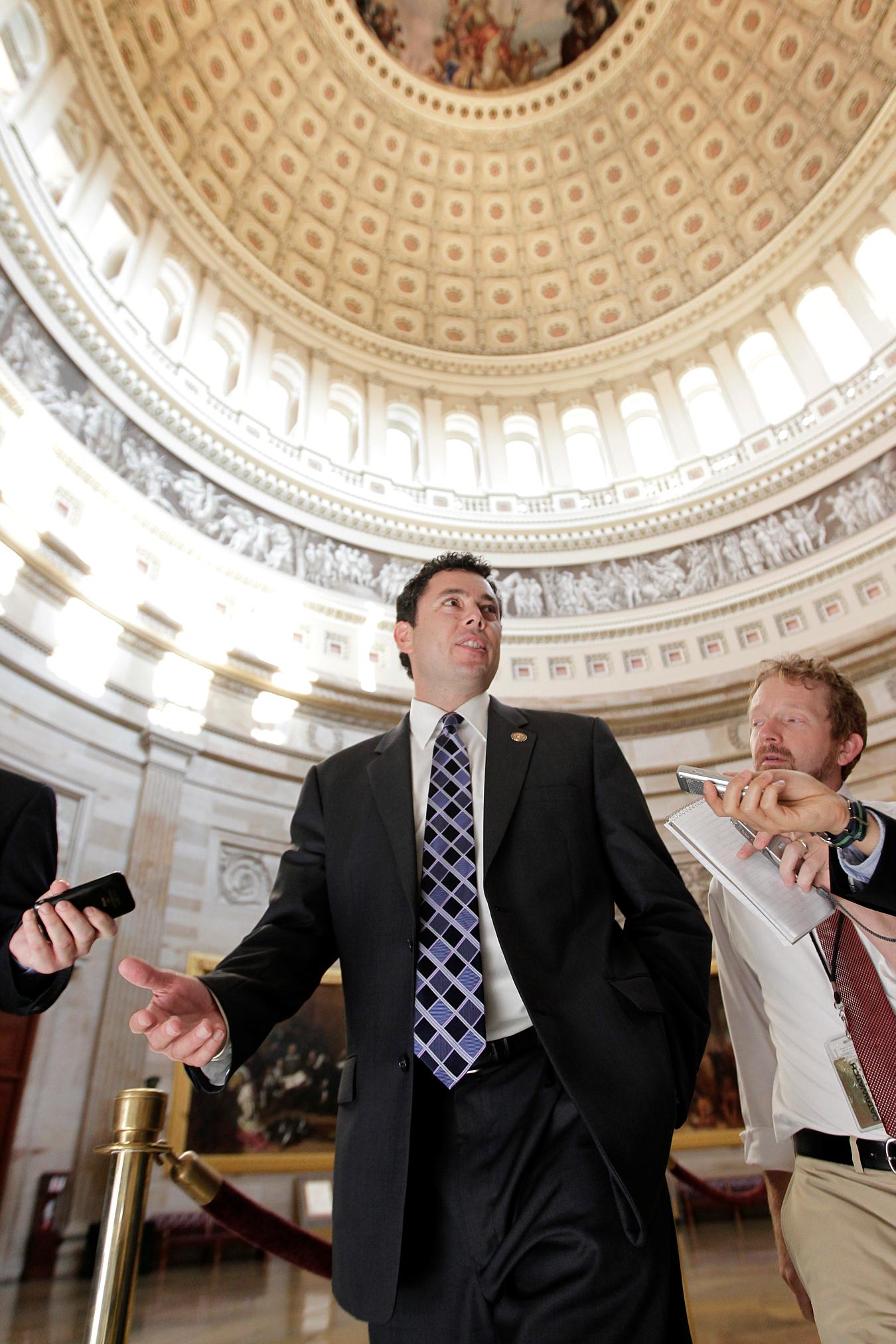 Rep. Jason Chaffetz, R-Utah, sponsor of the "Cut, Cap and Balance" deficit reduction plan that was passed in the GOP-controlled House, walks through the Capitol to get an update from the Senate on debt negotiations, in Washington, Sunday, July 31, 2011. (J. Scott Applewhite)
A beggar boy and a beggar rest near an entrance of a pedestrian underpass near Beijing's Central Business District, China, Thursday, April 28, 2011. (Alexander F. Yuan)