This file is available on a Cryptome DVD offered by Cryptome. Donate $25 for a DVD of the Cryptome 10-year archives of 35,000 files from June 1996 to June 2006 (~3.5 GB). Click Paypal or mail check/MO made out to John Young, 251 West 89th Street, New York, NY 10024. Archives include all files of cryptome.org, cryptome2.org, jya.com, cartome.org, eyeball-series.org and iraq-kill-maim.org. Cryptome offers with the Cryptome DVD an INSCOM DVD of about 18,000 pages of counter-intelligence dossiers declassified by the US Army Information and Security Command, dating from 1945 to 1985. No additional contribution required -- $25 for both. The DVDs will be sent anywhere worldwide without extra cost.
---
22 December 2004. Add 7 photos of Forward Operating Base Marez prior to attack. Add 3 photos of KBR-operated dining facilities. Halliburton names 4 KBR employees killed in attack:
http://www.halliburton.com/news/archive/2004/kbrnws_122204a.jsp
Global Security on FOB Marez:
http://www.globalsecurity.org/military/world/iraq/mosul-airbase.htm
133rd Engineer Battalion Newsletter describes life at FOB Marez:
http://www.133rdengineers.com/Soul_OF_Lion.htm

New York Times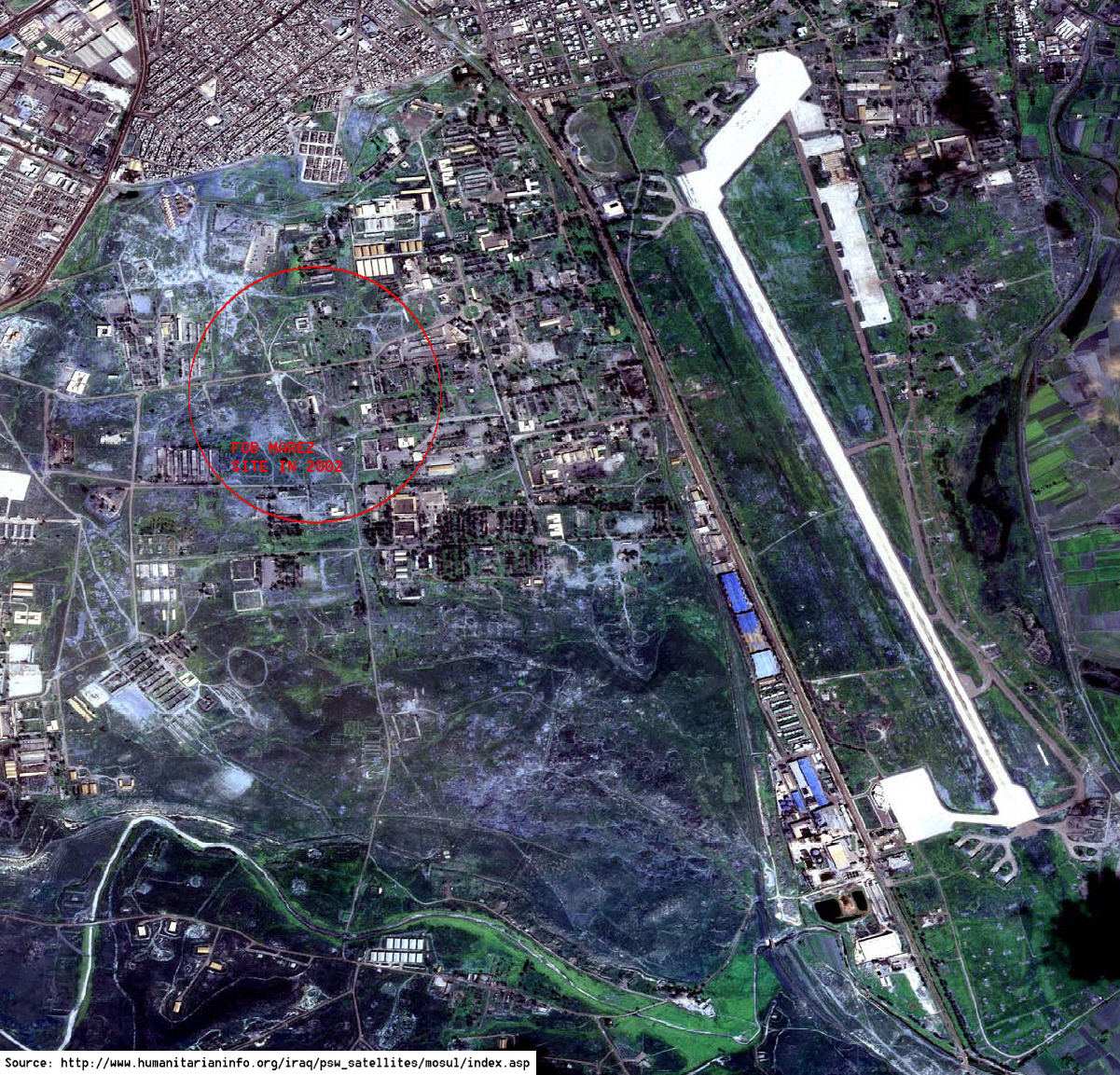 21 December 2004. Add 10 photos.
21 December 2004. Military death count before today.
See also Eyeballing the Iraq Kill and Maim Zone.
1,346 US Military Dead During Iraq War: http://cryptome.org/mil-dead-iqw.htm
See also DoD tally: http://www.defenselink.mil/news/casualty.pdf
---
Attack on U.S. Base in Mosul Kills 22
By THE ASSOCIATED PRESS
Published: December 21, 2004
Filed at 11:17 a.m. ET
BAGHDAD, Iraq (AP) -- Rockets struck a mess tent at a military base in Mosul where hundreds of U.S. soldiers had just sat down to lunch Tuesday, and a Pentagon official said at least 22 people were killed and 50 were wounded.
A radical Muslim group, the Ansar al-Sunnah Army, claimed responsibility.
The attack came the same day that British Prime Minister Tony Blair made a surprise visit to Baghdad and described the ongoing violence in Iraq as a ``battle between democracy and terror.''
Jeremy Redmon, a reporter for the Richmond, Va., Times-Dispatch embedded with the troops in Mosul, said 13 soldiers were killed in the attack at Forward Operating Base Marez, including two from the Richmond-based 276th Engineer Battalion. More than 50 people were wounded, and civilians may have been among them, he said.
The base, also known as the al-Ghizlani military camp, is used by both U.S. troops and the interim Iraqi government's security forces The identities of the casualties were not known, the Pentagon official said, speaking on condition of anonymity.
The U.S. Army's Task Force Olympia is based in this predominantly Sunni Muslim city, about 220 miles north of Baghdad.
_____
Reporter Provides Account of Mosul Attack
By THE ASSOCIATED PRESS
Published: December 21, 2004
Filed at 11:25 a.m. ET
FORWARD OPERATING BASE MAREZ, Iraq (AP) -- It was a brilliant, sunny day with blue skies and warmer than usual weather in the northern Iraqi city of Mosul. Hundreds of U.S. soldiers had just sat down for lunch in their giant chow hall tent.
It was about noon Tuesday when insurgents hit their tent with a suspected rocket attack, killing 13 soldiers, including two from the Richmond-based 276th Engineer Battalion. More than 50 were wounded; civilians may have been among them.
The force of the explosions knocked soldiers off their feet and out of their seats. A fireball enveloped the top of the tent, and shrapnel sprayed into the men.
Amid the screaming and thick smoke that followed, quick-thinking soldiers turned their lunch tables upside down, placed the wounded on them and gently carried them into the parking lot.
``Medic! Medic!'' soldiers shouted.
Medics rushed into the tent and hustled the rest of the wounded out on stretchers.
Scores of troops crammed into concrete bomb shelters outside. Others wobbled around the tent and collapsed, dazed by the blast.
``I can't hear! I can't hear!'' one female soldier cried as a friend hugged her.
Near the front entrance to the chow hall, troops tended a soldier with a gaping head wound. Within minutes, they zipped him into a black body bag. Three more bodies were in the parking lot.
The military asked that the dead not be identified until families could be notified.
Soldiers scrambled back into the hall to check for more wounded. The explosions blew out a huge hole in the roof of the tent. Puddles of bright red blood, lunch trays and overturned tables and chairs covered the floor.
Grim-faced soldiers growled angrily about the attack as they stomped away.
``Mother (expletive)!'' one mumbled.
Sgt. Evan Byler, of the 276th, steadied himself on one of the concrete bomb shelters. He was eating chicken tenders and macaroni when the bomb hit. The blast knocked him out of his chair. When the smoke cleared, Byler took off his shirt and wrapped it around a seriously wounded soldier.
Byler held the bloody shirt in his hand, not quite sure what to do with it.
``It's not the first close call I have had here,'' said Byler, a Fauquier County, Va., resident who survived a blast from an improvised explosive device while riding in a vehicle earlier this year.
Byler started walking back to his base when he spotted a soldier collapse from shock on the side of the road. Byler and Lt. Shawn Otto, also of the 276th, put the grieving soldier on a passing pickup truck.
The 276th, with about 500 troops, had made it a year without losing a soldier and is preparing to return home in about a month.
``We almost made it. We almost made it to the end without getting somebody killed,'' Otto said glumly.
At least two other soldiers with the 276th were injured, but it was not clear how serious their wounds are.
Insurgents have fired mortars at the chow hall more than 30 times this year. One round killed a female soldier with the 3rd Brigade, 2nd Infantry Division in the summer as she scrambled for cover in one of the concrete bomb shelters. Workers are building a new steel and concrete chow hall for the soldiers just down the dusty dirt road.
Lt. Dawn Wheeler, a member of the 276th from Centreville, Va., was waiting in line for chicken tenders when a round hit on the other side of a wall from her. A soldier who had been standing beside her was on the ground, struggling with shrapnel buried deep in his neck.
``We all have angels on us,'' she said as she pulled away in a Humvee.
Wheeler quickly joined other officers from the 276th for an emergency meeting minutes after the blast.
Maj. James Zollar, the unit's acting commander, spoke to more than a dozen of his officers in a voice thick with emotion. He urged them to keep their troops focused on their missions.
``This is a tragic, tragic thing for us but we still have missions,'' he told them. ``It's us, the leaders, who have to pull them together.''
Just hours before the blast, Zollar had awarded a Purple Heart to a soldier from the 276th who was wounded in a mortar attack on another part of the base in October.
Zollar eventually turned the emergency meeting over to Chaplain Eddie Barnett. He led the group in prayer.
``Help us now, God, in this time of this very tragic circumstance,'' Barnett said. ``We pray for your healing upon our wounded soldiers.''
With heads hung low, the soldiers trudged outside. They had work to do.
| | |
| --- | --- |
| U.S. soldiers help a wounded comrade after an apparent insurgent mortar attack on a dining facility during lunchtime at forward operating base Marez in Mosul, Iraq, Tuesday, Dec. 21, 2004. At least 22 people were killed and 50 wounded Tuesday in an attack at a U.S. and Iraqi base near Mosul in Iraq, a Pentagon official said. (AP Photo/Richmond Times-Dispatch, Dean Hoffmeyer) | A hole in the roof of a tent lights smoke moments after an apparent insurgent mortar attack on a dining facility at forward operating base Marez in Mosul, Iraq, Tuesday, Dec. 21, 2004. At least 22 people were killed and 50 wounded Tuesday in an attack at a U.S. and Iraqi base near Mosul in Iraq, a Pentagon official said. (AP Photo/Richmond Times-Dispatch, Dean Hoffmeyer) |
| U.S Army Cpl. Nathan Almquist is comforted by a member of his unit as he stands over a stretcher with the body of a Task Force Olympia soldier after an apparent mortar attack on a dining facility during lunchtime at forward operating base Marez near Mosul, Iraq, Tuesday, Dec. 21, 2004. At least 22 people were killed and 50 wounded Tuesday in an attack at the U.S. and Iraqi base, a Pentagon official said. (AP Photo/Richmond Times-Dispatch, Dean Hoffmeyer) | U.S. Army Cpl. Nathan Almquist of the 276th stands over a stretcher with the body of a Task Force Olympia soldier after an apparent mortar attack on a dining facility at forward operating base Marez in Mosul, Iraq, Tuesday, Dec. 21, 2004. At least 22 people were killed and 50 wounded Tuesday in an attack at a U.S. and Iraqi base near Mosul in Iraq, a Pentagon official said. (AP Photo/Richmond Times-Dispatch, Dean Hoffmeyer) |
| U.S. Army Chaplain Eddie Barnett, far right, says a prayer with members of 276th EN BN after an apparent mortar attack on forward operating base Marez in Mosul, Iraq, Tuesday, Dec. 21, 2004. At least 22 people were killed and 50 wounded Tuesday in an attack at a U.S. and Iraqi base near Mosul in Iraq, a Pentagon official said. (AP Photo/Richmond Times-Dispatch, Dean Hoffmeyer) | Workers and U.S. soldiers tend to the wounded after an apparent insurgent mortar attack on a dining facility during lunchtime at forward operating base Marez in Mosul, Iraq, Tuesday, Dec. 21, 2004. At least 22 people were killed and 50 wounded Tuesday in an attack at a U.S. and Iraqi base near Mosul in Iraq, a Pentagon official said. (AP Photo/Richmond Times-Dispatch, Dean Hoffmeyer) |
| Sgt. Evan Byler of Fauquier Co., Va., of the 276 EN BN smokes a cigarette with the blood of a commrade on his hands, after an apparent mortar attack on a military dining facility in Mosul, Iraq, Tuesday, Dec. 21, 2004. A Pentagon official said the attack killed at least 22 and injured at least 50. (AP Photo/Richmond Times-Dispatch, Dean Hoffmeyer) | A cloud of smoke covers a dining area after an apparent insurgent mortar attack on forward operating base Marez near Mosul, Iraq, Tuesday, Dec. 21, 2004. At least 22 people were killed and 50 wounded Tuesday in an attack on the U.S. and Iraqi base, a Pentagon official said. (AP Photo/Richmond Times-Dispatch, Dean Hoffmeyer) |
| Medics bring the body of Taleb Ibrahim al-Daher to Baqouba hospital, in Iraq, Tuesday Dec. 21 2004. Unknown gunmen shot dead Tuesday the Iraqi nuclear scientist north of Baghdad, witnesses said. Taleb Ibrahim al-Daher was on his way to work at Diyala University when armed men opened fire on his car as it was crossing a bridge in Baqouba, 57 kilometers (35 miles) northeast of Baghdad. The vehicle swerved off the bridge and fell into the Khrisan river, witnesses said. Al-Daher, who was a professor at the local university, was removed from the submerged car and rushed to Baqouba hospital where he was pronounced dead. (AP Photo/Mohammed Adnan) | British Prime Minister Tony Blair and Iraqi Prime Minister Ayad Allawi leave the Iraqi leader's residence after a press conference in Baghdad, Iraq, Tuesday, Dec. 21, 2004. (AP Photo / Stefan Rousseau / PA) ** UNITED KINGDOM OUT MAGS OUT NO SALES ** |
| British Prime Minister Tony Blair jumps down from a tank during a meeting with British troops in Basra, Iraq, Tuesday, Dec. 21, 2004. British Prime Minister Tony Blair threw his weight behind the drive to Iraq's elections Tuesday, making a surprise visit to the Iraqi capital for talks with the interim prime minister and electoral officials. (AP Photo / Stefan Rousseau / PA) ** UNITED KINGDOM OUT MAGS OUT NO SALES ** | British Prime Minister Tony Blair, left, is greeted by Iraqi Prime Minister Ayad Allawi, Tuesday, Dec. 21, 2004, in Baghdad, Iraq. Blair held talks with Iraq's interim leader during a surprise visit to Baghdad on Tuesday, and described the violence in the runup to Iraqi national elections as a "battle between democracy and terror." (AP Photo/PA, Stefan Rousseau) ** UNITED KINGDOM OUT MAGS OUT NO SALES ** |
| Pfc. Andrew Wards younger sister, Wanda Ward, 15, sits near a display of her brother's decorations, including a Purple Heart and Bronze Star, during a memorial service Monday, Dec. 20, 2004, at the Mount Baker Baptist Church in Seattle. Ward, 25, was killed Dec. 5 in Iraq when his unit was attacked in Ar Ramadi, west of Baghdad. (AP Photo/Seattle Post-Intelligencer, Mike Urban) | ** FILE ** Country singer Chely Wright, left, performs for 8,000 soldiers in a hangar at Baghdad International Airport in Iraq, in this June 20, 2003 file photo. Accusations by a member of Wright's fan club that she and other fans were urged to pose as members of the military or their families to promote Wright's latest single, ``The Bumper of My SUV,'' has led to the resignation of the club's president and vice president. A spokeswoman for the singer said club president Chuck Walter and vice presidentSharon Constantine had been ``relieved of their duties.'' Wright's representatives said she was traveling and unavailable for comment Monday, Dec. 20, 2004. Her earlier statement described Walter, who has headed her fan club since 1996, as an ``unpaid volunteer who acted without my knowledge or direction.'' (AP Photo/The Tennessean, File) |
| ** FILE ** Undated photo of French correspondent Georges Malbrunot, right, of Le Figaro newspaper, and French freelance radio reporter Christian Chesnot, 37. France is receiving information about the two French journalists held hostage in Iraq on a regular basis and, despite four months' captivity, they are in good health, Foreign Minister Michel Barnier said Monday, Dec. 20, 2004. The two men disappeared Aug. 20 along with their Syrian driver on the road to the Iraqi city of Najaf. The driver, Mohammed al-Joundi, was freed in November. (AP Photo/Editions 1) ** NO SALES ** | An Iraqi ambulance is riddled with shrapnel holes after insurgents fired mortars into a hospital compound, in Ramadi, Iraq, Monday, Dec. 20, 2004. Marines who were on a humanitarian mission to the hospital came under mortar and rocket-propelled grenade fire from insurgents who, while fleeing, mounted sevaral more unsuccessful attacks against the advancing Marines. (AP Photo/Brennan Linsley) |
| An injured civilian employee that worked in the dining facility at a base near Mosul, Iraq, is loaded into the back of a Stryker vehicle after an attack on the dining facility Tuesday, Dec. 21, 2004. At least 22 people were killed and 50 wounded Tuesday in a rocket and morter attack on a U.S. and Iraqi base, a Pentagon official said. (AP Photo/Portland Press Herald, Gregory Rec) ** MANDATORY CREDIT MAGS OUT NO SALES ** | Sgt. Dee Robinson of Gardiner, Maine, right, looks toward the triage area as other 133rd Engineer Battalion soldiers load a wounded soldier into a Humvee outside the dining facilty Tuesday, Dec. 21, 2004, near Mosul, Iraq. At least 22 people were killed and 50 wounded Tuesday in a rocket and morter attack on a U.S. and Iraqi base, a Pentagon official said. (AP Photo/Portland Press Herald, Gregory Rec) ** MANDATORY CREDIT MAGS OUT NO SALES ** |
| Soldiers look over the damage inside the dining facility at a base near Mosul, Iraq, after a rocket attack Tuesday, Dec. 21, 2004. At least 22 people were killed and 50 wounded Tuesday in a rocket and morter attack on a U.S. and Iraqi base, a Pentagon official said. (AP Photo/Portland Press Herald, Gregory Rec) ** MANDATORY CREDIT MAGS OUT NO SALES ** | A soldier with the 133rd Engineer Battalion of the Maine Army National Guard stands by as a helicopter lands near the dining facility of a base near Mosul, Iraq, Tuesday, Dec. 21, 2004. At least 22 people were killed and 50 wounded Tuesday in a rocket and morter attack on a U.S. and Iraqi base, a Pentagon official said. (AP Photo/Portland Press Herald, Gregory Rec) ** MANDATORY CREDIT MAGS OUT NO SALES ** |
| Brig. Gen. Carter F. Ham, commander of Task Force Olympia reflects on the attack on his troops near Mosul, Iraq Tuesday, Dec. 21, 2004. At least 22 people were killed and 50 wounded Tuesday in a rocket and morter attack on a U.S. and Iraqi base, a Pentagon official said. (AP Photo/Portland Press Herald, Gregory Rec) ** MANDATORY CREDIT MAGS OUT NO SALES ** | Dana Blazer, center, and son, Erik, watch as the casket of her husband, Marine Staff Sgt. Melvin Blazer, leaves the funeral service at Southwest Baptist Church in Oklahoma City, Tuesday, Dec. 21, 2004. Blazer, 38, died Dec. 12, after coming under enemy fire in Fallujah in Al Anbar Province, Iraq, family members and the U.S. Department of Defense said. (AP Photo/The Daily Oklahoman, Paul Hellstern) |
| In this photo provided by the White House, President Bush and first lady Laura Bush visit with U.S. Army Sgt. Adam Replogle of Salida, Calif., his wife Nicoleta and their 11-month-old daughter Sara at the Fisher House at Walter Reed Army Medical Center in Washington, D.C., Tuesday, Dec. 21, 2004. Sgt. Replogle was injured while serving in Iraq. (AP Photo/The White House, Paul Morse) | In this photo released by the White House, President Bush and first lady Laura Bush talk with U.S. Army Sgt. Dale Beatty of Statesville, N.C., and, from left, sister-in-law Wendolyn Summers, wife Belinda Beatty, son Lucas, 6-months-old, and son Dustin, 2, during a visit to the Fisher House at Walter Reed Army Medical Center in Washington, Tuesday, Dec. 21, 2004. President Bush presented Sgt. Beatty The Purple Heart for injuries he sustained while serving in Iraq. (AP Photo/The White House, Paul Morse) |
| U.S. Marines walk down a street during a foot patrol mission, past anti-American graffiti, in Ramadi, Iraq, Tuesday, Dec. 21, 2004. (AP Photo/Brennan Linsley) | U.S. Marines ride in an open-backed Humvee, en route to a foot patrol mission, in Ramadi, Iraq, Tuesday, Dec. 21, 2004. (AP Photo/Brennan Linsley) |
| | |
U.S. Army soldiers gather for a traditional Thanksgiving Day dinner at the Forward Operating Base Marez dining facility in Mosul, Iraq, Thursday, Nov. 25, 2004. Insurgents rose up this month in Mosul, Iraq's third-largest city, during an offensive by U.S. and Iraqi forces in Fallujah. (AP Photo/Jim MacMillan)

U.S. Army soldiers line up for a traditional Thanksgiving Day dinner at the Forward Operating Base Marez dining facility in Mosul, Iraq, Thursday, Nov. 25, 2004. Insurgents rose up this month in Mosul, Iraq's third-largest city, during an offensive by U.S. and Iraqi forces in Fallujah. (AP Photo/Jim MacMillan)

A Stryker combat vehicle of 1st Battalion, 23rd Infantry Regiment, 3rd Brigade, 2nd Infantry Division (Stryker Brigade Combat Team) stages at Forward Operating Base Marez before departing with soldiers from the Iraqi National Guard on Operation Mayfield III in Qabr Abd, a city south of Mosul. (U.S. Army photo by Spc Aaron Ritter) (Released) 040719-A-2746R-001

Sgt. Donald Sandy and Staff Sgt. Dave Sandy recently found themselves stationed together at Forward Operating Base Marez in Mosul, Iraq. Donald was deployed last year for Operation Iraqi Freedom I, while Dave recently arrived to serve in Operation Iraqi Freedom II. U.S. Army photo by Spc. Jessika Ross

A soldier salutes in front of a memorial made in remembrance of Spc. Philip Rogers and Spc. Tyanna Felder of the Army's 3rd Battalion, 2nd Infantry Division, at Forward Operating Base Marez in Mosul, Iraq, Saturday, April 10, 2004. Rogers, 23, from, Gresham, Ore., and Felder, 22, of Bridgeport, Conn., died of injuries sustained on April 4, in Mosul, when their convoy vehicle was hit by a roadside bomb. The 3rd Brigade, 2nd Infantry Division is based in Fort Lewis, Wash. (AP Photo/U.S. Army photo, Spc. Aaron Ritter, HO)

In his office at the Olive Garden Chapel, in Camp Marez, Mosul, Iraq, Chaplain David Sivret, of Calais, Maine, talks Wednesday, April 21, 2004, about his experiences in helping soldiers from the 133rd Engineer Battalion who were ambushed Tuesday, April 20, during a convoy in Mosul. Chris Gelineau, of Portland, Maine, was killed in the attack, another Maine soldier, Craig Ardry, of Pittsfield was seriously injured. (AP Photo/Portland Press Herald, Gregory Rec)

A soldier kneels in front of a memorial made in remembrance of Spc. Philip Rogers and Spc. Tyanna Felder of the Army's 3rd Battalion, 2nd Infantry Division, at Forward Operating Base Marez in Mosul, Iraq, Saturday, April 10, 2004. Rogers, 23, from, Gresham, Ore., and Felder, 22, of Bridgeport, Conn., died of injuries sustained on April 4, in Mosul, when their convoy vehicle was hit by a roadside bomb. The 3rd Brigade, 2nd Infantry Division is based in Fort Lewis, Wash. (AP Photo/U.S. Army photo, Spc. Aaron Ritter, HO)

Under the LOGCAP III contract, KBR has served more than 50 million meals in military dining facilities (DFACs) in the Kuwait-Iraq region. Source: http://www6.halliburton.com/frontline/common/photos/logcap/pic1.html

At this dining facility in Kuwait , KBR served more than 22,000 soldiers for one meal.
Source: http://www6.halliburton.com/frontline/common/photos/logcap/pic5.html

In one of Saddam Hussein's former palaces in Baghdad, KBR prepares and serves meals to support the Coalition Provisional Authority (CPA) and military personnel. On average, KBR serves close to 300,000 meals per month at this dining facility. Source: http://www6.halliburton.com/frontline/common/photos/logcap2/pic4.html