Occupy Wall Street-USA Photos, 9 October 2011, Day 23

New York
A coalition of clergy carry a "False Idol" to the Occupy Wall Street encampment in Zuccotti Park, Sunday, Oct. 9, 2011 in New York. Having started in New York, Occupy Wall Streets demonstrations now take place all across the United States, as protesters speak out against corporate greed and the gap between the rich and the poor. (Henny Ray Abrams)
Following selection of 270 Cryptome photos taken at Liberty Park, 12:40-1:50PM, 9 October 2011
Associated Press journalist.
Cellphone charging station.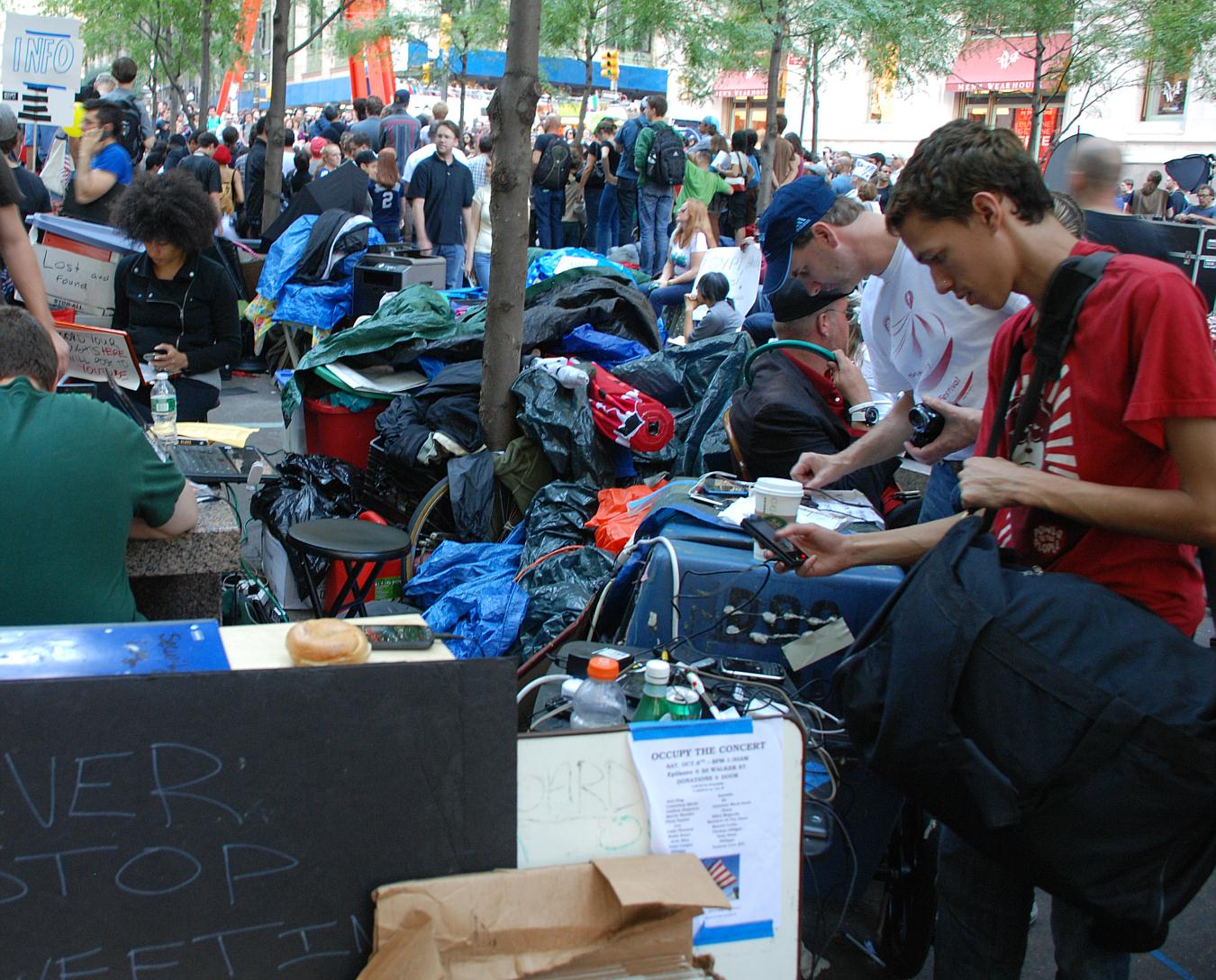 The varieties of occupying residents and their accoutrements have increased.
Covering the coverers.
Medical area.
Several entrepreneurs offer photo services.
Zizek enchants non-stop, waggling fingers hardly can cope, human mic way behind.
Information and outreach operation, and unending challenge of the safer space committee.
Outreach organizing and volunteers sign-up.
Press!
Donated sleeping bags are pouring in preparing for a long occupation over winter and years beyond -- more coming in after this photo carried by spiffy suburban contributors.
Recycling station.
Sleeping area of the park considerably more packed in recent days.
Liberty Park park packed, classes and workshops have spread across Broadway to a plaza. Tense white shirts radioed for reinforcements, so a half dozen blue shirts ambled over yawning.
NYPD 24x7 park surveillance van added recently.
Brookfield Properties has erected barriers at its property line around pristine One Liberty Plaza.
The Fox News-Geraldo gaggle set up close by Brookfield Properties. AP journalist shown earlier at right.
Geraldo cracks jokes with cops. Geraldo's folded folder matches those of high-ranked white shirts just briefed on immanent operations.
An extemporaneous sidewalk speaker.
Philadelphia
Susannah Grosso, from Philadelphia, holds signs for passing cars near City Hall Sunday, Oct. 9, 2011 in Philadelphia. Organizers of what is being called Occupy Philadelphia say the demonstration is meant to be a stand against corporate greed. (Alex Brandon)
People line up to get food near City Hall Sunday, Oct. 9, 2011 in Philadelphia. Organizers of what is being called Occupy Philadelphia say the demonstration is meant to be a stand against corporate greed. (Alex Brandon)
Jacob Arnold, left, and Tye Worthington, both from Philadelphia, stack cases of donated water near City Hall Sunday, Oct. 9, 2011 in Philadelphia. Organizers of what is being called Occupy Philadelphia say the demonstration is meant to be a stand against corporate greed. (Alex Brandon)
Washington DC
An unidentified protestor looks for a personal item amidst a pile of sleeping bags as Occupy DC demonstrators fill Freedom Plaza, in Washington, Sunday, Oct. 9, 2011. (Cliff Owen)
Protestors, calling for an end to the Federal Reserve, march past the White House, in Washington, Sunday, Oct. 9, 2011. (Cliff Owen)