A supporter of India's opposition Bharatiya Janatha Party (BJP) poses as he attends a rally in Hyderabad on February 17, 2011. Members of the BJP led National Democratic Alliance (NDA) conducted a rally in protest at the scam-hit United Progressive Alliance Congress government.
A man treats an anti-government protester injured during a demonstration in the southern Yemeni city of Taiz February 18, 2011. At least two people were killed in Yemen on Friday when clashes broke out between police and protesters, witnesses said, and thousands turned out in Bahrain and Libya to mourn protesters killed in government crackdowns.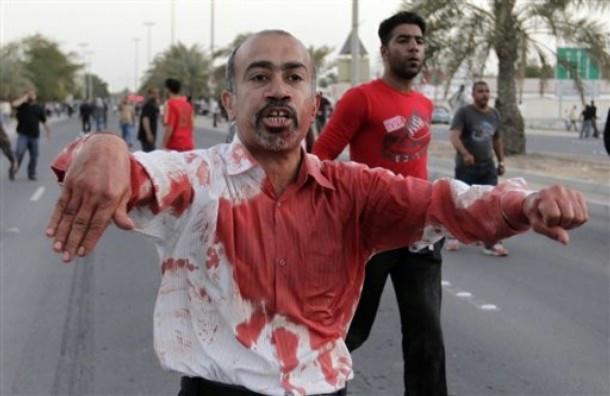 An unidentified Bahraini man reacts after he helped an anti-government protester who was injured during a demonstration in Manama, Bahrain, Friday, Feb. 18, 2011. Soldiers fired tear gas and shot heavy weapons into the air as thousands of protest marchers defied a government ban and streamed toward the landmark square that had been the symbolic center of the uprising against the Gulf nation's leaders.
Bahraini pro-government protesters pose during a march supporting the Bahraini leadership in Manama, Bahrain, Friday, Feb. 18, 2011.
Bahraini Shiite anti-government protestors chant slogans in Manama, Bahrain, Friday, Feb. 18, 2011. Soldiers fired tear gas and shot heavy weapons into the air as thousands of protest marchers defied a government ban and streamed toward the landmark square that had been the symbolic center of the uprising against the Gulf nation's leaders.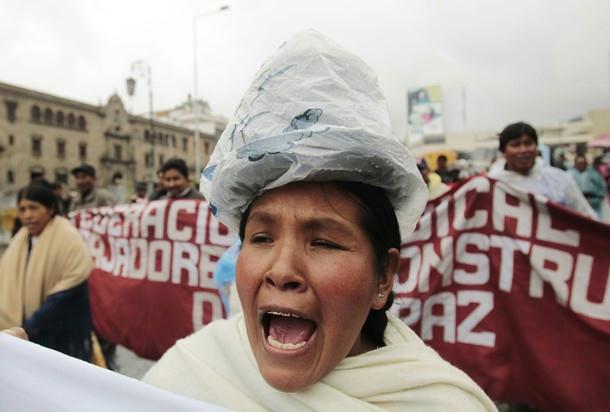 A woman shouts slogans during a protest rally in the centre of La Paz, February 18, 2011. Thousands of demonstrators rallied against President Evo Morales' government policies, protesting against rising food and transport costs and demanding for an increase in their wages.
An Albanian man shouts slogans during a protest gathering tens of thousands of anti-government protesters nearly a month after four demonstrators were killed in a similar protest that turned violent, on February 18, 2011 in Tirana. The rally was called by the Socialist Party of Tirana's mayor Edi Rama who was expected to speak at the end of the demonstration which began with a march through the capital and ended outside government headquarters, ringed by dozens of riot police.
A protester kicks a burning effigy of U.S. citizen Raymond Davis during a protest rally near the U.S consulate in Lahore, February 18, 2011. Hundreds of opposition and Islamist activists protested in front of the U.S. consulate in Lahore and across town, burning tyres and the U.S. flag and demanding Davis stay in Pakistan. Similar protests were held in Karachi, Peshawar and Multan. The move comes as U.S. officials pressure Pakistan to release Davis, a U.S. consulate employee who is locked in a Lahore jail after shooting and killing two Pakistanis in the city of Lahore last month in what he said was an attempted robbery.
Pakistani cameramen record the scene as a police officer in plain clothes fires tear gas to disperse a protest by teachers in Karachi, Pakistan, on Friday, Feb. 18, 2011. Some hundreds of teachers hold a protest rally to condemn dismissal from their jobs.
Stateless Arabs, known as bidoons, run for cover during clashes with Kuwaiti riot police at a protest in Jahra City, 50 kms of Kuwait City, on February 18, 2011. At least five people were hurt and dozens arrested as hundreds of stateless Arabs, also known as bidoons, protested demanding rights and citizenship.
EDITORS' NOTE: Reuters and other foreign media are subject to Iranian restrictions on their ability to film or take protest-fun-ures in Tehran. Iranians hold up a poster (L) showing Supreme Leader Ayatollah Ali Khamenei with art student Sanee Zhaleh who was killed on Monday's protest rally, and posters featuring altered images of opposition leaders (C), during a pro-government rally following Friday prayers in Tehran February 18, 2011. A senior Iranian cleric said on Friday there was no need to hang opposition chiefs as their influence was already dead -- a softer line that reflected reluctance to make martyrs out of leaders of the Green movement. Friday prayers leader Ayatollah Ahmad Jannati, who heads the hugely influential state Guardian Council, said calls to hang them were superfluous as they and their movement were as good as dead already.
Radical Muslim protesters shout slogans during a protest against the Ahmadi sect in Jakarta February 18, 2011. Indonesia's highest Islamic authority and many mass Islamic organisations in the most populous Muslim country consider Ahmadi "heretical" for believing that Mohammad was not Islam's final prophet. The placards read, "Disband Ahmadi".
This Saturday, Feb. 12, 2011 photo shows Moroccan leader of a group of young activists calling itself "Democracy and Freedom" Oussama el Khlifi, during a demonstration in Rabat, Morocco. Moroccan websites are abuzz about a planned protest Sunday Feb. 20 2011 against a royal leadership they consider out of touch. Moroccan authorities are giving it all an official shrug, despite a wave of popular uprisings in other Arab nations. A banned Islamist party, meanwhile, is using the moment to call for democratic change.
A member of Migrante International displays a placard and a protest-fun-ure of Sally Ordinario-Villanueva, one of the three Overseas Filipino Workers (OFW) sentenced to death for smuggling 4,110 grams of heroin last December 24, 2008 into Xiamen, during a protest along a busy street in Quezon city, metro Manila February 18, 2011. The Philippines sent its Vice-President Jejomar Binay to China to appeal to stay the execution of three Filipinos next week due to drug smuggling.
A Palestinian protester holds a flag as he stands near the controversial Israeli barrier after protesters tried to pull it down during clashes at a weekly protest against the barrier in the West Bank village of Bilin near Ramallah February 18, 2011. Friday marked the sixth year of weekly protests in Bilin.
Dozens of Iraqi men wave their national flag as they protest against corruption in central Baghdad on February 18, 2011. Iraq is rated by watchdog Transparency International as the fourth most corrupt country in the world, with diplomats and local officials persistently citing widespread graft as a major impediment to the country's development.
A Thai nationalist 'Yellow Shirts' protester waves a hand-shaped clapper during a rally outside Government House in Bangkok on February 11, 2011. Thousands of protesters gathered in downtown Bangkok in protest of the government's handling of a deadly border dispute with neighbouring Cambodia.
A South Korean activist wearing a mask and a helmet stages a campaign against pizza chains' delivery policy in the busy commercial district of Myeongdong in Seoul on February 18, 2011. Activists rallied in the South Korean capital in an unusual protest against pizza chains, saying their promises of quick service endanger the lives of young motorbike delivery drivers. The placard reads 'Stop the murderous 30-minute delivery pledge'.
Peter Parks, left, and Elizabeth Swager, both of Portland, protest in front of Intel's campus before President Barack Obama visit Friday, Feb. 18, 2011, in Hillsboro, Ore. Obama will make a three-hour stop in the Portland suburb on Friday. He'll tour Intel's campus in Hillsboro and check out the company's initiatives to encourage young people to become high-tech scientists and engineers.
Anti-Zionist Ultra-Orthodox Jewish men protest against the removal of ancient tombs in the sea front town of Jaffa, just south of Tel Aviv, on July 13, 2010, where construction is due to take place at the site where religious men say Jewish graves are located.
Palestinian journalists close their ears and cover their faces after Israeli soldiers fired tear gas during a protest against Jewish settlements by Palestinian and foreign activists in the West Bank village of Beit Omar, near the city of Hebron and the settlement of Karmi Tsour, on October 2, 2010.
A magistrate stands at the Nantes' Court Hall, on February 15, 2011 in Nantes, western France, as magistrates are on strike to protest at French president Nicolas Sarkozy's claim that mistakes in the judiciary let a repeat offender allegedly kill and dismember a girl.
University students light candles before a banner during a protest against violence at the Universidad Autonoma de Mexico in Mexico City on February 17, 2011. Battles between drug lords have claimed more than 30,000 lives across the country over the past three years, according to official figures.
A Belgian demonstrator takes part in a mass striptease as a symbolic protest against Belgian politicians in central Ghent February 17, 2011. Belgium has failed to agree on a new government 249 days since a June parliamentary election, a new record in political deadlock. The placard around the demonstrator's neck reads "Splitting of the country, not in my name".