18 August 2004. Thanks to A.
Anthony Monckton was named in 1999 as MI6 officer:
http://cryptome.org/mi6-list.htm
Monckton's non-secret e-mail: anthony.monckton@fco.gov.uk
Source: www-aus11.cricket.org/link_to_database/ NATIONAL/ICC/ECC/MEMBERS/YUG/about.html
---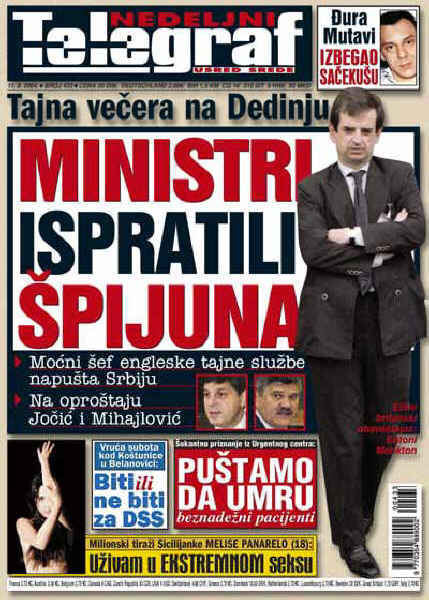 Anthony Monckton at right.
Source
__________________________________________
http://news.suc.org/bydate/2004/August_16/27.html
The Sunday Times, August 16, 2004
Vengeful Serbs betray top MI6 man
Tom Walker and Milorad Ivanovic in Belgrade
A BELGRADE newspaper has blown the cover of Britain's most important secret agent in the Balkans, shortly after he left the Serbian capital.
Anthony Monckton, an MI6 officer who was credited with helping to arrange the flight of Slobodan Milosevic, the former Yugoslav president, to the Hague to face trial for war crimes, had his photograph published last week, along with his business card with telephone and e-mail details.
Diplomats close to Monckton said he had been betrayed by Serbian interior ministry officials close to the paper, the Nedeljni Telegraf. They are said to have been angered by his involvement in inquiries into the assassination of Zoran Djindjic, the prime minister, in March 2003.
One friend described Monckton, who is understood to have overhauled Britain's Balkan intelligence operation, as "the classic gentleman spy".
Monckton, whose brother Christopher was once a policy adviser to Margaret Thatcher, is also credited with providing vital intelligence to Lord Ashdown in Bosnia, where the former Liberal Democrat leader is the international community's high representative.
Serbian secret police have expressed a less favourable view. They have questioned Monckton's analysis of warnings of an Albanian uprising in Kosovo in March, and the quality of information on Milosevic that was given to prosecutors at the international criminal tribunal for the former Yugoslavia.
He was also said to have been a source of damaging intelligence about Milo Djukanovic, the prime minister of Montenegro, who two years ago was feared to be leading the republic towards independence.
Nedeljni Telegraf quoted secret police officials as alleging that Monckton had failed to establish the precise nature of a growing network of Al-Qaeda followers in Kosovo. "He missed a lot. He left a lot to be desired," said one adviser to the Serbian government.
According to Nedeljni Telegraf, Monckton was shocked when his name and photograph were first published in February in a book written by Zoran Mijatovic, the former deputy chief of the Serbian intelligence service, the DB.
The paper claimed Monckton believed he might be targeted by Milosevic supporters and grew a beard to change his appearance. The book had only a limited circulation, but the newspaper coverage has left him with little hope of anonymity in Serbia.
Last month David Gowan, the British ambassador in Belgrade, organised a discreet farewell dinner party for Monckton, who was also known among the expatriate community for running the city's cricket club. The elite of the Serbian interior ministry and intelligence community were invited -with the exception of Mijatovic.
After working in Bosnia during the civil war in the early 1990s, Monckton joined the British embassy in Zagreb, the Croatian capital, in 1996. He made frequent trips to Republika Srpska, the Bosnian Serb territory where Radovan Karadzic, the most wanted war crimes suspect still at large, was hiding. He moved to Belgrade in 2000, just before Milosevic fell from power.
Sources close to Monckton say the failure to arrest Karadzic and his general, Ratko Mladic, nearly a decade after the Bosnian war, is among his greatest regrets.
His one slip-up in the complicated transfer of Milosevic to the Hague in June 2001, Nedeljni Telegraf claimed, was his inability to bring an RAF jet into Belgrade airport in time. Instead, Milosevic was taken by military helicopter to a US base in Tuzla, Bosnia, where the RAF jet was waiting.
Monckton returned to Belgrade and celebrated the successful mission at Deltino, a local restaurant, with Dusan Mihajlovic, then interior minister.
According to the newspaper, a team from MI6 visited Belgrade recently to assess his predicament and decided it would be best for him to leave the city.
Friends in the diplomatic community insisted he had moved on as part of a normal rotation. However, they said he had paid for his professionalism in helping the Serbian authorities investigate the murky circumstances -and possible police and underworld involvement -surrounding the death of Djindjic.
"He was going into stuff that people really care about and he was hurting people who felt themselves to be above the law," said one European official. "They wouldn't be so stupid as to harm him, but they were more than happy to brief against him."
---