---
22 December 2015
SOBH Claims Bowman Avenue Dam Attack
---
Date: Tue, 22 Dec 2015 03:05:37 -0500
From: Parastoo <parastoo[at]unseen.is>
To: cryptome[at]earthlink.net
Subject: SOBH attacked DAM nearby NYC
FOR IMMEDIATE PUBLICATION
FROM : SOBH CYBER JIHAD
TO : DHS
RE : NYC DAM HACK
hereby we accept the responsibility of the attack to Bowman Avenue DAM
about 20 miles from New York City used for flood control. back then we
were warned by state-level power players not to go public with it for greater
good . now that wsj published the headline there is no point in keeping the
test and its IOCs a secret . we are recompiling a technical report release .
instead of waiting , you can read our previous publication on attacks to DOE
and several national labs here : https://cryptome.org/2015/09/SOBH-DOE.pdf
meanwhile your Israeli counterparts can refer to a sample of our attacks
to their CI here : https://cryptome.org/2015/04/sobh/sobh-attacks-israel.htm
you have taken the terror , the harshest battle over power and the ugly
struggle for "just more" to our doors within mideast . you will see the
very same coming to you .
wait wait , you also have already seen this particularly
in recent months..and "show must go on" . Happy New Year !
SOBH Cyber Jihad
---
http://www.wsj.com/articles/iranian-hackers-infiltrated-new-york-dam-in-2013-1450662559
Iranian Hackers Infiltrated New York Dam in 2013
Cyberspies had access to control system of small structure near Rye in 2013, sparking concerns that reached to the White House

WSJ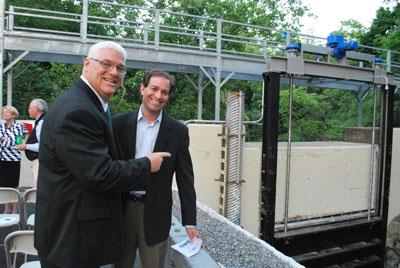 Source
Rye Brook Village Administrator Chris Bradbury, accompanied by Mayor Paul Rosenberg, points to the 20-foot water mark on the new sluice gate at the Bowman Avenue Dam in Rye Brook which will regulate the waters of Blind Brook during storm conditions to alleviate flooding.
---