---
http://eyeball-series.org/prez-trailer/prez-trailer.htm
17 April 2005. Add Google satellite photo of ranch.
6 November 2004. One of the Eyeball series.
Maps from Mapquest.com
Aerial photos: black and white, Terraserver-USA; color, Photos to Go
Ground level photos:
http://www.whitehouse.gov
http://www.nypl.org (Associated Press Photo Archive)
http://www.npr.org/templates/story/story.php?storyId=1837376
---
http://www.nationmaster.com/encyclopedia/Prairie-Chapel-Ranch
Prairie Chapel Ranch

Prairie Chapel Ranch is a 1583 acre (6.4 km2) estate located seven miles outside Crawford, Texas. It is the home of President George W. Bush. Then-Governor Bush bought the land in 1999 shortly after earning a $14.3-million profit from the sale of the Texas Rangers. Based on fair-market land prices at the time the deal was closed for an estimated $1.3 million.

The land includes seven canyons and three miles of frontage along Rainey Creek and the Middle Bosque River. It is a part of land settled in the mid-19th century by German immigrant Heinrich Englebrecht, who raised turkeys and hogs there and donated some of it to found the Canaan Baptist Church (the "Prairie Chapel").

President Bush uses the ranch for vacations, occasional meetings, and entertaining foreign dignitaries. An August 7, 2001 article in the Washington Post noted Bush spent all or part of 54 days, including many weekends, working and relaxing at the ranch between his inauguration and Labor Day 2001. In 2002, the ranch was wired for what Bush described in a 2003 tour of the ranch as "real time, secure videoconferencing" to be used for his briefings from the CIA and Dick Cheney.

Description of house and grounds

Buildings on the land built by the Englebrechts were refurbished for new uses, such as Secret Service quarters and guest houses.

Bush and his wife had David Heymann, an associate dean of architecture at the University of Texas at Austin, design a 10,000 SF (930 m2) honey-colored native limestone single-level home on the site. Over half of that square footage is from a ten-foot-wide limestone porch that encircles the house. The house was built by members of a religious community from nearby Elm Mott, Texas and wasn't completed until after his inauguration.

The passive-solar house is positioned to absorb winter sunlight, warming the interior walkways and walls of the residence. Geothermal heat pumps circulate water through pipes buried 300 feet deep in the ground. A 40,000-gallon underground cistern collects rainwater gathered from roof urns; wastewater from sinks, toilets, and showers cascades into underground purifying tanks and is also funneled into the cistern. The water from the cistern is then used to irrigate the landscaping around the four-bedroom home.

Bush added an 11-acre man-made pond that is stocked with 600 bass and thousands of bait fish.

External links and sources

July 1999: Locals Hope Bush will create a White House in Texas, from the Abilene Reporter-News

December 2000: Home on the Range, from TIME magazine's Person of the Year story on Bush

March 2001: Prohibited Area P-49 established by the FAA over the ranch and enlarged during presidential visits

August 2001: No grocery, $5 haircuts - and the Bush ranch, from the Christian Science Monitor

August 25, 2001: President Gives Tour of Crawford Ranch, a White House press release

December 2002: The Bush Ranch, from Cowboys & Indians magazine

January 2, 2003: President's Remarks on Walking Tour of the Ranch, a White House press release
---

Eyeballing
the
Bush Ranch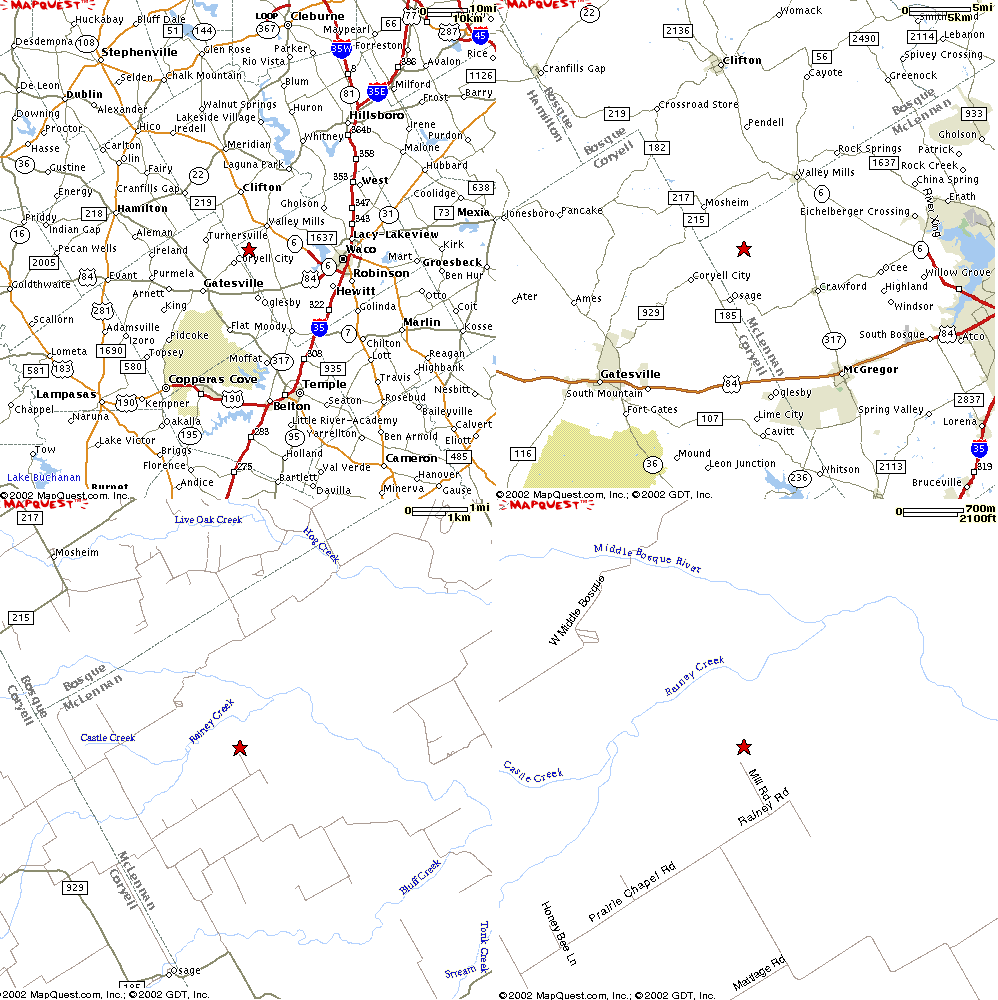 Main House under construction; presumably the photos were taken before the FAA restricted
air space in July 2002. Photos to Go aerials without watermarks can be purchased for $26
for a one-year license, and $60 for royalty-free.
The Second House was used by the Bushes while the Main House was under construction, and is now used
as a Guest House. There appear to be numerous official vehicles present, which could indicate the Bush was
in residence at the time of the photo, as President, as presidential candidate and/or as Texas Governor.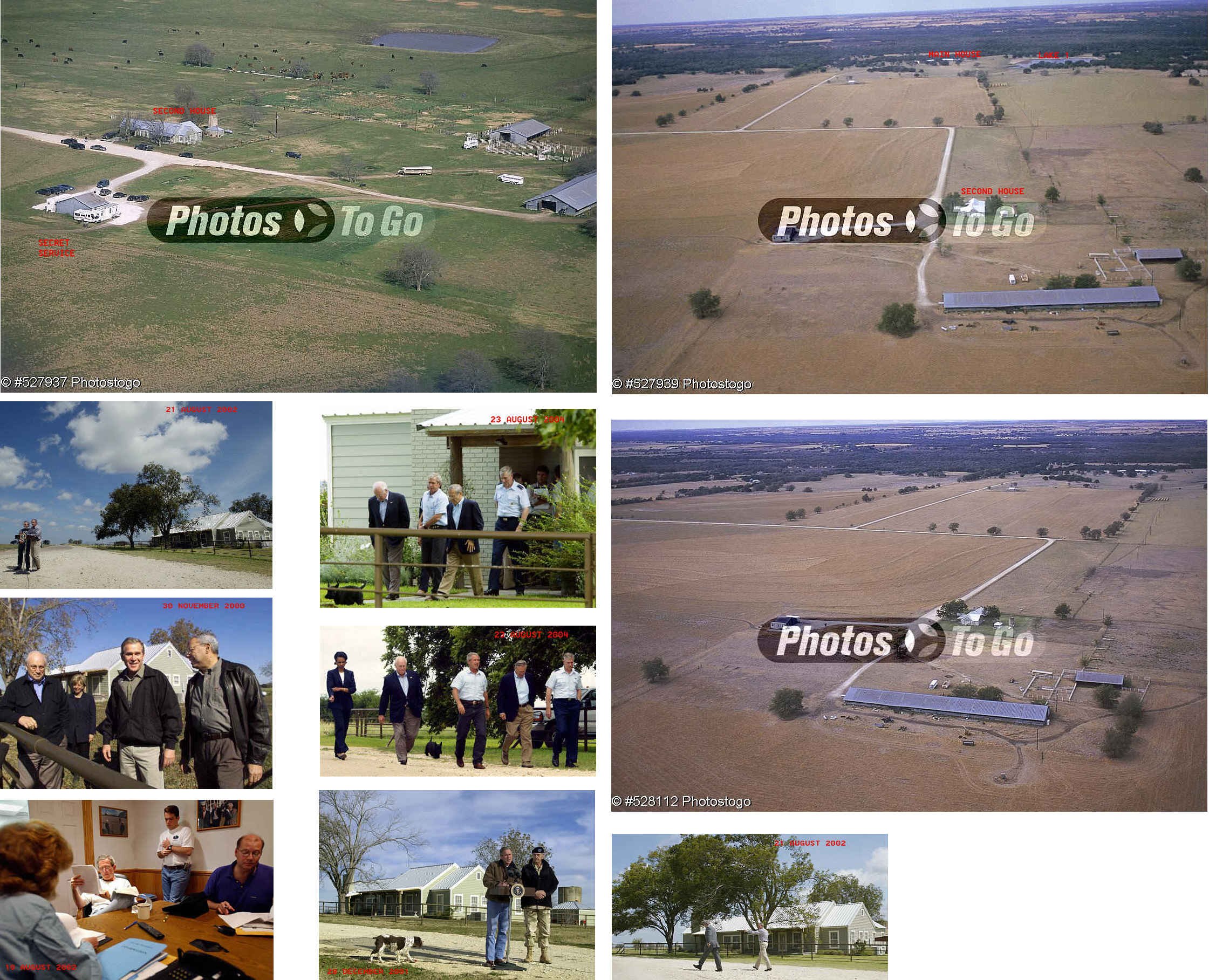 ---