Cryptome DVDs are offered by Cryptome. Donate $25 for two DVDs of the Cryptome 12-years collection of 46,000 files from June 1996 to June 2008 (~6.7 GB). Click Paypal or mail check/MO made out to John Young, 251 West 89th Street, New York, NY 10024. The collection includes all files of cryptome.org, jya.com, cartome.org, eyeball-series.org and iraq-kill-maim.org, and 23,000 (updated) pages of counter-intelligence dossiers declassified by the US Army Information and Security Command, dating from 1945 to 1985.The DVDs will be sent anywhere worldwide without extra cost.
---
15 September 2007. Kunia RSOC is to be moved from its underground location to a new facility being built at the NCTAMS PAC, description below, and renamed the Hawai'i Regional Security Operations Center.
NSA Kunia Regional Security Operations Center

Entrance to Underground NSA/Naval Security Group Kunia Regional Security Operations Center.
Photo by CTMC Karl F. Sitler, USN
Source: http://www.navycthistory.com/images/NSGAKuniabig.jpg

Source: http://www.wish4nothin.com/images/WorkAdventure_copy.png

http://maps.google.com/maps?f=q&hl=en&geocode=&q=kunia,hi&ie=UTF8&ll=21.476051,-158.05353&spn=0.002117,0.004222&t=k&z=19&iwloc=addr&om=0
Aerial View of NSA Station near Honolulu, HI (Local Live) (Google Maps)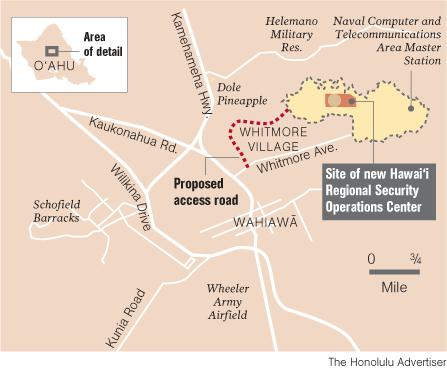 • Map: Site of new Hawai'i Regional Security Operations Center
http://www.nsa.gov/releases/hi_groundbreak.cfm
NSA PRESS RELEASE
30 August 2007
For further information, contact:
NSA Public and Media Affairs,
301-688-6524
NSA/CSS Hawaii Groundbreaking Advances National Security
(Fort George G. Meade, Maryland) The National Security Agency/Central Security Service broke ground for its new operations facility at NSA/CSS Hawaii (NSAH) on 30 August 2007. NSAH's expansion is one facet of the Agency's efforts to evolve a global cryptologic enterprise that is resilient, agile, and effective in prosecuting a dynamic threat environment.
Lieutenant General Keith B. Alexander, USA, Director, NSA/Chief, CSS, has great expectations for the new facility. "What will rise from this site," he said, "is NSA's commitment to continue to provide our national and tactical decision-makers with the best cryptologic support possible. This building, its design, its infrastructure, its capabilities, and its location will support and protect an unparalleled intellectual combine."
The new operations facility will provide NSAH's cryptologic professionals the tools necessary to rapidly access, display, share, and collaboratively interpret data from a broad variety of sources and at various classification levels. Enhanced capabilities, coupled with ongoing policy changes and cultural evolution, will eliminate physical, virtual, and systemic barriers to information sharing.
Captain Jan E. Tighe, USN, NSAH Commander, expressed her appreciation to members of the NSAH workforce. "I'm proud to lead such a dedicated group of professionals who work so hard and accomplish so much in the defense of our Nation," she said.
NSAH assures a decisive information advantage for our nation and allies to preempt, disrupt, or defeat adversaries and to protect our national interests by conducting relevant signals intelligence, information assurance, and network warfare operations.
The Agency, headquartered at Ft. George G. Meade, Maryland, leads the intelligence community in delivering responsive, reliable, effective, and expert signals intelligence and information assurance products and services, and enables network warfare operations to gain a decisive information advantage for the nation and our allies.
For more information regarding the new NSAH facility, contact Ms. Liz Egan, NSAH Corporate Communications, at 808-655-3209.
_____
https://portal.navfac.navy.mil/pls/portal/PORTAL.wwv_media.show?p_id=5759415&p_settingssetid=3437681&p_
settingssiteid=0&p_siteid=181&p_type=basetext&p_textid=5759416
NAVFAC Pacific Awards $318M Contract for New NSA Facility
By NAVFAC Pacific Public Affairs
PEARL HARBOR, Hawaii - NAVFAC Pacific awarded Shaw-Dick Pacific, LLC of Honolulu, Hawaii, a firm-fixed contract for $175,983,523 for the construction of a new National Security Agency facility in Wahiawa.
An additional $142,166,477 will be funded upon the passage of FY2008 Military Construction Appropriation Bill, making the total amount $318,150,000. The new complex is approximately 250,000 sq. ft. and will be constructed on 70 acres of the U.S. Navy's Naval Computer and Telecommunications Area Master Station Pacific (NCTAMS PAC), Wahiawa.
"The contract award was definitely a team effort," said NAVFAC Pacific's Gary Yamagata, NSA/CSS Hawaii program manager. I just want to congratulate everyone from NSA, NAVFAC, and Navy Region Hawaii who worked on it, and I look forward to starting this most important construction project."
The scope of work includes a new operations and data center facility (OPS). The two-story primary OPS facility will house a command center, operations briefing center, data analysis section, mission planning areas, administrative offices, and video-teleconferencing rooms. All necessary information technology support system infrastructures, including data transport rooms and communications centers, will also be included. In addition to the OPS facility, several support buildings comprised of a new base entry control facility, a new warehouse facility, and a new visitors control center will be constructed.
Construction is scheduled to begin in spring to summer 2007, and be completed in the summer of 2010.
_____
http://www.cpnonline.com/cpn/regions/article_display.jsp?vnu_content_id=1003571558
Dick Pacific to Build $318M Navy Facility
April 13, 2007
By Dees Stribling, Midwest Correspondent
Dick Pacific has been awarded a $318 million contract for a building project by the U.S. Navy through its Naval Facilities Engineering Command Pacific. Shaw-Dick Pacific L.L.C., a Dick Pacific affiliate, will develop the Hawaii Regional Security Operations Center at the Naval Computer and Telecommunications Area Master Station in Wahiawa, in central Oahu.
"We've been working with the Navy for about a year to hammer out the specifics of the project," a spokesman for Dick Pacific told CPN this afternoon. "It's a highly technical development, and in fact the largest contract ever awarded Dick Pacific."
The project will include development of a two-story operations and data center, as well as a visitors control center, warehouse building, and other supporting building and infrastructure, including new access roads, parking and utilities. Dick Pacific anticipates that construction will begin this summer and be completed in 2010.
It isn't the first development that Dick Pacific has undertaken for the Department of Defense. Other projects have included Pacific Command Headquarters at Camp Smith and the Mission Support Training Facility and Information Systems Facility at Schofield Barracks, both in Hawaii, and an elementary/middle school at Andersen Air Force Base in Guam.
Dick Pacific is a subsidiary of Dick Corp., a national contractor based in Pittsburgh. It specializes in construction, construction management and design-build for both the public and private sectors. One of its most noteworthy recent projects was a new 39,000-square-foot Joint Task Force Intelligence and Operations Facility at Guantanamo Bay, Cuba, for the Navy.
_____
DoD 2007 budget description of the NSAH facility:
http://www.defenselink.mil/comptroller/defbudget/fy2007/budget_justification/pdfs/milcon/11_NSA.pdf
_____
http://the.honoluluadvertiser.com/article/2007/Apr/13/ln/FP704130375.html
Posted on: Friday, April 13, 2007
Security center will add 700 jobs
By Curtis Lum
Advertiser Staff Writer
The Navy has awarded a $318 million contract to Shaw-Dick Pacific LLC of Honolulu to construct a new National Security Agency intelligence-gathering operations center in Wahiawa, a project that should bring hundreds of new jobs to the area.
The contract is the largest ever awarded to the Hawai'i contractor. More than 500 workers will be needed to build the project and Shaw-Dick Pacific will hire 40 Hawai'i subcontractors for the job, said Gerry Majkut, vice president and general manager of Dick Pacific.
"If they create jobs and bring income into the area, I'm in favor of it," said Jack Kampfer, past-president of the Wahiawa Community and Business Association.
Construction is expected to begin early this summer and be completed by September 2010.
The new center will replace the Kunia Regional Security Operations Center, an underground facility built in a World War II-era aircraft assembly plant. The Kunia facility employs about 2,100, and another 700 military and civilian jobs are expected to be added once the new complex is completed.
The NSA/Central Security Service Hawai'i facility will be built at the Naval Computer and Telecommunications Area Master Station Pacific, or NCTAMS PAC, adjacent to Whitmore Village. The facility will be constructed at the former site of the circular antenna, popularly known as the "elephant cage."
A $176 million contract was awarded yesterday to Shaw-Dick Pacific, an affiliate of Dick Pacific Construction. An additional $142 million in funding is expected upon approval of the 2008 military construction appropriation bill, bringing the project to $318 million.
"Dick Pacific is pleased to have been awarded a project of this importance and looks forward to working immediately with the Navy," Majkut said.
Kampfer said the expansion of the facility and the additional jobs it will bring should have a positive impact on businesses in the Wahiawa area.
The 250,000-square-foot complex will be constructed on a 70-acre site at NCTAMS PAC and includes a two-story operations and data center. The building will house a command center, operations briefing center, data analysis section, mission planning areas, administrative offices and video-teleconferencing rooms.
Several support buildings, a warehouse and visitors control center also are part of the plans. A new 8,000-foot roadway to connect the facility to Whitmore Avenue will be constructed, but will not be open to the public.
Don Rochon, spokesman for Naval Facilities Engineering Command Pacific at Pearl Harbor, said the road is expected to alleviate congestion on existing roadways in the community. He said the facility should be a plus for Wahiawa and the state.
"It's going to improve operational efficiency and maximize the use of existing Navy property," Rochon said. "It will allow the activity to remain in Hawai'i."
The center performs intelligence gathering and analysis missions in support of U.S. interests in the Pacific, Far East, South and Southeast Asia, and the Indian Ocean.
The $318 million project comes at a time when the Hawai'i construction industry is seeing an unexpected boom in nonresidential building.
A report by the University of Hawai'i Economic Research Organization said a surge in nonresidential building permits late last year is resulting in $500 million in additional construction work. The report forecast construction activity to increase by 4.4 percent this year to $6.6 billion, and construction employment to rise by 3 percent to 36,930 jobs.
---
29 October 2006
---
US Navy Pacific Command Intelligence Center