---
27 July 2003. More forged Nigerien documents published in Italy 27 July 2003:
http://cryptome.org/niger-docs2.htm
22 July 2003. Thanks to D., moved page 6 to properly follow page 1.
22 July 2003. Add translations of documents by Lars Vonpacker, who writes:
As you can see from the translation, it's a really bad case of trying to make these documents pass as official government communications.

While doing the translation, I stayed true to the essence of the French text.

The French of the documents sounds as if it comes right out of a Babelfish translation.
21 July 2003
Source of the 8 images: Robert Windrem, NBC News, which received them from La Repubblica.
PDF of the eight images: http://cryptome.org/niger-docs.pdf (135KB)
Five of these images appeared in hardcopy of the Italian newspaper La Repubblica on July 16, 2003. The online story without the images:
http://www.repubblica.it/online/esteri/iraqattacotrentacinque/dossier/dossier.html
They are reportedly portions of forged documents on supply of uranium materials by Niger to Iraq and were allegedly provided by Italian intelligence, SISMI, to British intelligence, MI6.
Cryptome published the five La Repubblica images on July 18:
http://cryptome.org/niger-docs-lr.htm
NBC News obtained the eight images from La Repubblica and provided them to Cryptome today.
---
[Translation.]

CONFIDENTIAL
URGENT

REPUBLIC OF NIGER

FRATERNITY-WORK-PROGRESS

NIAMEY, 07/27/2000

MR PRESIDENT,

IT'S MY HONOR TO REFER TO THE AGREEMENT # 3*1-NI 2000,
REGARDING THE SUPPLY OF URANIUM, SIGNED IN NIAMEY ON THE 6TH
OF JULY 2000 BETWEEN THE GOVERMENT OF THE REPUBLIC OF NIGER
AND THE GOVERMENT OF IRAQ BY THEIR RESPECTIVE REPRESENTATIVES
OFFICIAL DELEGATES.

ABOVE MENTIONED SUPPLY EQUIVALENT TO 500 TONS OF PURE URANIUM
PER YEAR, WILL BE DELIVERED IN TWO PHASES.

HAVING SEEN AND INSPECTED THE SAID DEAL. I APPROVE IN ALL
AND EACH OF ITS INVOLVED PARTIES IN REGARD TO THE POWERS

INVESTED IN ME BY THE CONSTITUTION OF THE 12TH OF MAY 1966.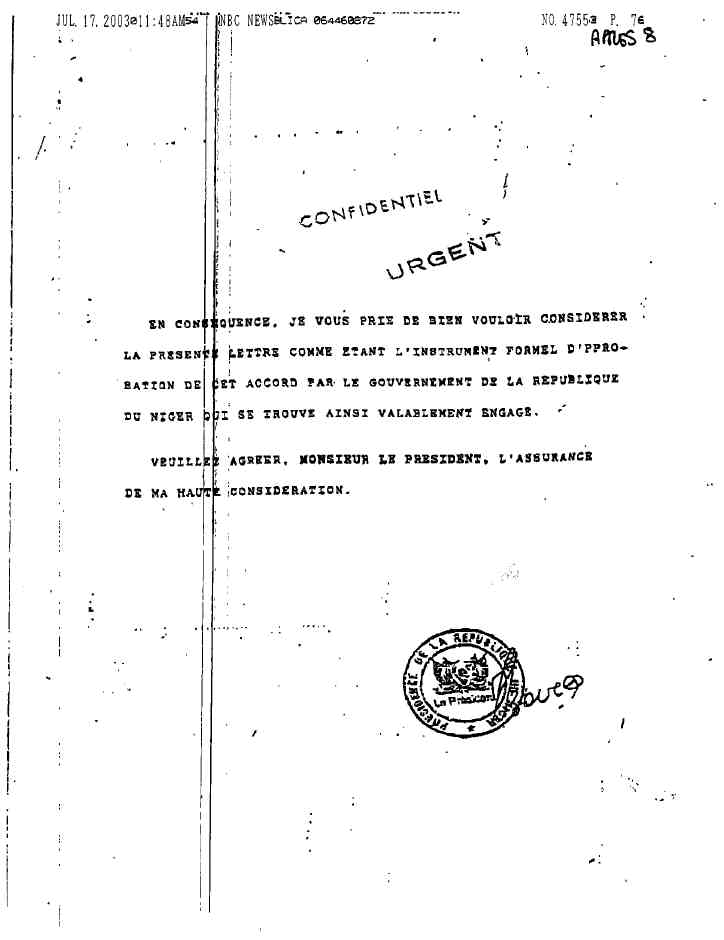 [Translation.]

CONFIDENTIAL
URGENT

ACCORDINGLY, I PRAISE YOU TO CONSIDER
THIS LETTER AS BEING THE FORMAL TOOL OF APPROVAL
OF THIS AGREEMENT BY THE GOVERMENT OF THE REPUBLIC
OF NIGER THAT BECOMES BY THIS RIGHTFULLY ENGAGED.

PLEASE ACCEPT, MR. THE PRESIDENT, THE CERTAINTY
OF MY HIGHEST REGARDS

SIGNATURE

SEAL OF THE PRESIDENT OF THE REPUBLIC OF NIGER
[Translation.]

ANNEX 1

THE DIRECTION OF JUDICIAL AFFAIRS OF THE MINISTER OF FOREIGN
AFFAIRS IN THE PERSON OF HIS EXCELLENCY MR. THE MINISTER AND
THE (TIER ?) OF THE MINISTER OF MINES IN THE PERSON OF MR THE MINISTER IN
CHARGE, UNITED IN ASSEMBLY STATED THE FOLLOWING:

- THE STATE COURT, CALLED UPON TO GIVE HIS ADVICE ACCORDING TO
THE 20TH ARTICLE OF ORDONNANCE # 74-19 OF THE 5TH OF JULY 2000, REGARDING
CREATION, COMPOSITION, ATTRIBUTION AND WORKINGS OF THE STATE
COURT, MET IN THE CHAMBER OF THE COUNCIL IN THE PALACE OF THE SAID
COURT ON WEDNESDAY JULY 7, 2000, AT NINE O'CLOCK;

-READ THE LETTER # 488/MJ/SO OF THE 3RD OF JULY 2000 OF MR. THE MINISTER
OF FOREIGN AFFAIRS AND COOPERATION:

DEMANDING TO SOLICITATE A FAVORABLE ADVICE TO THE STATE COURT
ON THE POINTS TO BE KNOWN:

-ON ONE PART, IF THE PROTOCOL OF THE DEAL BETWEEN THE GOVERMENT OF
THE REPUBLIC OF NIGER AND THE GOVERMENT OF IRAQ, RELATED TO THE
SALE OF PURE URANIUM, SIGNED ON THE 6TH OF JULY 2000 IN NIAMEY CONFORMS
TO THE INTERNAL LAWS OF THE REPUBLIC OF NIGER, AND IF IT CONSTITUTES
FOR THE REPUBLIC A VALID AND INCUBENT ENGAGEMENT;

-IN OTHER MATTERS, IF IT HAS BEEN RIGHTFULLY SIGNED AND APPROVED BY THE
GOVERMENT OF IRAQ IN COMPLIANCE TO ALL ADMINISTRATIVE
NORMS THAT ARE APPLICABLE AND CONSTITUING FOR HER A
[Translation.]

VALID AND INCUBENT AGREEMENT;

ISSUES THE ADVICE

THAT THE STATE OF NIGER SATISFIED ALL THE REQUIRINGS OF ITS CONSTITUNIONAL
LAWS AND OF *** OTHERS PRINCIPLES OF LAWS FOR THE TAKING CHARGE OF VALID AND
JURIDICALLY INCUBENT TO ALL ITS ENGAGEMENTS RESULTING FROM THE PROTOCOL OF THE AGREEMENT

THAT THE REPRESENTATIVE OF THE STATE OF NIGER AND THE REPRESENTATIVE OF IRAQ
WHO HAVE SIGNED IN THE NAME OF THEIR RESPECTIVE GOVERMENT, HAD JURIDICALLY
POWER OF REPRESENTATION.

WERE SITTING MISTER: MAMADOU MALAN AOUAMI, PRESIDENT OF THE COURT
OF NIGER; MADJ MADJIR, ADVISOR TOTHE GOVERMENT OF IRAK, MAHAMANE
BOUKARI INTERIM ADVISOR TO THE MINISTRY OF FOREIGN AFFAIRS
OF NIGER, IN THE PRESENCE OF MR BANDIAIRE ALI, ATTORNEY GENERAL
OF IRAQ AND WITH THE ASSISTANCE OF MASTER MAIGA ALI, CLERK OF THE COURT IN CHIEF.

SIGNATURE

SEAL OF THE MINISTRY OF FOREIGN AFFAIRS

REPUBLIC OF NIGER
[Translation.]

0097652**
01/02 14:57
MINAFET 520****
626290 NIGER I

MINAFET 5200NI
626290 NIGER I

FAX # 803:9*: ASA**RONE OF 02/01/99

DESTINATION: HIS EXCELLENCY MISTER THE MINISTER OF FOREIGN AFAIRS
AND OF AFRICAN INTEGRATION

NIAM**

I HAVE THE HONOR TO BRING TO YOUR ATTENTION THAT THE EMBASSY
OF IRAQ AT THE VATICAN JUST INFORMED ME THAT HIS EXCELLENCY
MR. WISSAM AL ZAMA**E, AMBASSADOR OF IRAQ TO THE VATICAN,
WILL CARRY OUT AN OFFICIAL VISIT IN OUR COUNTRY IN THE ROLE
OF REPRESENTATIVE OF HIS EXCELLENCY MR. SADDAM HUSSEIN, PRESIDENT OF THE REPUBLIC
OF IRAQ.

HIS EXCELLENCY MR. ZAMAWIE WILL ARRIVE IN NIAMEY ON FRIDAY THE 5TH OF FEBRUARY 1999 AROUND
18:25 THROUGH AIR FRANCE FLIGHT # 730 FROM PARIS.

I WOULD BE GRATEFUL OF THE DISPOSITIONS THAT YOU COULD MAKE HAPPEN REGARDING THIS.

REALLY HIGH CONSIDERATION

SIGNED: HIS EXCELLENCY A*MNON CHE*OU

------ AMBASSADOR NIGER ROME

636290 NIGER I*

*********** ***************

0029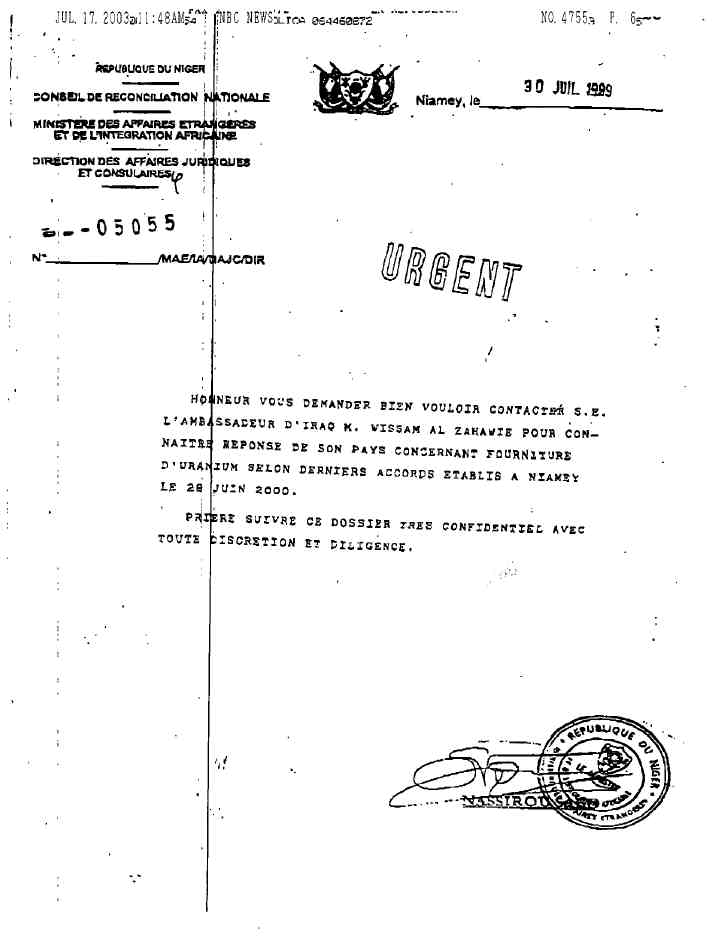 [Translation.]

REPUBLIC OF NIGER
COUNCIL OF NATIONAL RECONCILIATION
MINISTRY OF FOREIGN AFFAIRS
AND AFRICAN INTEGRATION
DIRECTORATE OF JUDICIARY AMD CONSULATE AFFAIRS

NIAMY, THE 30TH OF JULY 19*9

N- 05055 /MAE/IA/DAJC/DIR

URGENT

HONOR TO ASK YOU TO CONTACT HIS EXCELLENCY
THE AMBASSADOR OF IRAQ MR. WISSAM AL ZAHAWIE TO
RECEIVE ANSWER FOR HIS COUNTRY REGARDING PROVIDING
URANIUM ACCORDING TO LAST AGREEMENTS ESTABLISHED IN NIAMEY
ON THE 28TH JUNE 2000

PLEASE FOLLOW THIS HIGHLY CONFIDENTIAL DOSSIER WITH
ALL DISCRETION AND CARE.

SIGNATURE

SEAL OF THE REPUBLIC OF NIGER

MINISTRY OF FOREIGN AFFAIRS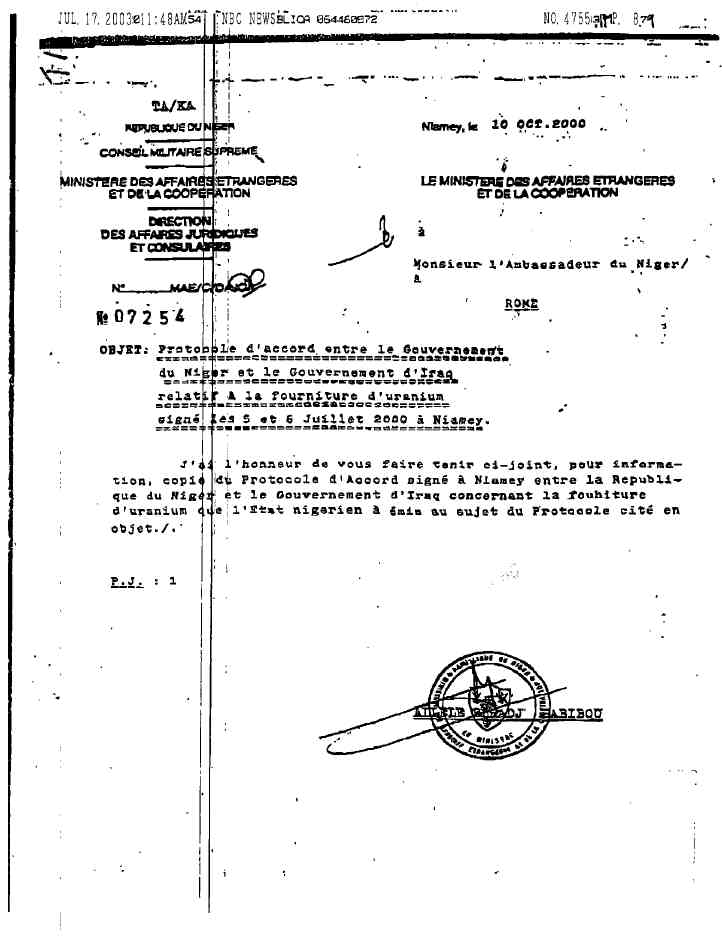 [Translation.]

REPUBLIC OF NIGER
COUNCIL OF NATIONAL RECONCILIATION
MINISTRY OF FOREIGN AFFAIRS
AND AFRICAN INTEGRATION
DIRECTORATE OF JUDICIARY AMD CONSULATE AFFAIRS

NIAMEY, THE 10TH OF OCTOBER 2000

THE MINISTER OF FOREIGN AFFAIRS
AND OF COOPERATION

#07254

MR. THE AMBASSADOR OF NIGER

ROME

SUBJECT: PROTOCOL OF AGREEMENT BETWEEN THE GOVERMENT
OF NIGER AND THE GOVERMENT OF IRAQ
RELATED TO THE SUPPLYING OF URANIUM

SIGNED ON THE 5TH AND THE 6TH OF JULY 2000 IN NIAMEY

I HAVE THE HONOR TO SEND TO YOU THE ATTACHED, FOR INFORMATION PURPOSES,
COPY OF THE PROTOCOL OF AGREEMENT SIGNED IN NIAMEY BETWEEN THE REPUBLIC
OF NIGER AND THE GOVERMENT OF IRAK REGARDING THE SUPPLYING
OF URANIUM THAT THE NIGER STATE ISSUED REGARDING THE PROTOCOL CITED IN THE SUBJECT

ATTACHED PAPER: 1

SIGNATURE

SEAL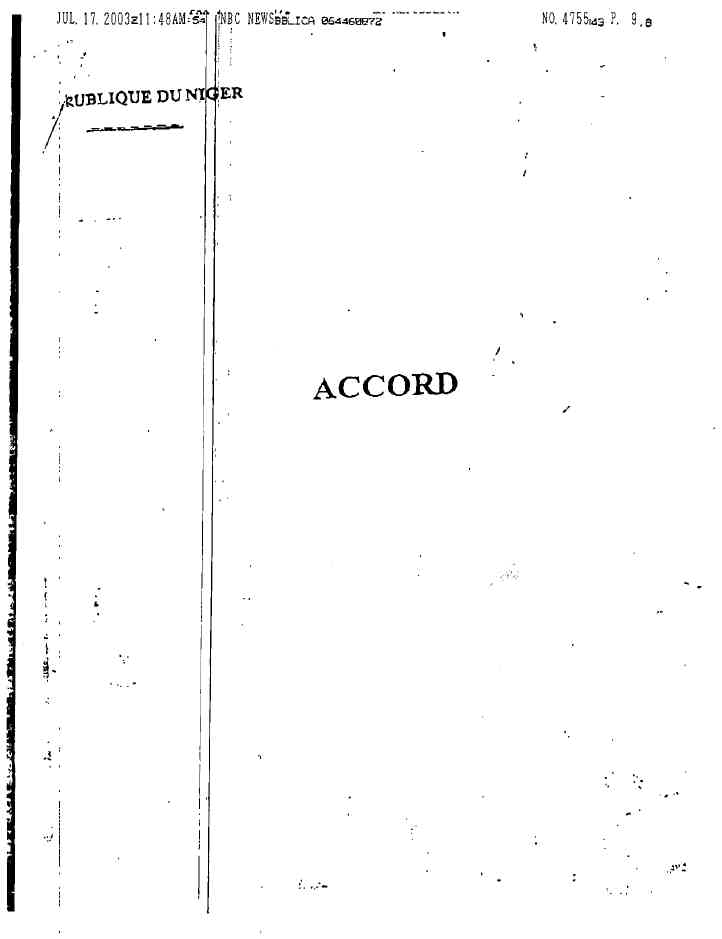 [Translation.]

REPUBLIC OF NIGER

AGREEMENT
---