| | |
| --- | --- |
| President Bush leaves the National Counterterrorism Center on Tuesday, Aug. 15, 2006 in McLean, Va. Bush said Tuesday that the foiled plot in Britain to blow up jetliners over the Atlantic is evidence the U.S. could be fighting terrorists for years to come. (AP Photo/Evan Vucci) [Note 1500 street address.] | The new Terrorist Threat Integration Center at an undisclosed location in the northen Virginia suburbs on Washington, Sept. 21, 2004. While most intelligence agencies look more drab than James Bond, the anti-terror center has adopted the spy agency look. Each office is essentially a vault, with a coded lock to get in. The external windows are bullet- and blast-proof, cast to standards set after the Oklahoma City bombing. (AP Photo Lawrence Jackson) |
| | |
17 March 2006. Cryptome confirmed by a drive-by on 16 March 2006 that the National Counterterrorism Center is located at 1500 Tyson Mclean Drive (formerly PRC Drive), Tysons Corner, Mclean, VA, as shown below. The facade of the previous building shown in the birdseye has been completely redone (a thumbnail of its entrance is on the NCTC website) and fierce security facilities guard it. It is also visible from adjacent elevated highways.
3 March 2006. Add maps and photos of NCTC Headquarters at 1500 Tyson Mclean Drive (formerly PRC Drive), Tysons Corner, Mclean, VA. Thanks to A for pointing:
This very morning, in http://www.washtimes.com/specialreport/20060205-011422-6269r.htm, the estimable Bill Gertz wrote:

"For example, despite the fact that the new National Counterterrorism Center is housed in the same Tysons Corner office building in suburban Virginia as the CIA Counterterrorism Center and the Pentagon's Joint Intelligence Task Force-Counterterrorism, the centers do not easily share information among themselves, the officials said."

Viewed through the lens of Google, that takes one to 38.9327 N, 77.2057 W. One wishes they would be nice, get along out there.
The structure shown in the birdseyes has been renovated:
http://washtimes.com/upi-breaking/20050403-011505-3508r.htm
The site, dubbed Liberty Crossing, is home to the National Counterterrorism Center, previously known as the Terrorist Threat Integration Center. Bill Parrish, former deputy director of TTIC, said that although the main building had been gutted and built out to house the center, there were other buildings on the same site, as yet undeveloped, that provided room for expansion. "The outlying buildings (mean that the site) lends itself to a compound or complex," he told UPI.
The property is/was owned by The Peterson Companies; the contractor was Hitt Contracting Inc.; and EMCOR Engineering provided mechanical and electrical services. Liberty Crossing Cafe is located there.
An FBI job announcement:
Duties & Responsibilities:

Serves as Manager of the Liberty Crossing One Building Operations Center, being responsible for and managing the full range of highly complex support requirements pertaining to the Center's continuous operation. This includes ensuring a high state of operational readiness and being fully ready for any crisis situation that may arise. The operations engaged in by the center directly impact the ability of TTIC/CIA/FBI to accurately assess and respond to a wide variety of counterterrorism related incidents that may arise over which they have jurisdiction or an interest. Incidents frequently receive intensive media and congressional attention. This position requires a Top Secret-SCI Clearance.
An FBI analyst address:
Ramamurthy, Pradeep, Analyst, FBI, Liberty Crossing One Attn: 3S-425 20505
The Herndon structure below is now called "CIA2" on the area map.
2 March 2006. Add 3 photos of the NCTC interior. News reports state the NCTC is located at "Liberty Crossing," Tysons Corner, Mclean, VA. There is no birdseye of a facility at Liberty Crossing matching the AP photo (below) of the exterior of NCTC. Liberty Crossing is a few miles east of the location of the Herndon building shown below under construction. The Herndon building is identified as a CIA facility, was constructed concurrently with NCTC HQ, and it may be part of the NCTC or another operation.
NCTC website: http://www.nctc.gov
1 March 2006
Birdseyes from http://www.local.live.com
---
http://www.nytimes.com/2006/02/28/politics/28terror.html
[Excerpts]

Year Into Revamped Spying, Troubles and Some Progress

By SCOTT SHANE

Published: February 28, 2006

WASHINGTON, Feb. 27 — A year after a sweeping government reorganization began, the agencies charged with protecting the United States against terrorist attacks remain troubled by high-level turnover, overlapping responsibilities and bureaucratic rivalry, former and current officials say.

Progress has been made, most of the officials say, toward one critical goal: the sharing of terrorist threat information from all agencies at the National Counterterrorism Center. But many argue that the biggest restructuring of spy agencies in half a century has bloated the bureaucracy, adding boxes to the government organization chart without producing clearly defined roles.

John O. Brennan, the interim director of the center until July, said the Bush administration was "still struggling" with the redesign.

"I still don't see an overarching framework that assigns roles and responsibilities to each agency in counterterrorism," said Mr. Brennan, who spent 23 years at the Central Intelligence Agency. He was replaced as head of the National Counterterrorism Center by John Scott Redd, a retired vice admiral selected by President Bush in June.

Mr. Brennan, now head of an intelligence contractor, said he remained "a strong believer" in the center but feared that it could end up "just another layer on top of everything else."

Gregory F. Treverton, a former vice chairman of the National Intelligence Council, said turbulence and jostling for turf were unavoidable in the reshuffling of spy agencies.

"I think on the whole we're better off" because of greater sharing of information, Mr. Treverton said, "although it certainly isn't pretty."

Mr. Treverton, now at the RAND Corporation, spoke of a "food fight" between two agencies: the C.I.A.'s Counterterrorist Center, or CTC, and the newer National Counterterrorism Center, or NCTC. He also called relations between federal agencies and state and local law enforcement "a complete mess."

Other former officials described disputes over things like parking spaces and job titles, a continuing incompatibility of computer systems, and battles over who works where.

Such tensions have hastened an exodus of counterterrorism and intelligence veterans, often lured away by lucrative jobs with contractors in the area. In recent weeks, the head of the C.I.A.'s Counterterrorist Center, Robert Grenier, and Mr. Negroponte's chief of information sharing, John Russack, announced they were stepping down.

Mr. Negroponte said in a Feb. 17 speech at Georgetown University that his office had "begun reshaping the cultures of United States national intelligence and begun the arduous process of deeply integrating our considerable resources."

Mr. Negroponte's own language emphasized that change had only just begun. He highlighted the role played by the National Counterterrorism Center, which is intended to prevent the hoarding of leads on Al Qaeda by different agencies.

Even outspoken critics like Dr. Zegart describe the NCTC as a valuable addition. Based in a Washington suburb, it oversees three video teleconferences a day linking main counterterrorism officials and posts intelligence on a classified Web site accessible to some 5,000 government analysts, said Mark Mansfield, the spokesman for the center.

In addition to uniting terrorism analysis, the center does "strategic operational planning" for counterterrorism. In both roles, there is clearly some overlap with the C.I.A.'s Counterterrorist Center, the unit responsible for pursuing Qaeda operatives around the world.

"People don't know where CTC's responsibilities end and NCTC's begin," said Paul R. Pillar, a former C.I.A. official who spent years at the counterterrorism center. "There's confusion about who does what."

Asked about reports of conflict between the two centers, Mr. Mansfield said, "It is fair to say that there are some differences, but given the intelligence reorganization and the new legislation, that is to be expected."

Officials are "working very hard to resolve differences," he said.

The C.I.A. center now has its fourth chief since 2002, as Mr. Grenier was replaced this month by an agency veteran who is still under cover. Turnover has been even more rapid at the F.B.I.'s counterterrorism division, which is on its sixth director since 2001.

Expressing a view widely heard among retired officials, Vincent M. Cannistraro, a top counterterrorism official at the C.I.A. before he retired in 1991, described the high-level turnover as "disastrous."

"Just as soon as someone gets up to snuff on counterterrorism — understands what Hamas and Al Qaeda are — they're moved out," Mr. Cannistraro said.
http://www.whitehouse.gov/news/releases/2004/08/20040802-7.html
August 2, 2004

National Counterterrorism Center (NCTC). Building on the Terrorist Threat Integration Center (TTIC), the NCTC will be responsible for analyzing and integrating foreign and domestic intelligence acquired from all U.S. Government departments and agencies pertaining to terrorism. The Center will identify, coordinate, and prioritize the counterterrorism intelligence requirements of America's intelligence agencies. TTIC analytical capabilities will be integrated into the NCTC. All departments and agencies that have analytic resources on transnational terrorism, or conduct operations against transnational terrorism, will contribute analysts and staff to the NCTC. The Director of NCTC will report to the President through the NID, but will not be located in the Executive Office of the President. The NCTC will:

* Support the development and coordination of U.S. Government action plans, ensuring that individual departments and agencies receive the all-source intelligence support needed to execute their plans to counter terrorist threats against the U.S. and U.S. interests.

* Serve as the principal U.S. Government coordinator for plans and monitor action plans of the agencies and departments for the collection of terror-related intelligence and to counter terror threats against the United States and its interests and, as appropriate, the interests of its friends and allies.

* Concentrate analytical expertise on foreign and domestic terrorism in one location and assure the flow of alternative analytic views, to the extent they exist in the Center and among agencies and departments, to policymakers, including to the President. Agencies and departments are to retain sufficient analytic expertise on counterterrorism to support their unique operational missions.

* Prepare the President's Terrorist Threat Report (PTTR) and a range of other integrated analytic products on terrorism.

* Support the National Security Council's preparation of the national counterterrorism strategy, which will be coordinated with the Homeland Security Council.

* Help identify and coordinate intelligence requirements on terror targets both overseas and at home.

* Serve as the U.S. Government's central and shared knowledge bank on known and suspected terrorists and international terror groups, as well as their goals, strategies, capabilities, and networks of contacts and support.

* Coordinate counterterrorism plans and ensure all source intelligence support for counterterrorism operational planning efforts underway in the departments and agencies of government.

* As necessary, coordinate the prioritization of and interagency law enforcement or counterterrorism response to terrorist threats, and de-conflict and track the actions of the United States Government as currently done by the interagency Counterterrorism Security Group.
---
http://64.233.179.104/search?q=cache:ZGd_YSX9XjgJ:www.cushmanwakefield.com/flyers/NorthernVAOFF_3Q04.pdf++%22499+grove+st%22&hl=en&gl=us&ct=clnk&cd=3
Significant Lease Transactions - Third Quarter 2004

499 Grove St
Reston/Herndon
Central Intelligence Agency
255,506 SF
The building is also known as New Dominion Technology Park II, built-to-suit by Boston Properties and leased for 15 years on April 1, 2004, to the General Services Administration. The photos show that the building's exterior walls are being constructed of cast-in-place concrete, an unusual method for budget-conscious commercial office buildings, but appropriate for security of the NCTC. As noted by AP below, "external windows are bullet- and blast-proof, cast to standards set after the Oklahoma City bombing."
New Dominion II Cafe health inspections: http://www.healthspace.ca/Clients/VDH/Fairfax/Fairfax_Website.nsf/Food-FacilityHistory?OpenView&RestrictToCategory=21201194F2A6BF1385256EE800452AEE
US federal agents running Operation Green Quest raided sites across the street from this building in March 2002:
http://www.frontpagemag.com/articles/ReadArticle.asp?ID=13748

Federal affidavits state that the "Grove Street addresses" (500 and 555 Grove St. in Herndon) housed more than 100 interlocking Muslim organizations, most headed by Jamal Barzinji, and these groups gave material aid to terrorists. Among those raided were several major ADAMS associates, including its chairman. Magid himself was present when federal agents raided the Herndon offices of ADAMS in March 2002.
A Northern Virginia 2005 real estate report:
http://www.google.com/url?sa=U&start=1&q=http://www.gwcar.org/marketnews/2005/2005marketoverview.htm&e=9797

The Northern Virginia office market continued to improve over the first quarter, posting an improvement in the vacancy rate and strong positive net absorption. The end of the quarter vacancy rate was 10.7% compared to 11.4% at year-end 2004. Leasing activity this quarter resembled the pace of the last 24 months as the federal government and private companies continued to take space. The U.S. government has agreed to a prelease of 350,000 square feet at the Peterson's Companies development, Dulles Discovery, in the Route 28 South submarket. Dulles Discovery, located across Route 28 from the new Air & Space Museum, could ultimately provide 1 million square feet of office space for the federal government. The deal will provide additional space for intelligence agencies that have been expanding over the past few years.

Tempering some of the enthusiasm in Arlington County was a report from Secretary of Defense Donald Rumsfeld that indicates that federal contractors and other federal agencies may be held to the same security standards as those established by the Pentagon. The long-term impact of this is uncertain but Arlington officials will be keeping a close watch on the developments as will other land owners in Virginia.

National Counterterrorism Center (NCTC)
Birdseye

NCTC HQ Looking North
NCTC HQ Looking East
NCTC HQ Looking South
NCTC HQ Looking West
CIA 2
CIA 2
Birdseyes show CIA 2 under construction in 2004.
Looking North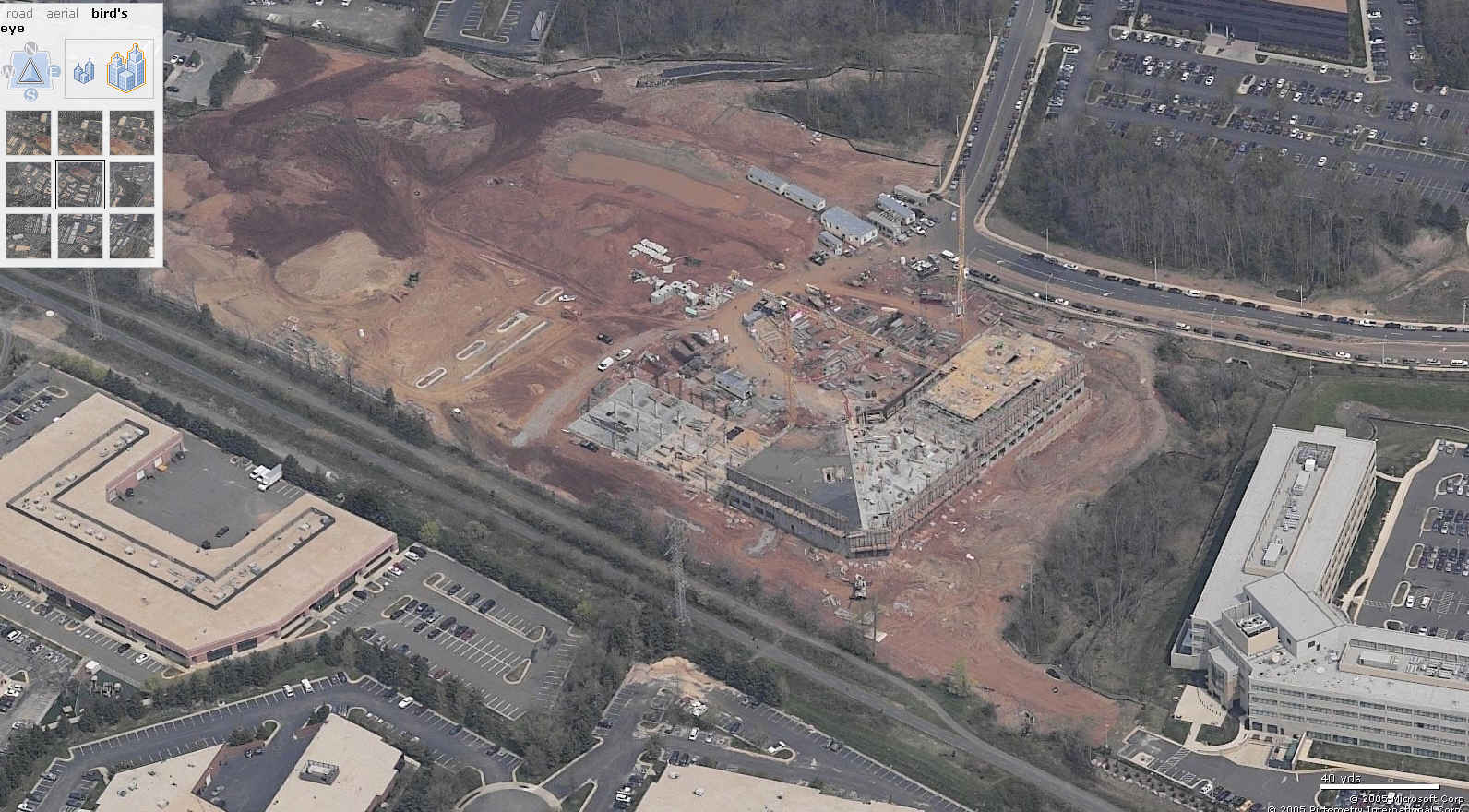 CIA 2 Looking South
CIA 2 Looking East
Captions by Associated Press

President Bush leaves the National Counterterrorism Center on Tuesday, Aug. 15, 2006 in McLean, Va. Bush said Tuesday that the foiled plot in Britain to blow up jetliners over the Atlantic is evidence the U.S. could be fighting terrorists for years to come. (AP Photo/Evan Vucci) [Note 1500 street address.]

President Bush, front, gestures during a statement after meetings at the National Counterterrorism Center on Tuesday, Aug. 15, 2006 in McLean, Va. From back left is Assistant to the President for Homeland Security and Counterterrorism Fran Townsend, Director of National Intelligence John Negroponte, CIA Director Gen. Michael Hayden and Director of the National Counterterrorism Center Vice Admiral John "Scott" Redd. (AP Photo/Evan Vucci)

President George W. Bush addresses the media at the National Counterterrorism Center in McLean, Va., Aug. 15, 2006. Standing with President Bush are, from left: White House Homeland Security Advisor Frances Townsend; Director of National Intelligence John Negroponte; CIA Director Michael Hayden; and Director of the National Counterterrorism Center Vice Admiral John Scott Redd. White House photo by Paul Morse

President George W. Bush meets with the Homeland Security Team at the National Counterterrorism Center in McLean, Va., Aug. 15, 2006. From left, they are: Director of National Intelligence John Negroponte; White House Deputy Chief of Staff Joel Kaplan; White House Chief of Staff Josh Bolten; White House Homeland Security Advisor Frances Townsend; National Security Advisor Stephen Hadley; and Attorney General Alberto Gonzales. White House photo by Paul Morse

President Bush gestures during a statement after meetings at the National Counterterrorism Center on Tuesday, Aug. 15, 2006 in McLean, Va. From left is Assistant to the President for Homeland Security and Counterterrorism Fran Townsend, Director of National Intelligence John Negroponte, Bush, CIA Director Gen. Michael Hayden and Director of the National Counterterrorism Center Vice Admiral John "Scott" Redd. (AP Photo/Evan Vucci)

President Bush, center, pauses before the start of a meeting with the Homeland Security Team at the National Counterterrorism Center on Tuesday, Aug. 15, 2006 in McLean, Va. From left is White House Chief of Staff Josh Bolten, President Bush, and Assistant to the President for Homeland Security and Counterterrorism Fran Townsend. (AP Photo/Evan Vucci)

President Bush gestures during a statement after meetings at the National Counterterrorism Center on Tuesday, Aug. 15, 2006 in McLean, Va. From left is Assistant to the President for Homeland Security and Counterterrorism Fran Townsend, Director of National Intelligence John Negroponte, Bush, CIA Director Gen. Michael Hayden, and Director of the National Counterterrorism Center Vice Admiral John "Scott" Redd. (AP Photo/Evan Vucci)

The new Terrorist Threat Integration Center at an undisclosed location in the northen Virginia suburbs on Washington, Sept. 21, 2004. While most intelligence agencies look more drab than James Bond, the anti-terror center has adopted the spy agency look. Each office is essentially a vault, with a coded lock to get in. The external windows are bullet- and blast-proof, cast to standards set after the Oklahoma City bombing. (AP Photo Lawrence Jackson)

A worker lays out some the 80 miles of video and internet cables at the new Terrorist Threat Integration Center at an undisclosed location in the northern Virginia suburbs of Washington, Sept. 21, 2004. While most intelligence agencies look more drab than James Bond, the anti-terror center has adopted the spy agency look. Each office is essentially a vault, with a coded lock to get in. (AP Photo Lawrence Jackson)

New modular desks designed and specifically made for the new Terrorist Threat Integration Center are seen at the center at an undisclosed location in the northern Virginia suburbs of Washington, Sept. 21, 2004. While most intelligence agencies look more drab than James Bond, the anti-terror center has adopted the spy agency look. Each office is essentially a vault, with a coded lock to get in. (AP Photo Lawrence Jackson)


Chris Usher for Newsweek

Under construction: The Terrorist Threat Integration Center in McLean, Va. Newsweek, August 16, 2004.

Interim Director of National Counterterrorism John Brennan gives President Bush, center, a tour of the National Counterterrorism Center in Tysons Corner, Va., before Bush spoke about the Patriot Act Friday, June 10, 2005 outside Washington. (AP Photo/Charles Dharapak)

President George W. Bush tours the National Counterterrorism Center in McLean, Va., Friday, June 10, 2005. "I just met with some (of the men and women) who spend long hours preparing threat assessments, and it was my honor to tell them how much I appreciate their hard work and appreciate the daily briefing I get every single morning," said the President in his remarks after the tour. White House photo by Eric Draper.


July 6, 2005
Source

July 6, 2005
Source


June 10, 2005

John Brennan, director of the Terrorist Threat Integration Center, talks about the changes and goals of the center, Sept. 21, 2004 at an undislosed locating in the northern Virginia suburbs of Washington. If information is power, few in the U.S. government have more than Brennan. He sits at the nerve center of the country's revolutionary 18-month-old terrorism analysis center, called the Terrorist Threat Integration Center, which can peer into 26 government computer networks to analyze information on international terror threats. (AP Photo Lawrence Jackson)

Retired Vice Adm. John "Scott" Redd, director of the National Counterterrorism Center, talks about the changes in counterterrorism since 9/11, Tuesday, Oct. 5, 2005, at his office in a Northern Virginia suburb of Washington. (AP Photo/Lawrence Jackson)

Testifying before the House Select Committee on Homeland Security regarding security information sharing are, from left to right: Maureen Baginski, FBI Executive Assistant Director for Intelligence; John Brennan, Director of Terrorist Threat Integration Center; Patrick Hughes, Assistant Secretary for Information Analysis, Department of Homeland Security; Cofer Black, the State Department's Coordinator for Counterterrorism; on Capitol Hill Tuesday, Aug. 17, 2004 in Washington. (AP Photo/Charles Dharapak)

John Brennan, director of the Terrorist Threat Integration Center, testifies before Senate Government Affairs Committee Chairman on Capitol Hill Tuesday, Aug. 3, 2004, to discuss U. S. conterterrorism capabilities. Left to right are: Brennan; John Pistole, assistant director of the FBI's counterrorism division; Lt Gen. Patrick Hughes, Department of Homeland Security; and Philip Mudd, deputy director of the CIA's counterterrorist center. (AP Photo/Dennis Cook)

Thomas J. Pickard, former acting FBI director in the summer of 2001, and Amb. J. Cofer Black, former Director of the CIA's Counterterrorism Center, right, are sworn in before testifying before the commission investigating the Sept. 11 attacks Tuesday, April 13, 2004, on Capitol Hill in Washington. (AP Photo/Dennis Cook)

The Terrorist Threat Integration Center began operations today. Pictured at the ribbon-cutting ceremony are (left to right) Special Assistant to the Secretary of Defense for Intelligence Richard Haver, Office of Coordination for Counter Terrorism at the State Department Ambassador at Large J. Cofer Black, FBI Director Robert Mueller, Director of Central Intelligence George Tenet, and Department of Homeland Security Deputy Secretary Gordon England. [May 3, 2003; the TTIC was originally located at CIA Headquarters.]